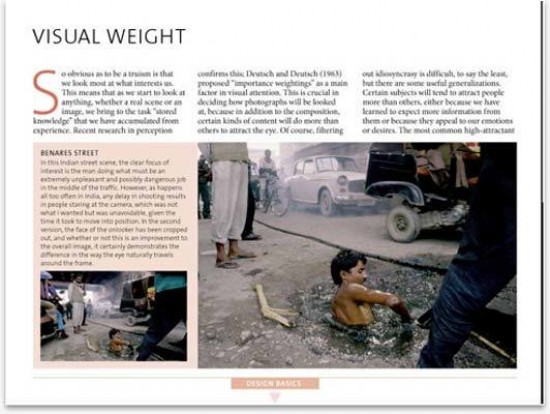 Michael Freeman's international bestseller The Photographer's Eye is now available as an iPad app. This digital version of the bestselling book features a video introduction, interactive elements including diagrams, and numerous recordings of the author. The Photographer's Eye app is available now for $24.99.
Focal Press Press Release
Burlington, MA - March 11, 2011 - Michael Freeman's international bestseller The Photographer's Eye, published in sixteen languages and with 100,000 copies in print in the US alone and 300,000+ worldwide, has a brand new "app" on iTunes.Created specifically for the iPad, this digital version of the bestselling book features a video introduction, interactive elements including diagrams, and numerous recordings of the author.

In this new "app" Michael Freeman's voice recordings talk photographers through the thinking behind certain shots. There are interactive presentations, including one where photographers can alter the composition of the image by adjusting the horizon. There's also a video introduction and complete horizontal and vertical layouts all the way through so you can read in your choice of comfort (many apps like this only have one or the other).

Now in this new digital format, The Photographer's Eye, published by Focal Press in North America and Ilex Press elsewhere,continues to speak to photographers everywhere. Both the book and the "app" show how anyone can develop the ability to see and shoot great digital photographs. The book explores all the traditional approaches to composition and design, but crucially, it also addresses the new digital technique of shooting in the knowledge that a picture will later be edited, manipulated, or montaged to result in a final image that may be very different from the one seen in the viewfinder.
About the Author
Michael Freeman is a renowned international photographer and writer admired for his work in travel, architecture, and Asian art. He is particularly well known for his expertise in special effects. He has been a leading photographer for the Smithsonian magazine for many years, and has worked for Time-Life Books and Reader's Digest. Michael is the author of more than 40 photographic books, including the hugely successful Complete Guide to Digital Photography and The Photographer's Eye. For his photographic educational work he was awarded the Prix Louis Philippe Clerc by the French Ministry of Culture. He is also responsible for the distance-learning courses on photography at the UK's Open College of the Arts.
About Focal Press
Focal Press has been a leading publisher of Media Technology books for 70 years. We provide essential resources for professionals and students in many areas including: film and digital video production, photography, digital imaging, graphics, animation and new media, broadcast and media distribution technologies, music recording and production, mass communications, and theatre technology.

About Elsevier Science & Technology Books
Elsevier S&T Booksprovides its superior media technology, scientific and technological content through its books and online resources such as SciVerse ScienceDirect booksand BrainNavigator,the award-winning product that improves the quality of neuroscience research. The S&T Books' family of imprints includes leaders in the media technology market with Focal Press and computing market with Morgan Kaufmann.  Other imprints includeCIM, Newnes, Syngress, William Andrew, CIMA, Pergamon, Estates Gazette Books, Butterworth-Heinemann, Academic Press, Academic Cell, Anderson Press, Architectural Press, and Gulf Publishing (www.ElsevierDirect.com/).

About Elsevier
Elsevier is a world-leading publisher of scientific, technical and medical information products and services. Working in partnership with the global science and health communities, Elsevier's 7,000 employees in over 70 offices worldwide publish more than 2,000 journals and 1,900 new books per year, in addition to offering a suite of innovative electronic products, such as ScienceDirect, MD Consult, Scopus, bibliographic databases, and online reference works.

Elsevier (http://www.elsevier.com/) is a global business headquartered in Amsterdam, The Netherlands and has offices worldwide. Elsevier is part of Reed Elsevier Group plc (http://www.reedelsevier.com/), a world-leading publisher and information provider. Operating in the science and medical, legal, education and business-to-business sectors, Reed Elsevier provides high-quality and flexible information solutions to users, with increasing emphasis on the Internet as a means of delivery.
Your Comments