The Photographer's Guide to Selling Like a Pro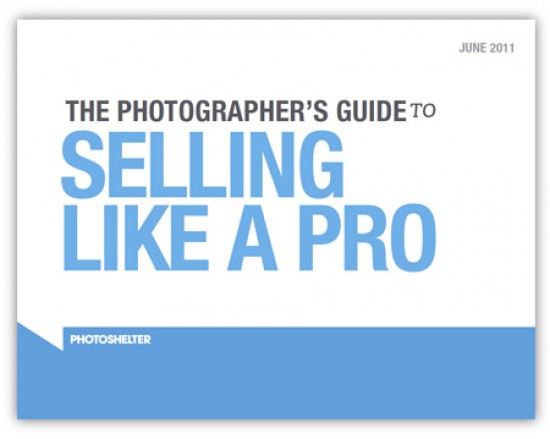 PhotoShelter today released the newest e-book in their ongoing series of business and marketing resources for photographers, The Photographer's Guide to Selling Like a Pro. "Through a series of in-depth interviews with veteran salesmen from across various industries, this e-book offers solid sales advice and concrete tactics, giving photographers an in-depth look at how to succeed in sales using the proven strategies of the pros," says PhotoShelter's Deborah Block. You can download the e-book free of charge from the website below.
Website: The Photographer's Guide to Selling Like a Pro
Photoshelter Press Release
The Photographer's Guide to Selling Like a Pro
PHOTOGRAPHY BUSINESS: PhotoShelter Releases Free E-Book With Sales Guidance For Photographers
"The Photographer's Guide to Selling Like a Pro" provides photographers with concrete business strategies from veteran sales experts outside the photo industry
New York, NY, June 21, 2011 - PhotoShelter (http://www.photoshelter.com), the worldwide leader in photography portfolio websites, sales and marketing tools for photographers, today released The Photographer's Guide to Selling Like a Pro, a free e-book providing photographers with concrete strategies and firsthand insight on how to grow a photography business through better sales tactics.
Providing key business tips direct from veteran sales leaders from the advertising, automotive, travel, insurance, and home shopping industries, this downloadable e-book offers photographers an up close look at how to succeed in sales using the pros' proven tactics. The e-book can be downloaded at: http//www.photoshelter.com/mkt/research/sales-tips-for-photographers.
"Photographers don't need to reinvent the wheel to increase sales," said PhotoShelter CEO Allen Murabayashi. "Learning from other industries is the quickest way to jumpstart your business. We're confident that this guide will give photographers tried and true techniques to attract new customers, successfully negotiate more sales, and establish long-term client relationships."
Each in-depth interview unveils key sales and marketing tactics that drive results and reveals how these same strategies can work for photographers today.  The free e-book showcases industry experts' top tips and best practices on everything from cold calling, pitching, negotiating, closing and renewing sales, staying on prospects radar, and more – all to help photographers unlock their hidden sales potential.
PhotoShelter has now published 10 free e-books on key business topics for photographers. The 2010 - 20011 reports, including guides on email marketing, Facebook fan pages, search engine optimization, and starting a photography business can be downloaded directly here: http://www.photoshelter.com/mkt/research/.
About PhotoShelter
PhotoShelter is the leader in portfolio websites, photo sales, marketing and archiving tools for photographers. Over 70,000 photographers worldwide use PhotoShelter to power their success online,
with customizable website templates, searchable photo galleries, e-commerce capabilities, and bulletproof image storage. Photographers can create a professional PhotoShelter website in under five minutes, or customize the design of PhotoShelter to power their existing photography website.
A complete solution designed to make the business of photography easier to manage - PhotoShelter offers image security, online image delivery, and advanced marketing tools like SEO and social media sharing capabilities so photographers can make their images work harder for them. To join our community or try PhotoShelter for $1, visit http://www.photoshelter.com.
All trademarks are the property of their respective owners.
Your Comments