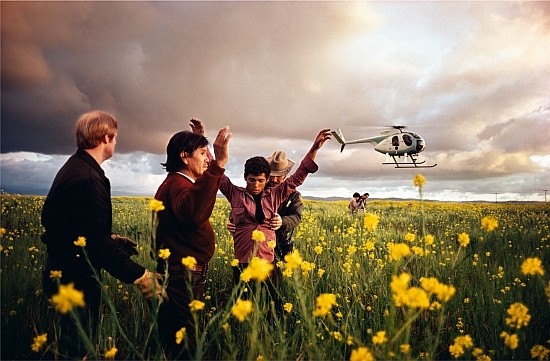 The Suffering of Light is the title of an upcoming exhibition of key photographic works from the career of American photographer Alex Webb. Presented by the Magnum Print Room, the exhibition opens on 17 June, runs until 29 July 2011 and showcases twelve of Webb's best known images. The Magnum Print Room is located at Magnum Studios, 63 Gee St, London, EC1V 3RS. Additionally a 204-page book entitled, The Suffering of Light: 30 Years of Photographs by Alex Webb is available from Thames & Hudson for £45.
Magnum Print Room Press Release
THE SUFFERING OF LIGHT
ALEX WEBB
17 TH JUNE – 29TH JULY 2011
The Magnum Print Room is delighted to present a selection of key photographic works from the career of American photographer Alex Webb, in conjunction with his forthcoming book The Suffering of Light (Thames & Hudson, 2011).
The first comprehensive monograph charting Alex Webb's acclaimed career, The Suffering of Light, is a beautifully printed catalogue of his most iconic colour photographs. Taken in the far corners of the earth, with Webb's most well-known works featuring alongside previously unpublished images, The Suffering of Light provides the most thorough examination to date of this modern master's prolific, thirty-year career.
Recognized as a pioneer of American colour photography since the 1970s, Webb has consistently created photographs characterized by colour, shape and light. His work, with its richly layered and complex composition, touches on multiple genres, including street photography, photojournalism, and fine art, but as Webb claims, "to me it all is photography. You have to go out and explore the world with a camera." Webb's ability to distill gesture, colour and contrasting cultural tensions into single, beguiling frames results in evocative images that convey a sense of enigma, irony, and humour.
The exhibition at the Magnum Print Room encompasses twelve of Webb's best known images. Spanning four decades, these editioned c-type prints are drawn from destinations as diverse as Cuba, Greece, Turkey and Haiti; the country which Webb credits as transforming both his humanity and photography. It was in Haiti that the vivid colour of the Caribbean first pervaded his photographs replacing the dull grey light of his early black & white New England work. Webb says of his Haitian experience; "I realized there was another emotional note that had to be reckoned with: the intense, vibrant colour of these worlds. Searing light and intense colour seemed somehow embedded in the cultures". Works exemplifying this are Webb's 1979 photograph of a bar in Grenada, the silhouetted figures backlight by the intense tricolor of red, yellow and green or his caged circus lion lit by an ethereal red light in Merida, Mexico (1983).
It is not just the intense colour of Webb's work that is so instantly recognizable, but the density of his all-over compositions. Packed with information, each frame creates a matrix of inter-relating gesture and form. One need only look at images such as that entitled Etroits, La Gonave, Haiti from 1985 for our eye to be sent crisscrossing across the composition. Here it's by the numerous gesticulating hands from that on the tree trunk in the centre of the frame to the pointing arm of the figure it obscures and the hand coming in from the right. From there we take in the group of people at the pictures edge and sailing boats in the distance. This is not an easily digestible picture, but it works. His off kilter arrangements imbue many of these photographs with a sense of the surreal. Incongruity also comes from strange juxtapositions, such as that in probably his most well-known image of Mexican immigrants being arrested at the US border (1979) between the beauty of the landscape and the action taking place.
Alex Webb's (born in San Francisco, 1952) photographs have appeared in a wide range of publications, including the New York Times Magazine, Life, Stern, and National Geographic and have been exhibited at the International Center of Photography, New York; Walker Art Center, Minneapolis; and Whitney Museum of American Art, New York. He is a recipient of the Leica Medal of Excellence (2000) and the Premio Internacional de Fotografia Alcobendas (2009). Webb, a member of Magnum Photos since 1976, lives in New York City.
The Suffering of Light: 30 Years of Photographs with an afterword by Geoff Dyer is available from Thames & Hudson, £45.00
---
Photo: Alex Webb
Your Comments