Three New Lomography Cameras Inspired by Japan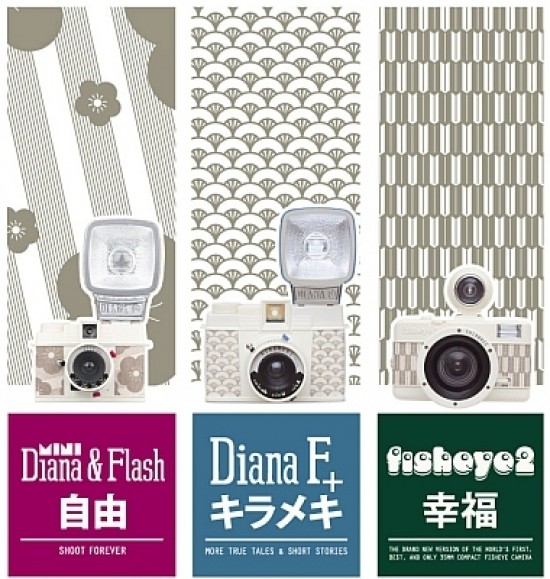 Lomography has announced three new cameras inspired by Japanese culture. "When conceived, these cameras were meant to commemorate Japan's Golden Week," Lomography said in a statement. "Now, the cameras have taken on a whole new meaning; they have become a way to help a community with a lot of work ahead of them." By purchasing one of these cameras, you contribute to a donation of €20,000 to the Red Cross Relief Japan. All three models can be pre-ordered in the Lomography Online Shop or at the Lomography Gallery Stores.
Lomography Press Release
The Lomographic Society Proudly Presents:
Lomography Loves Japan – a special edition to support our friends
Cherishing Life
Still the world is struck dumb with horror looking back on the tragedy that hit Japan last month and we are standing in awe of the strength of our Japanese friends.  Before the disaster struck, we were working on a special edition dedicated to the Golden Week in Japan. After what happened, we decided to launch this edition but add a charity aspect to it to show respect and offer help to our Japanese friends. Three cameras, the Diana Mini JIYU (Freedom), the Diana F+ KIRAMEKI (Sparkling) and the Fisheye 2 SHIAWASE (Happiness) were designed for the most joyful time in Japan and will bring some hope to Japan. To give financial aid we will donate 20.000 Euros to the Red Cross to support the reconstruction of a country so precious and beautiful.
Immediate Support
Take the chance to be part of the Lomography aid team to support a country that is going through tragedy beyond believe. The Red Cross will use the donation on site to make sure that our Japanese friends find some relieve and hope while we are involving our community in various online actions through our Lomography Loves Japan initiative. Our Lomography Team in Tokyo is trying to live their lives as normal as possible and are sharing their experiences with you on our website. They organized free workshops called "Smile Everyone!" to bring smiles to fellow Lomographers and wish for hope for everyone in Japan. Besides the Lomographic actions in Tokyo, we are organizing competitions on our website and will be publishing more articles about the daily lives of our friends in Japan to keep you updated.
To find out more, click: www.lomography.com/lomography-loves-japan
Technical Details
Diana Mini JIYU (Freedom)
The Diana Mini JIYU symbolizes freedom and has a delicate charm with its floral design and clean colours. It uses 35mm film that can be processed anywhere and produces beautiful square or half-frame photos. Available to buy here: http://uk.shop.lomography.com/cameras/diana-f-cameras/diana-mini-cameras/diana-mini-jiyu-freedom
Film Type: 35 mm film
Lens: 24mm (30mm equivalent on 24x36, 35mm equivalent on 24x17)
Frame Format: 24mm x 24mm & 24mm x 17mm (select on body)
Multi-exposure: yes
Dimension: 70mm x 101mm x 60mm
Retail price: 99 EUR / 119 USD / £99
Diana F+ KIRAMEKI (Sparkling)
The Diana F+ KIRAMEKI sparkles with its intricate design and calming colours. This medium-format camera promises dreamy square photos and unlimited creative options when paired with Diana accessories. Available to buy here: http://uk.shop.lomography.com/cameras/diana-f-cameras/diana-cameras/diana-f-kirameki-happiness
Film format: 120
Size: 5" x 3.75" x 3" (12.5cm x 9.5cm x 7.6cm)
Variable shutter (daytime & "B" for unlimited long exposures)
12-shot (5.2x5.2cm), 16-shot (4.2x4.2cm), and endless Panorama (4.6x4.6cm) formats
Removable lens for super-wide-angle pinhole shots
Reail Price: 89 EUR / 99 USD / £89
Fisheye 2 SHIAWASE (Happiness)
The Fisheye 2 SHIAWASE symbolizes the spreading of happiness and produces shots in a 170-degree radius - Your subject is captured in a fun, compact circle in each 35mm print!
Available to buy here: http://uk.shop.lomography.com/cameras/fisheye-cameras/fisheye-2-shiawase-sparkling
Format: 35mm film
Size: 4.25" (10.5cm) x 2.5" (6cm) x 2.5" (6cm)
Field of Vision: 170 degrees
Multiple Exposure switch for unlimited shots on 1 frame
Retail price: 79 EUR / 89 USD / £79
What the hell is Lomography?
www.lomography.com/about
We, the Lomographic Society International, are a globally active organization dedicated to experimental and creative analogue snapshot photography. Lomographic pictures are moment-catchers; characterized by vibrant colours, shadowy framing, surprise effects and spontaneity. Boasting over one million members across the world, we seek to document the incredible planet around us in a never-ending stream of images. The Lomo LC-A+ camera was the first member of the huge Lomographic analogue camera family. It confidently takes a seat at the dinner table alongside our other innovative and quirky Lomographic products – the Sprocket Rocket, Spinner 360°, Diana Mini, Diana F+, Lomo Lubitel 166+, Fisheye camera, the Colorsplash camera, the Supersampler, Horizon, Pop 9, Actionsampler, Holga as well as many other bags, lenses and accessories, books and stationery.
The Future is Analogue!
Your Comments