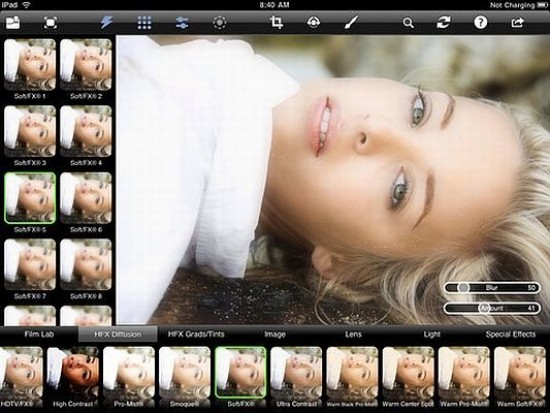 Tiffen has announced an app sale running through Cyber Monday, 2 December 2013.  Available on the iTunes Store, Tiffen Photo fx can now be purchased for $.99 (regularly $2.99) and Tiffen Photo fx Ultra for $1.99 (regularly $4.99).
Tiffen Press Release
Tiffen App Sale Offers Major Holiday Savings on Photo Effects Apps

Capture and share the holiday spirit with your own unique style with Tiffen Photo fx and Tiffen Photo fx Ultra – on sale Black Friday through Cyber Monday
Hauppauge, NY – November 28, 2013 – The Tiffen Company, a leading manufacturer of award-winning digital imaging accessories, announced big holiday savings on its award-winning apps,Tiffen Photo fx for $.99 (regularly $2.99) and Tiffen Photo fx Ultra for $1.99 (regularly $4.99). Available for purchase on the iTunes Store, the Tiffen App sale runs from Black Friday (November 23, 2013) through Cyber Monday (December 2, 2013).
Compatible with Apple iOS 7, Tiffen Photo fx and Photo fx Ultra let iPhone®, iPad® and iPod® touch users add stunning photographic effects and color treatments to digital pictures. Users can share Photo fx'd images on Facebook, Instagram, Twitter as well as via the Sincerely Ship & Print service and "Open In."
About Tiffen's Award-Winning Mobile Photo Effects Apps

Tiffen Photo fx Ultra recently won the "Best Mobile Photo App of 2013" award from the prestigious Technical Image Press Association (TIPA). This award is given to products on the basis of "innovation, the use of leading-edge technology, design and ergonomics, ease-of-use, as well as price/performance ratio." It is a highly coveted award, as eligibility is based purely on a product's value in the marketplace rather than on a submission basis.
One of the first image editing apps to hit the market in 2009, the Photo fx family of apps is the definitive set of digital filters for Apple mobile devices and tablets. Each app offers simulations of many popular award-winning Tiffen glass filters, specialized lenses, optical lab processes, film grain, exacting color correction, natural light, and photographic effects, plus a clever paint system with a variety of brushes for those using the Photo fx Ultra app.
Tiffen Photo fx and Photo fx Ultra Holiday Pricing and Availability

The award-winning Tiffen Photo fx v5.03 and Tiffen Photo fx Ultra v5.02 apps will be available for $.99 and $1.99 respectively through the iTunes Store and priced in local currency outside the United States. Sale will be announced on iTunes on November 29, 2013 and will end on December 2, 2013.
About Tiffen

Tiffen has been a leading manufacturer of photographic filters, lens accessories, software, and camera accessories for the consumer/professional imaging and the motion picture and broadcast television industries for 75 years. The company has a rich history of innovative product design, superior optical consistency, and unparalleled quality. Tiffen has been recognized for its product and engineering excellence, earning a Technical Achievement Award and a Scientific and Engineering Award from the Academy of Motion Picture Arts & Sciences, as well as multiple Emmy® Awards. Today, the company offers a wide range of products, which include: Tiffen® filters, Steadicam® camera stabilizing systems, Lowel® light, Listec® teleprompters, Tiffen Dfx® digital imaging software, Domke® bags, Davis & Sanford® tripods, Zing® camera covers, Stroboframe® flash brackets, Saunders® professional trimmers, and Kodak Wratten® filters. Tiffen continues to enhance its reputation as a leading imaging accessory manufacturer through aggressive growth in the image-making accessory industry.
For more information on Tiffen, please visit http://www.tiffen.com.
Tiffen is a registered trademark of The Tiffen Company. All other trademarks and products mentioned herein belong to their respective owners.
Your Comments