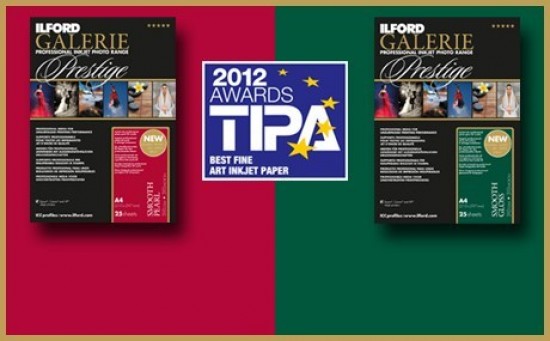 Two of Ilford's latest products, GALERIE Prestige Smooth Pearl 310gsm and Smooth Gloss 310gsm, have been honoured with a TIPA 2012 award for Best Fine Art Inkjet Paper. The GALERIE Prestige Smooth Gloss 310gsm and Smooth Pearl 310gsm papers were launched in Europe in March 2012 and have been developed in direct response to the growing demand for heavier weight media from professional inkjet printmakers. Jane Dixon, Director of Global Marketing at ILFORD says "The TIPA Awards are the most prestigious photo awards in the industry, so we are delighted to receive the Best Fine Art Inkjet Paper award for our latest GALERIE offerings. We have a loyal customer base with Fine Art photographers all over the world and the new 310gsm papers have been developed with them in mind. We're very pleased to offer them enhanced aesthetic gravitas that can be achieved through using heavier weight papers."
Ilford Press Release
ILFORD IMAGING IS HONOURED WITH MOST PRESTIGIOUS PHOTO AWARD
TIPA (Technical Image Press Association) gives Best Fine Art Inkjet Paper award to ILFORD GALERIE Prestige Smooth Gloss 310gsm and Smooth Pearl 310gsm papers
Marly, Switzerland – Monday 16 April 2012 - ILFORD (http://www.ilford.com), a leading developer and manufacturer of professional quality media for both inkjet printing and colour photographic processes, today announces that two of its latest products, GALERIE Prestige Smooth Pearl 310gsm and Smooth Gloss 310gsm, have been honoured with a prestigious TIPA 2012 award for Best Fine Art Inkjet Paper.
TIPA (Technical Image Press Association) has commended the new GALERIE Prestige Smooth Gloss 310gsm and Smooth Pearl 310gsm papers for offering a heavier weight whilst retaining all of the technical features that have made their lighter weight forbearers the papers of reference both in the world of professional printing and among experienced amateurs. Fully compatible with all professional inkjet printers, they allow the creation of superior archival quality prints with excellent reproduction of colour gamut. TIPA has recognised that for photographers, the new 310gsm papers can improve the feel of prints and give more weight to printed images.
The GALERIE Prestige Smooth Gloss 310gsm and Smooth Pearl 310gsm papers were launched in Europe in March 2012 and have been developed in direct response to the growing demand for heavier weight media from professional inkjet printmakers. The new products underline the commitment of ILFORD to continue developing its GALERIE range in line with the ever-changing needs of photographers.
Jane Dixon, Director of Global Marketing at ILFORD says "The TIPA Awards are the most prestigious photo awards in the industry, so we are delighted to receive the Best Fine Art Inkjet Paper award for our latest GALERIE offerings. We have a loyal customer base with Fine Art photographers all over the world and the new 310gsm papers have been developed with them in mind. We're very pleased to offer them enhanced aesthetic gravitas that can be achieved through using heavier weight papers."
About the TIPA Awards
The Technical Image Press Association Awards are recognised as the most coveted photo and imaging awards worldwide.

Every year, TIPA editors vote for the best photo & imaging products introduced to the market during the previous 12 months. TIPA editors take into account innovation, the use of leading-edge technology, design and ergonomics, ease-of-use, as well as price/performance ratio. Since TIPA member magazines range in content and goals, the award voting process benefits from a wide range of expertise. As a result, the TIPA Awards are bestowed through a majority of votes by very experienced editors.

About ILFORD GALERIE Prestige
The GALERIE Prestige range of inkjet media combines state-of-the-art inkjet technology with more than a century of experience in the craft of photographic image
making to provide a range of products that match the aspirations and needs of professional photographers.
Alongside the new Prestige Smooth Gloss 310gsm and Smooth Pearl 310gsm papers, products in the GALERIE Prestige range suitable for Fine Art photography include the Gold Fibre Silk baryta fibre-based paper; the 100% rag Smooth Fine Art and Smooth Fine Art Matt papers; Smooth Fine Art Canvas and Smooth Fine Art Weave.
About ILFORD
Founded in 1879, ILFORD is a leading player in the development and manufacture of photo quality media and other consumables for both inkjet printing and colour photographic processes. The worldwide digital imaging and color photographic businesses, which include R&D and manufacturing operations in Switzerland, are owned by Paradigm Global Partners LLP.  ILFORD hosts its U.S. sales operations from its offices in Avon, CT.

The ILFORD name is well established in the history of imaging and today continues to be associated with cutting edge technology thanks to its strong links to the photo imaging marketplace, research and development, technical know-how and manufacturing capabilities.

For more information on ILFORD, please visit http://www.ilford.com/
Your Comments