Toshiba Camileo B10 and P100 Hit Stores in US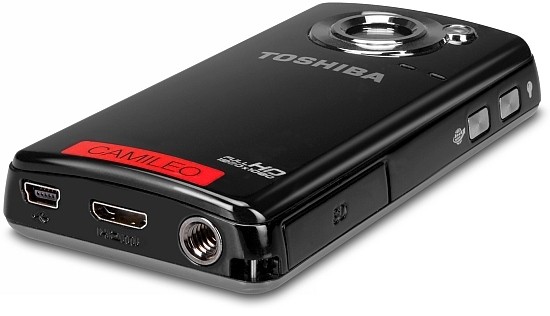 The Toshiba Camileo B10 and Camileo P100 Full HD digital video cameras, announced back in April, are now available in the US. The Toshiba Camileo B10 is a neat, robust yet lightweight and pocket sized camcorder that can be kept close at hand for spontaneous shots, while the Toshiba Camileo P100 is a more advanced model with 5x optical and 8x "advanced" zoom. The B10 features a 5-megapixel CMOS sensor, while the P100 has an 8-megapixel one. Thanks to their high-resolution imagers, both can capture stills in addition to recording Full HD video footage. Furthermore, both devices are SDXC compliant, and each features an Upload Button, which allows easy uploading of videos to social networks. The Toshiba Camileo B10 is available from $119.99, whilst the Toshiba Camileo P100 starts at $179.99.
Toshiba Press Release
TOSHIBA INTRODUCES TWO NEW FULL HD DIGITAL CAMCORDERS

Priced Under $200, CAMILEO P100 and CAMILEO B10 Offer Superior Zoom Capabilities without Comprising Quality

IRVINE, Calif. — June 14, 2011— Toshiba's Digital Products Division(DPD), a division of Toshiba America Information Systems, Inc., today introduced the CAMILEO™ P100 and CAMILEO B10, two highly affordable and ultraportable 1080p full HD camcorders. Compatible with Windows®-based and Mac OS systems, both camcorders offer impressive zoom capabilities and double as 16-megapixel still cameras with dedicated recording buttons, enabling consumers to carry around a single device to capture all of life's moments in the highest quality videos and photos. These camcorders also have a host of features that include motion detection, time-lapse, face tracking and webcam mode.

CAMILEO P100: Zoom In – Without Losing Focus
The pistol-shaped CAMILEO P100 is extremely portable, weighing a mere 4.7 ounces[i]. The device also features superior zoom capabilities as both a camcorder and camera. The P100 offers a 5x optical zoom and a 16-megapixel photo resolution that leverages real-time interpolation when in camera mode. When being used as a camcorder, users can take advantage of the 8x advanced zoom to crisply capture details found in far-off scenes. Advanced zoom extends optical zoom to create a superior image than traditional digital zoom. This model also includes pause recording that allows the user to pause and resume during recording, creating one continuous file instead of multiple files for easier uploads to social networking sites. Designed with image stabilization that supports up to 1920x1080p, the CAMILEO P100 creates brilliant videos that can be comfortably viewed on its swiveling three-inch diagonal LCD touchscreen display[ii], all for a starting price of $179.99 MSRP[iii].

CAMILEO B10: HD Value
The CAMILEO B10 is equipped with a two-inch diagonal LCD screen2 on the back of its candy bar shape and weighs a mere 3.0 ounces1, making it ideal to slip in a back pocket or evening clutch. The 16x digital zoom allows consumer to get right in on the action. This camcorder is ideal for the person who wants a compact, full HD camcorder that takes beautiful still photos but doesn't cost a fortune, starting at $119.99 MSRP3.

"We've received great consumer response to our CAMILEO line which has encouraged us to continue expanding the line," said Paul Collas, director of accessory marketing, Toshiba America Information Systems, Inc., Digital Life Products and Services. "Toshiba prides itself on creating products packed with key features that meet consumers every day needs and are available at all price ranges, and the CAMILEO P100 and CAMILEO B10 are prime examples of just that."

Both the camcorders allow consumers to conveniently view videos and still photos directly on an HDTV via the HDMI® port. Another key feature found in both camcorders is the Internet Upload Button (for Windows-based systems), which allows users to easily and quickly share their videos and photos on YouTube™, Facebook®, Twitter and Picasa®.

Pricing and Availability
The CAMILEO P100 and CAMILEO B10 are now available for purchase at ToshibaDirect.com and a variety of major consumer electronics and computer stores nationwide. The CAMILEO P100 starts at $179.99 MSRP3 and the CAMILEO B10 starts at $119.99 MSRP.

Connect with Toshiba on Twitter at twitter.com/ToshibaUSAand on Facebook at www.facebook.com/ToshibaUS.

About Toshiba America Information Systems, Inc. (TAIS)
Headquartered in Irvine, Calif., TAIS is comprised of four business units: Digital Products Division, Imaging Systems Division, Storage Device Division, and Telecommunication Systems Division. Together, these divisions provide digital products, services and solutions, including industry-leading portable computers; televisions, TV/DVD Combination products, Blu-ray Disc and DVD products, and portable devices; imaging products for the security, medical and manufacturing markets; storage products for automotive, computer and consumer electronics applications; and IP business telephone systems with unified communications, collaboration and mobility applications. TAIS provides sales, marketing and services for its wide range of products in the United States and Latin America. TAIS is an independent operating company owned by Toshiba America, Inc., a subsidiary of Toshiba Corporation. For more information on TAIS visit us.toshiba.com.

About Toshiba Corporation
Toshiba Corporation is a world leader and innovator in pioneering high technology, a diversified manufacturer and marketer of advanced electronic and electrical products spanning digital consumer products; electronic devices and components; power systems, including nuclear energy; industrial and social infrastructure systems; and home appliances. Toshiba was founded in 1875, and today operates a global network of more than 490 companies, with 203,000 employees worldwide and annual sales surpassing 6.3 trillion yen (US$77 billion). Visit Toshiba's web site at www.toshiba.co.jp/index.htm.
© 2011 Toshiba America Information Systems, Inc. All rights reserved. All product, service and company names are trademarks, registered trademarks or service marks of their respective owners. Information including, without limitation, product prices, specifications, availability, content of services, and contact information is subject to change without notice.

[i]Weight. Weight may vary.  See Weight Legal Footnote at www.info.toshiba.com
[ii]Display. Any small bright dots that may appear on your display are an intrinsic characteristic of the thin film transistors manufacturing technology. See Display Legal Footnote at www.info.toshiba.com
[iii]Price. Reseller prices may vary. MSRP means "Manufacturer's Suggested Retail Price."
Your Comments