Travel Photography Seminars at The Telegraph Adventure Travel Show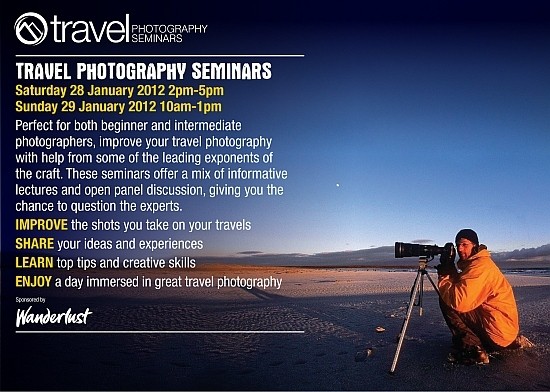 The Telegraph Adventure Travel Show, held on 28-29 January 2012 at Olympia, London, will feature a series of Travel Photography Seminars. At these seminars, attendees will discover what makes an award-winning travel photograph, get expert tips on composition, find out how they can improve their portraits and landscape shots, and learn how the pros work in the field. The Travel Photography Advance Price is £55 for one day and £90 for both days. To learn more, visit the website below.
Website: The Telegraph Adventure Travel Show | Travel Photography Seminars
Press Release
Visit the UK's only event dedicated to offbeat travel experiences – and uncover your journey of a lifetime
28-29 January 2012, Olympia, London
Revive the true spirit of adventurous travel at The Telegraph Adventure Travel Show!
The Telegraph Adventure Travel Show is a world of extraordinary discoveries, under one roof. It is the UK's foremost travel event for people who like to travel outside the mainstream – whether it be on small-group adventures, exclusive expeditions or epic journeys.
The Telegraph Adventure Travel Show is packed with inspirational travel advice from experts, explorers, tour leaders and writers who will help you uncover your perfect adventure. Plus, the best specialist travel operators will be on hand to offer advice on everything from walking and trekking to exploratory journeys, safaris, overland trips, life-changing volunteering projects and much more.
The Telegraph Adventure Travel Show – it's where your adventure begins….

EXCITING SHOW FEATURES
Travel Photography Seminars
Improve your travel photography with help from some of the leading exponents of the craft. These seminars offer a mix of informative lectures and open panel discussion, giving you the chance to question the experts.
IMPROVE the shots you take on your travels
SHARE your ideas and experiences with fellow travel photographers
LEARN top tips and creative skills
ENJOY a day immersed in great travel photography
Travel Writing Seminars
Whether you want to start a career in travel writing, make money to fund your travels, document your trips for posterity or begin a blog, the Travel Writing Seminars will be full of tips and information to get you on track.
LEARN how to sell stories to newspapers and magazines
IMPROVE your writing, for print and the web
DEVELOP your travel diaries into professional articles
ENJOY discussing travel writing with industry experts
Discover Africa
Dedicated to one of the world's most beguiling continents, the Discover Africa area is designed to provide you with all the information you need to plan the African adventure of a lifetime. Discover Africa will include insider talks and Q&A sessions on the continent, plus a huge range of experts, from specialist tour operators to companies offering climbing, diving, walking, fishing, small aircraft safaris, hot air ballooning and more.
FREE Talks and Theatres
The Telegraph Adventure Travel Show will host an array of free talks in six dedicated travel theatres. Hear explorers, specialists and industry insiders give their advice, then quiz them afterwards. The range of fascinating talks includes: 
The Best Adventures: Inca Trail, Kilimanjaro, walking the Amazon, Afghanistan and more
Overland and Expeditions: Cycling the Himalaya, how to drive around the world and overlanding advice
Wildlife and Photography: Fascinated by wildlife and travel photography? How to take it to the next level
Discover Africa: Everything you need to know on lodges, wildlife, game drives, helicopter safaris and more
To get your tickets to this unmissable event, call 0871 230 7159 or visit www.adventureshow.com to find out more.
Your Comments