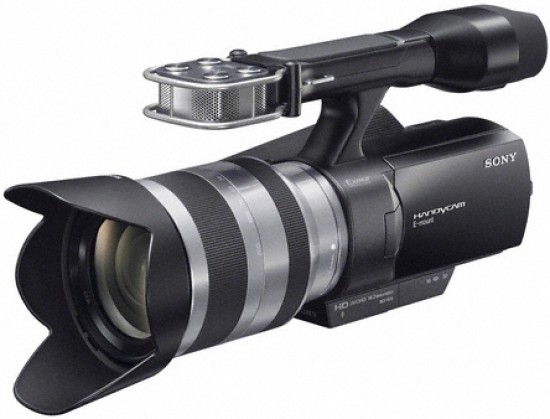 Sony has won two awards from the Technical Image Press Association. The company scooped up the TIPA award for best imaging innovation for its SLT technology, whilst its Handycam NEX-VG10E interchangeable-lens video camera has won the accolade of "Best Expert Camcorder". Sony's SLT technology is used in the Sony A55 and A33 cameras, and it will also be at the heart of the upcoming Sony A77. The Sony Handycam NEX-VG10 (pictured) is a Full HD camcorder that has an APS HD CMOS sensor and takes Sony E-mount lenses (as well as A-mount lenses with the LA-EA1 mount adapter).
Sony Press Release
Sony digital imaging innovation once again recognised by TIPA: Sony wins two prestigious TIPA Awards 2011
· BEST IMAGING INNOVATION: Sony SLT, Translucent Mirror Technology
· BEST EXPERT CAMCORDER: Handycam® NEX-VG10E
This year the prestigious Technical Image Press Association has recognised Sony's ability to continuously innovate its digital imaging product range. Sony's Translucent Mirror Technology won the Best Imaging Innovation award while the Handycam® NEX-VG10E was awarded the Best Expert Camcorder.
Speaking of why Sony SLT, Translucent Mirror Technology, was named the Best Imaging Innovation, the editorial panel of Europe's most prestigious photo industry awards states: "Sony has developed Translucent Mirror Technology for a new level of functionality. The advantages of a translucent, fixed mirror technology are evident in the form of real time, phase detect autofocus (also available in Movie Mode) and much increased burst mode speed. By means of SLT design, bodies can also be made smaller, thus reducing weight and size without sacrificing functionality and advanced technology benefits".
Meanwhile, Sony's Handycam® NEX-VG10E was awarded 'Best Expert Camcorder in 2011'. "The judging citation states: "This camcorder could be considered the perfect "convergence" imaging system, equally serving the still photo and video worlds. The novel NEX-VG10 uses most of the electronics of Sony NEX-5 CSC, the same Exmor HD CMOS APS-C size sensor and the same E-mount for interchangeable lenses. However, its architecture and layout clearly favours video with a very remarkable performance thanks to 24Mbps codec AVCHD".
Translucent Mirror Technology: Camera speed redefined
The ?55 and ?33, Sony's first-ever digital cameras to employ Translucent Mirror Technology, showcase an innovative optical system that opens up dramatic new shooting possibilities. In contrast with conventional DSLR cameras, Translucent Mirror Technology uses a fixed, translucent mirror that 'splits' the optical pathway between the main image sensor and a separate phase-detection autofocus sensor, enabling AF to work without interruption even during the exposure periods (called "Full-time Continuous AF").
The ground-breaking Translucent Mirror Technology allows high-speed shooting with the ?55 at up to 10fps (?33: 7fps) in Continuous Priority AE mode. The technology assures rapid, accurate AF tracking, keeping even moving subjects in sharp focus at all times, whether you're shooting Full HD video or stills.
Handycam® NEX-VG10E: World's first consumer interchangeable lens HD camcorder
Building on 25 years of continuous Handycam® innovation, the NEX-VG10E is the world's first consumer HD camcorder compatible with a choice of interchangeable lenses. Alongside the existing E-mount lenses, users of the NEX-VG10E can experience a wide variety of A-mount camera optics by using the optional LA-EA1 mount adaptor.
The Handycam® NEX-VG10E captures cinematic full HD movie and stereo sound with great depth. The 14.2 effective megapixel ExmorTM APS HD CMOS sensor, which is approximately 19.5 times larger than the standard sensor found in conventional camcorder, allows the creation of stunning images with beautiful background defocus and enables an extremely shallow depth of field for selective focus. The NEX-VG10E is compact, beautifully balanced and easy to handle.
Your Comments