Version 2.01 Firmware for Canon EOS 10D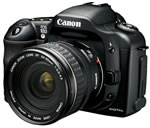 Canon have released a new version of firmware for the Canon EOS 10D DSLR.
This Firmware update (Version 2.0.1) incorporates the following change:
- Correction of the LCD monitor display in firmware version 2.0.0
This firmware update applies to cameras with firmware versions 1.0.0, 1.0.1, or 2.0.0. It is not necessary to perform this update on cameras that already have version 2.0.1 firmware.
Website: Canon EOS 10D Version 2.01 Firmware