What Makes a Photograph Controversial?
By Greer McNally
This week has seen the international press go a little wild about Wayne Rooney. Contrary to expectation, it has little to do with his behaviour or play on the pitch and more to do with his posing power. So what is the source of the furore?
Surprisingly it's just one photograph in which the England striker, painted with the cross of St George, yells skyward. Nike's tagline "Just Do It" runs as the only wording on the poster. In advertising terms the one image campaign has been a massive success. Since the photograph was revealed on Tuesday the story has been run as far a field as the Chicago Sun-Times in the US and in nearly every national newspaper on the English news-stands.
The Daily Mail has led the attack on the picture. Interviewing Ealing North MP Stephen Pounder, in whose constituency the ad runs on a giant billboard, Pounder labelled it "crass" and "offensive", and Rev Rod Thomas of the Church of England evangelical group Reform dismissed it as a "publicity stunt".
But the public too has spoken. The papers have been bombarded with letters and the Advertising Standards Authority watchdog had five complaints reacting to its religious iconography within hours of its unveiling. One can only wonder whether Nike and ad agency Wieden and Kennedy could have anticipated this level of exposure when they contacted photographer Nick Georghiou and his agent Wyatt Clarke for the shoot. What is sure is that it has polarised public opinion.
So what makes an image controversial? Apparently daubing a famous footballer with red paint and having him shout at the camera will do it. But what else? In recent times different images have had a similar effect. Take Jason Bell's cover shot of Kate Winslet for GQ. When it hit the newsstands the media whipped themselves up into a frenzy. The reason? Curvy Kate's legs had suddenly slimmed down thanks to some fast Photoshop work courtesy of the magazine's art team. On that occasion the photographer was as surprised as everyone else and it opened up the whole digital is the devil debate.
But what about if, like the Rooney picture, it is the content which is considered controversial? Dutch photographer Erwin Olaf is known for his inflammatory imagery. The award-wining image maker has in the past depicted children in black PVC bondage gear (using a child mannequin with the eyes later inserted in Photoshop) and for Royal Blood he had a Princess Diana look-alike splattered with blood and a BMW badge imbedded in her arm. The photograph is stunning, beautifully shot and thought-provoking, but also highly provocative and some think distasteful.
Finally there are those images which are shot simply to shock. Not to sell a car, packet of cigarettes or pair of football boots, but simply to provoke a human reaction from a jaded society. When photographer Lee Miller convinced fashion bible Vogue to let her cover WWII, she became their first war correspondent. The access she got and the scenes that she snapped are some of the most thought provoking of the 21st Century. Other war photographers that caught conflict on film include Robert Capa and Philip Griffiths Jones. The latter's collection Vietnam Inc takes the viewer to the country rather than the war that was raging around it. So when the violence erupts it is all the more thought-provoking. Today you need only look at Paul Lowe at Panos' images of the nuclear killing fields to see how confrontational one photograph can be. But after this week, we know that already.
So what do you think? Is it a patriotic, emotive image worthy of our footballing heroes or likely to incite violence in the stands and offence to the religious? And what is it about an image that makes your blood boil?
Next week PhotographyBLOG will be interviewing Rooney-snapping photographer Nick Georghiou on his reaction to the recent controversy.
Useful Links
http://www.nickgeorghiou.com
http://www.wyattclarke.co.uk
http://www.wklondon.com
http://www.jasonbellphoto.com
http://www.erwinolaf.com – contains material with sexual content
http://www.panospictures.com
http://www.leemiller.co.uk
http://www.magnumphotos.com
Image reproduced courtesy of Nike.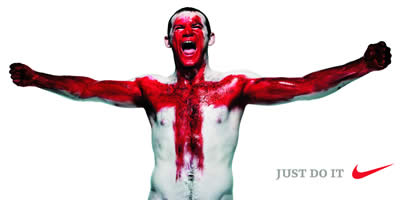 Share this article