New Tamrac, Optech, Velbon, Tamron, Cokin and Digipower Product Bonanza
Photography Blog was recently invited to view a comprehensive new line-up of photo products hitting the UK market from all over the world – courtesy of UK distributor Intro2020, which currently looks after 26 different brands and product lines.
One of the biggest news stories is the re-emergence of the Tamrac camera bag brand, which now has a go-getting new US owner in Greg Schern of GuraGear.
In the following report, Greg tells us he has re-engineered and re-designed the range from the ground floor up. We also hear from the team at Intro2020 who tell Photography Blog about many other photography related accessories – including tripods, filters, selfie sticks, chargers and batteries – plus more big name brands aside.
A new owner for Tamrac & wholly new product lines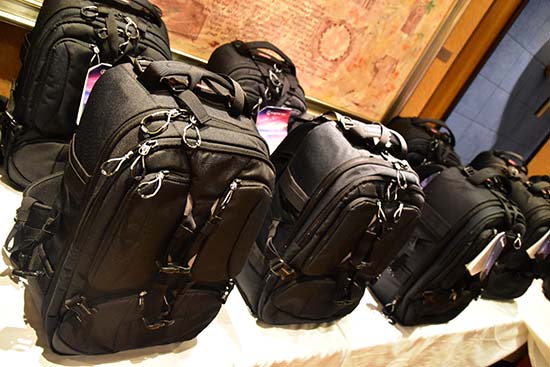 Intro2020 MD Jim Mackay and his team have represented Tamrac for the past decade. He suggests that the distributor kept the faith and continued to do so when the brand quietly went into administration just over a year ago. But now, under new Utah-based owner and serial entrepreneur Greg Schern, President of bag manufacturer GuraGear, the Tamrac name has been given not so much a reprieve as a wholly fresh start.
Greg has not bought just the Tamrac brand; he's're-booted' it – eschewing existing product lines to create even better new ones with expertise gained growing his own GuraGear and Ogden Made (as in Ogden, Utah) bag ranges. Intro2020 will continue to distribute his newest Tamrac creations, whilst adding GuraGear to its trade offerings too.
"I've been in the photo industry my entire entrepreneurial career," Greg reveals to Photography Blog. "Previously we've stayed small and nimble with our bag offerings and sold direct to consumers. But we made a decision a couple of years ago to scale things up and needed a really good brand to scale into. The Tamrac brand became available, which was perfect timing for us, so we acquired it. We're not afraid of taking risks and trying new things with an entrepreneurial spirit.
"We work hard every day to build value into our bags and are never done improving," he adds. "We have facilities around the world now; not only in Odgen Utah, but also in Hamburg, Ho Chi Minh City and Guangdong. We moved the production of Tamrac bags from China to Vietnam because the skill level of sewing is really high there and the production capabilities are world class."
Going forward, Greg sees Tamrac's target market as being the DSLR and mirror-less camera user. "We don't pay a lot of attention to the compact camera market, which, although not as a big a market as it used to be, is still huge. But if we look at IDC market data, it shows that the decline in SLR sales is much less than compact – SLRs dropped just 7% this year with mirror-less cameras making up for some of the shortfall. Cameras are still a big market, worth $5 billion in western Europe alone. People using smartphones who didn't previously consider themselves photographers are now getting into it. And for 50% of cameras sold there is an add-on camera bag sale."
New Anvil & Arc bag and accessory belt, plus Corona sling bag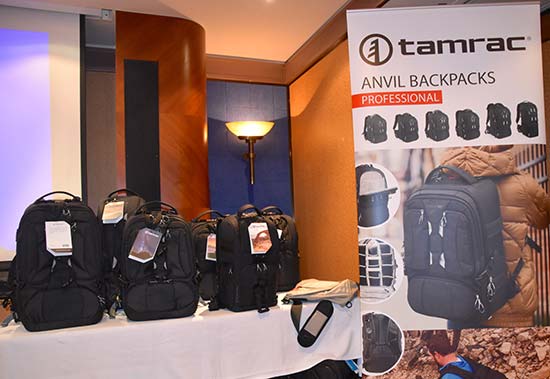 Greg – and Intro2020 – clearly sees that there is life in the specialist kit bag yet. So, in the year since GuraGear took over Tamrac, it has initiated a complete redesign. The first fruits of this new labour revealed to Photography Blog are Tamrac's pro photographer 'Anvil' bags with 'Arc' accessory belt.
The Anvil line up – named, according to its owner and originator after a particular type of thunderstorm cloud – "they're powerful, beautiful clouds," – currently consists of six bags. "The older Tamrac Expedition series was the market inspiration for Anvil, but that's where it stopped. We've done a complete re-design. We wanted to reduce the bag's weight by 30% and for it to be adaptable. We also wanted to make sure it was easy to use, as everyone's needs are different: hence we have six bags in the series."
The sextet comprises three 'standard' bags in the Anvil 17, 23 and 27 – the numbers referring to the internal capacity of the bags in litres – along with 'slim' versions in the Anvil Slim 11, 15 and Super 25, which are 3cm less deep, so therefore capable of being readily stored in overhead lockers on aircraft as hand luggage, whilst also being better suited perhaps to mirror-less cameras, such as the Fuji 'X' series line up. The taller Super 25 model meanwhile is suggested as being ideal for a pro-sized DSLR with telephoto lens up to 600mm attached.
"We've used ten different densities and types of foam in the bags to in fact make them up to 35% lighter overall," Greg enthuses. "Why take that level of care? Because it matters. Bags are supposed to not only protect the cameras and lenses but also be comfortable, because they're on us all day. We're about making better bags – not just 'another bag'."
Tamrac's new owner further reveals that it takes pride in finding the best in class materials for the bags' construction, using Cordura fabrics and YKK zippers.
Each Anvil bag also has its own 'Arc' waist belt system – the 'Arc' claimed to refer to "an arc of lightning", in keeping with a meteorological naming system. "Your bag can expand with you as you need it. It's about trying to find dual purposes for all our features in order to make them more useful. All the belts come in three different sizes, though the medium one fits 85% of all people.
All the Tamrac Anvil bags can fit 15-inch laptops, as well as camera tripods. What's more, in terms of extra sales for dealers beyond the bag and belt, there are nine different 'Arc' accessories, including filter pouches and lens cases, which will fit all the major brands. This isn't a 'closed' system.
Additionally the bags have polyurethane coatings and are water resistant; they also ship with seam-sealed rain covers.
The second new Tamrac bag range unveiled for now is the Corona. This is based on Tamrac's old Evolution series of sling to backpack conversion bags. "The old idea was great but what it really needed was a dose of 2015," Greg reasons. Corona is accessible from both the front and the side and can convert into a sling. There are three sizes available and again the numbers attached to the various models indicate the volume of interior space available.
With a new over-hauled Tamrac website live as you read this, its new owner promises "good things are planned for Tamrac," with roller bags planned for the Autumn/Fall, plus a couple of other further surprises due to appear before then.
New camera straps from Optech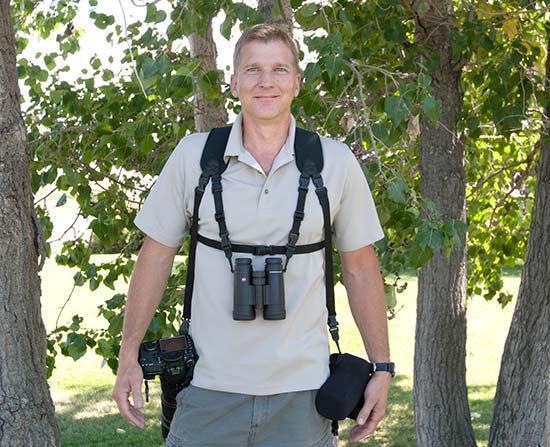 Another important accessory for photographers – arguably – is the 'humble' camera strap. Here, brand leader Optech has a new 2015 range, unveiled by Intro's General Sales Manager Pete Mott. "The advantage with Optech is that it doesn't say the make or model of camera being used on the strap, as with say a Canon or Nikon. So it's also less obvious to prying eyes that the customer is using an expensive camera."
Available now is a new Optech Mirrorless Strap (code 8210) obviously aimed at mirrorless camera users, at a suggested £17.99, and a Mirrorless Sling style strap in black (code 8355) for £22 SRP, which utilises the lugs on the camera for attachment. Also new is the Optech Utility Sling Duo in Black (code 8354), which is suggested for those carrying two cameras at once, at SRP £37. Finally there is the Optech Triple Carrier (code 8365), for carrying up to three cameras, or two bodies and a pair of binoculars, so suggesting appeal to those combining the hobbies of birdwatching and photography.
Stable new tripods from Velbon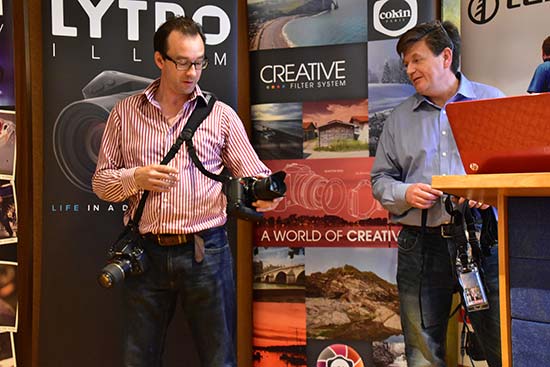 Velbon is the largest Japanese tripod manufacturer, and all its products come with the benefit of a five-year warranty. Celebrating its 60th anniversary this year, according to Intro2020 it also has a service centre with parts for classic Velbon units going back 30 years.
New products for 2015 include: the Ultra 353 Mini Q, an aluminium travel or table top option designed for CSC cameras that comes with a ball and socket head for £90 SRP; the Ultra 355, a simple to use tripod for mirrorless cameras at £90 SRP; the Ultra 455, aimed at entry level DSLR users that offers a split-able centre column and three way pan and tilt head, levelling indicator and finger tightened legs for £120 SRP; plus the Ultra 655, a set of legs suitable for use with DSLRs or scopes for £100 SRP. A possible extra for the latter is a boom arm at £80. This is a full height tripod, yet is lightweight with it at 1.3kg, due to aluminium and magnesium alloy build.
"Consumers really like the reliability of Velbon products," enthuses Jim Mackay, "they get very few tripods coming back that are faulty. Plus Velbon only makes tripods. People getting started in photography want to buy a good quality tripod brand and that brand is Velbon."
Also suitable for the bird watching market here is the new Sub 65, a 3-in-1 tripod, monopod and hide clamp in one with video head. At £139 SRP it suggests fair value and offers a 4.5 kilo capacity. Alternatively for those who are more interested in shooting video, there is the DV7000n video tripod, which Intro2020 claims is its biggest selling entry level video tripod, with a 6 kilo capacity and SRP £130. It also features a Vel-fl09 fluid head for smooth panning action.
Summer cashbacks on Tamron lenses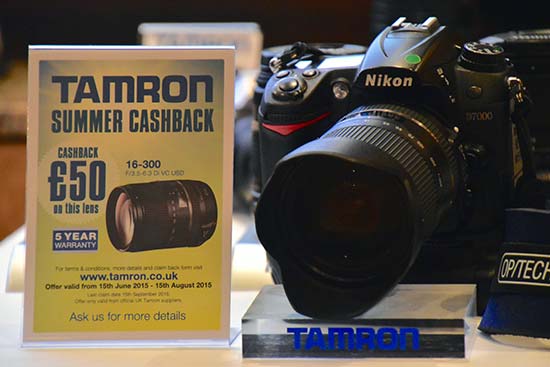 When it comes to third party lenses, Intro2020's Tamron brand is at the forefront. New here is the SP 15-30mm f/2.8 Di VC USD, which is described as the world's first f/2.8 wide angle-zoom with image stabilisation, and has been designed with the latest breed of 50MP DSLR in mind. "Because the pixel size on the chip is small, a smaller amount of vibration will deliver camera shake," Intro2020's Peter Mott suggests.
Tamron Product Manager Jerry adds: "Tamron are pushing the boundaries. That's changing customers' perceptions – and the quality is rivalling the camera manufacturers' own. Tamron is the go-to brand when customers are looking for high quality at a reasonable cost." Pro features include Vibration Correction and weather resistance.
With the above in mind there is also a summer cashback offer on four selected Tamron lenses, which runs until August 15th, and offers up to £100 cashback. "This is one of the biggest cashback offers we've run," says Intro2020's Jerry. The optics that fall under the offer are: the 16-300mm f/3.5-6.3 VC PZD; SP 24-70mm f/2.8 VC USD, SP 70-200mm f/2.8 VC USD; and SP 150-600mm f/5-6.3 VC USD. A further offer is 'buy a Tamron 10-24mm lens and get a Hoya Circular Polariser worth £60 free', with the pitch being: "make your skies look like holiday brochures too."
Tamron lenses come with a five-year warranty, and, should a repair need to be made, these are typically turned around within three days. A possible added purchase here to go with your new lens is a new 'Aosta' branded lens case for the likes of the 150-600mm, in that it is 30cm deep and 12cm in diameter, with a central horizontal divider. SRP is £30.
In terms of further new Intro2020 distributed product, there is the previously Photography Blog reviewed Lytro Illum 'light field camera' that lets users alter the area of the image that is in focus after the shot has been captured – in effect pulling focus. The news here is that not only is there a claimed 'massive' new firmware upgrade for the camera in Lytro Desktop 4.3, that ensures the camera is quicker to use with faster AF – but also a new accessory too in a TTL flashgun for the Lytro at £200 SRP, which is available now.
Something new cooking with Cokin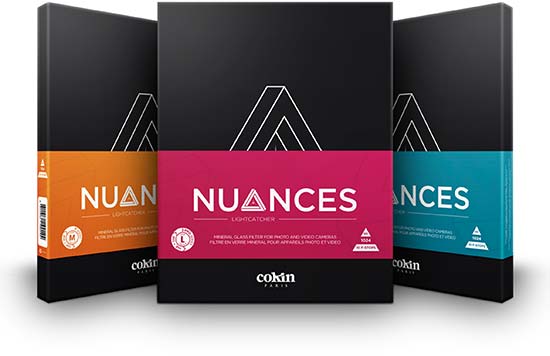 On the horizon meanwhile are a fresh set of Cokin ND glass filters aimed at videographers and filmmakers, but for which an official launch date and pricing was still TBA at the time of writing. Featuring "pure glass with high transmission values," Intro2020 views the new range as "an important step for Cokin." Jim Mackay places this in context by explaining: "Video is now very important for the photo market. It's coming to fruition much faster than I thought. Soon it could be as much as 20% of still photo business. Younger people are growing up with the moving image much more than the still image, although, for the creatives, the still image market will still be there."
Re-fuel your camera with Digipower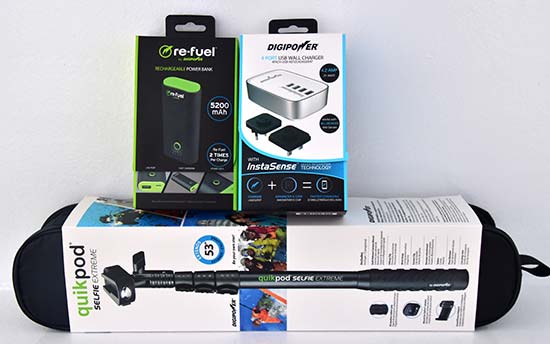 As if all these new Intro2020 distributed products weren't enough – there's more still. The US company Mizco, established 1987, and based out of New Jersey, is offering its 60-strong product line up of Digipower and 're-fuel' branded batteries, chargers and photo related accessories to the UK photographer. For example there are 20 battery items bearing the Digipower name, which Intro2020 tells us is certified by Apple for use with its iPad, iPhone and iPod. In general terms, Digipower is the brand name for all travel related products, whilst for anything related to GoPro, it's 're-fuel'.
Flagged up from the range is the 'InstaSense' smart device charger, which as it sounds charges batteries to their optimum level, for whichever device is plugged into one of four USB ports. "Nobody else has got this technology in the market," enthuses Jim Mackay.
Also available now are a range of camera-dedicated batteries – including several for GoPro action cameras – plus dedicated cables for Apple devices (including a USB-to-micro USB lead) and an-in car charger. 'Re-fuel' as a brand name covers batteries for GoPro Hero 3 and 4 cameras which sit on the back of the GoPro and are waterproof to 40 metres. The six hour battery is £49 SRP, the 12 hour version £100 and the 24 hour version £149. "GoPro isn't going to go way," reassures Peter Mott. Leading on from this surmise, another re-fuel product is the Steadicam-like 'action camera stabiliser' which comes with a GoPro mount adapter and a phone adapter for £59.99 SRP.
Related products for GoPro owners include twin chargers available for both Hero 3 and Hero 4 products, plus a plug-in microphone for GoPro with mini USB and phono connections that is priced at £29.99 SRP. There is even a lens protector kit for the GoPro Hero range, plus a new Digipower 'quikpod' selfie stick. A high-end, flagship version in the 'Selfie Extreme' offers a whopping 52-inch reach and is set to retail for £70 SRP, whilst in total there are four quikpod selfie stick options of various lengths, starting at £19.99 for the 20-inch variety.
To view all 26 brands currently distributed, point your browser at http://www.intro2020.co.uk