Zeiss Distagon T* 2/35 ZF and Zeiss Distagon T* 2,8/25 ZF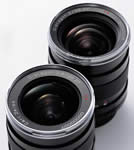 Carl Zeiss Press Release
Oberkochen/Germany, 25.09.2006. - Carl Zeiss introduces two completely new wide-angle lenses with Nikon F mount. They cover full 35mm frame and can be used on both analog and digital SLRs. They focus manually and can produce sharpness well beyond the capabilities of the best color films available today. Both lenses feature a long-life all-metal barrel of very high precision. The Distagon T* 2/35 ZF is a versatile all-round lens with moderate wide-angle coverage and high speed, a classical standard for photojournalistic work. Due to its high performance this lens can capture very detailed scenes with high accuracy and information content.
The Distagon T* 2,8/25 is a lens with pronounced wide-angle characteristics. It excels in dynamic architecture, landscape, and travel photography. Its sharpness goes far beyond any current color film. The minimum object distance of just two inches from the front element enables unique wide-angle close-ups.
The new lenses will be shipping as end of 2006.
List prices:
* Distagon T* 2,0/35 ZF: 699,00 EUR (without VAT)
* Distagon T* 2,8/25 ZF: 699,00 EUR (without VAT)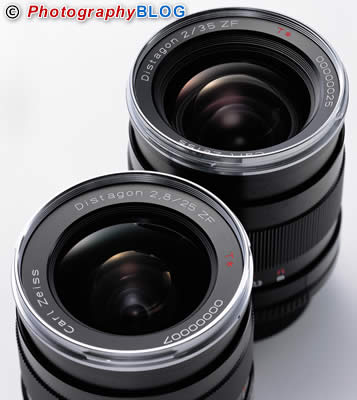 Share this article