Articles: "My First Photograph"
I'm a relatively late-starter in the world of photography. I'm 28 years old and have only been interested in this wonderful hobby for about the last 2-3 years. Prior to that I've had a wide and varied succession of different interests; football is still a passion (come on Everton!), web-design, road and mountain-biking for a few years, cricket, fishing, even bird-watching when I was younger! And of course drinking and chasing girls during the university years.
So what made me become interested in photography? For many photographers, it seems that lessons in the school darkroom at a very young age set them off on a life-long voyage of photographic discovery. Unfortunately, my school didn't have a darkroom - indeed, I'd never set foot in one until September last year. For other photographers, being given a camera and a few rolls of film as a present by their parents was the impetus to go on to bigger and better things. Instead my parents bought me fishing rods and binoculars.
It wasn't until I went on a summer holiday to the Greek island of Crete, 3 years ago, with my girlfriend, that my interest started. There were 2 main reasons; the photograph shown below, and male pride and jealousy: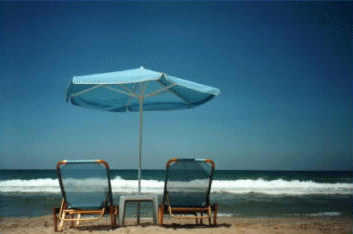 I took this photograph whilst sitting on a sun-lounger using a 35mm compact camera that I think cost £18. I took 3 shots of the beach; one looking up it, one down it, and this one looking out to sea. I had no idea what I was doing. I just pointed the camera and pressed the shutter-button, but when I got the prints back after the holiday had ended, this photograph caught my eye and my attention.
For some reason I had composed the image so that the sun loungers and umbrella were intriguingly off-centre. I'm not saying that this was in any way intentional (I think it was probably caused by the compact camera viewfinder not showing the true scene), but it was a lot more interesting than if the sun loungers had been in the centre of the image. Also, despite the beach being pretty busy (it was the high-season), there are no people sitting on the sun loungers, or indeed anywhere in the picture, which to me gives the scene a somewhat melancholy feel.
So that explains why I liked this photograph (and still do today), and why I consider this image to be the main reason for my interest in photography.
The other reason, as I've already briefly mentioned, is male pride and jealousy. I took a cheap compact camera with me to Crete; my girlfriend took her Minolta SLR with interchangeable lens and flash-gun. When we got our holiday pictures back, her photographs were so much better than mine. So much better. Even to an inexperienced eye like mine. I immediately resolved to go out and buy a proper camera and learn how to use it. A couple of weeks later, I was the proud owner of a Canon EOS 300 with 28-80mm standard lens, and enrolled on a "Understanding your 35mm SLR" camera course.
So that's how my interest in photography started; a combination of a lucky photograph and jealousy :-)
Now I want to know about you; what do you consider to be your first successful photograph, and how did you get interested in photography? Go and find that image that you still fondly remember, scan it in, email it to me along with a brief story, and I'll post them all on PhotographyBLOG.
::Leave a Comment about this Article::
"Your First Photographs"
Tommy Williams has let me know about a similar article that he has posted on his weblog. Here's what Tommy said complete with a link to his article:
"Mark:
Thanks for the thought-provoking "first photograph" article you posted. I've written up a story about the first photo I took with an intention of doing something artistic that I think was successful.
http://sapid.com/tommy/photo/photographic_beginnings20030727.html
I think this may be the beginning of a series of posts from me about my photographic beginnings, influences, where I stand today, etc.
Thanks again.
Tommy Williams"