The Peoples' Voice: "Take My Wife's Digital Camera ... Please !!!"
(by Gary Pogoda)
In the first installment of our new The Peoples' Voice column, reader Gary Pogoda explains just how tricky it is to buy a new camera for his wife. If you want to contribute an article and make your voice heard (minimum of 500 words), please email it to editor@photographyblog.com. Now, over to Gary...
I believe it was Benjamin Franklin who once said, "In this world, nothing is certain but death and taxes." If he were alive today, he would have to amend that statement to include digital camera woes. :)
When my wife and I first started dating, her idea of the ideal birthday gift from me was flowers, jewelry, designer perfume, fine wine, sexy lingerie, romantic dinners, etc. So naturally, for the first birthday we were together, I bought her a Digital Dolby Pro-Logic Surround Sound stereo system. The next year I bought her a 32" HDTV. The next year it was a digital telephone answering system. The next year it was a 2.4 GHz, 5 station, two line, cordless telephone system. The next year, cell phones for the two of us, with a shared service plan. You get the idea.
To my surprise, my wife actually loved all those high-tech gifts. There I was, batting a thousand, that is, until I bought for her, what can now be affectionately referred to as, her "first" digital camera.
It's not like I did not do the research, because I did. After painstakingly narrowing the field down to five digicams, I decided on the Canon PowerShot G3 (pictured left). However, it soon became obvious this was not the ideal camera for my wife.
Why so? For starters, the G3 did not have a fully retracting lens, which made it bulky for my wife to transport in her pocketbook. There was also the battery charger, limited to in-camera battery charging, which prevented my wife from keeping the camera with her in her pocketbook at all times and thus led to missed photo opportunities. The G3 was a fine camera, just not very well-suited for my wife's usage.
STRIKE ONE !!!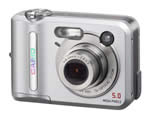 For my wife's next birthday, I bought her a Casio QV-R51 (pictured right). She has used that camera for almost two years, and loves its look and feel, its ease of use, and the fact that she gets great pictures, and can always keep the camera with her in her pocketbook. On the negative side, she would prefer a camera with more than 3x zoom.
But the biggest negative of the Casio is that its flash shots are highly prone to red-eye. While there are numerous software applications which can easily remove red-eye, my wife is averse to post-processing on the computer. Therein lies the problem.
STRIKE TWO !!!
Numerous ultra-compacts offer "in-camera" red-eye removal, but only four additionally offer more than 3x zoom. The HP Photosmart R817 and Nikon Coolpix S4 offer 5x and 10x zoom, respectively; however, both suffer from excessive image noise. The Nikon Coolpix P1 offers only 3.5x zoom, but is not quite as noisy. The almost identical Nikon Coolpix P2 should have even less noise. The fact that its minimum ISO setting is 64, versus ISO 50 for the P1, tells me that Nikon had to use ISO 50 to achieve a noiseless setting on the P1, but were able to achieve the same with ISO 64 on the P2.
Am I grasping at straws here? Perhaps, but I am already way behind in the count with two strikes, and I do not want to strike out. My wife's birthday is "zooming in" quickly at the end of January, so do I swing at the next pitch if it's close, or do I take that pitch and hope the next one will be right over the plate?
Unfortunately, I will have to leave it there for now, but I will definitely keep you posted. Meanwhile, if you should have any comments or suggestions which you believe might be helpful, they would be greatly appreciated. Or, if you too are in search of the perfect digital camera for that special someone, maybe I can help. Or, if you happen to know of a good marriage counselor ... :)
CES UPDATE
There were several cameras with in-camera, red-eye removal which made their debut at CES 2006. However, most will not be available until March or April, but that would make this an "IOU" birthday gift, which is just begging for trouble.
In order of announcement, here are the CES digicams which I found very interesting (for my wife :)).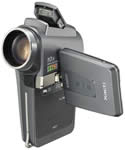 1. Sanyo Xacti HD1 (pictured left) with its high definition video and 10x zoom.
http://tinyurl.com/df6kd
2. Kodak EasyShare V570 with its two CCDs and 5x zoom (range).
http://tinyurl.com/d8qwk
http://tinyurl.com/aljju
3. Pentax Optio A10 with its superior FotoNation in-camera red-eye compensation.
http://tinyurl.com/7ea7t
http://tinyurl.com/9tu9m
4. HP Photosmart R927 with its 3.0" LCD.
http://tinyurl.com/75lcm