Canon iPF5000 Review
Review Date: February 7th 2007
Author: Jon Canfield
Leave a comment about this Review
Introduction
The new Canon iPF5000 is a 17" inkjet printer which features a new 12-colour pigment ink system, ensuring a wider colour gamut with improved gradation and colour consistency. Canon has a long history in the inkjet market, particularly in the desktop sizes where their BubbleJet printers have been a popular choice for nearly 20 years. For digital photographers, one of the most popular printers has been the Canon i9900, a B size (13x19), 8 color printer known for it's vibrant prints and fast print speeds. A couple of years ago Canon introduced the imagePROGRAF 6400 and 8400 – six color pigment printers that were intended for both graphic artists and photographers. Although capable of good quality color prints, the imagePROGRAF never had the impact for photographers that Epson had with the 7600 and 9600 printers. Canon obviously took this to heart and developed a range of large format printers that would appeal to photographers. This new line includes the imagePROGRAF iPF9000 (60" wide), iPF8000 (44" wide), and iPF5000 (17" wide) printers (there is discussion of the iPF6000, a 24" wide model, but as of this report it's not shipping). For this review, I'll focus on the 17" Canon iPF5000. Print quality from all three will be the same, but the smaller size printer adds a cassette feed which is missing in its larger siblings.
Compare Prices
Support PhotographyBLOG: Buy the Canon iPF5000 from one of our affiliate retailers:
Setup
The Canon iPF5000 is a big printer! It arrives on a palette and realistically you'll need two people to setup the iPF5000. Don't plan on driving down to the store in your car to bring this one home – unless you have a van or a truck, arrange for delivery. Once unpackaged, setup is fairly straight forward – you'll have the usual tape to remove from doors and the print carriage. My printer came with several additional errata sheets to refer to in addition to the Quick Start guide, making setup a little more time consuming than typical for this type of printer, but even with the need to read through multiple documents setup was reasonable.
Making space for the Canon iPF5000 in your office might be a challenge – it's bigger than the Epson 4800, in part to make space for the extra ink cartridges. You'll need about 48"x36" for the printer, roll feed and cassette. Overall feel of the printer is very solid, it's obvious that Canon has built this for professional use. Once in place, plug the Canon iPF5000 in and you'll be prompted to install the two print heads, followed by the 12 ink cartridges. The 12 inks with the iPF5000 include the standard photo colors magenta, cyan, yellow, light magenta, light cyan, and black as well as red, blue, green, two grays, and a matte black.
There's been much discussion about Canon's decision to include "starter" cartridges with the iPF5000. These cartridges hold 90ml of ink rather than the 130ml of full cartridges, and you'll use about 40% of the ink to prime the printer. In spite of this, I found that there was enough ink remaining to run dozens of prints. Replacement ink runs about $75 per cartridge – about the same price per ml as Epson, and a bit more than HP. You'll save a significant amount of ink if you need to switch between matte black and photo blacks though as the Canon iPF5000, like the HP Z-series, has all inks on board and doesn't require swapping inks out.
The Canon iPF5000 includes both USB 2.0 and Ethernet ports with an option to add Firewire if needed. Also an option, and one that I have for my printer is the roll feed unit. This is $250 extra but well worth the price. Given the nature of this type of printer, Canon should make the roll feed a standard feature.
Canon includes a large software bundle with the printer, most of it available only to Windows users. Of key interest to photographers is the Photoshop plug-in for 16bit printing. This plug-in works with Photoshop on both Mac and Windows platforms, and as you'll read further down this page, it can make a significant difference in output quality.
Ease of Use
The Canon iPF5000 is based around an entirely new ink and print head system. The inks are Canon's new Lucia pigment inks, rated at over 100 years by Wilhelm Research Institute (www.wilhelm-research.com). Canon has also introduced a wide variety of media including photo rag, canvas, and other fine art papers (many made for Canon by Hahnemuehle). Using the tray feed, media up to 0.5mm can be fed, while manual front feed pushes this up to 1.5mm – enough to print on premounted boards. Where dye based inks are designed to print on swellable surface media such as gloss and satin finish photo papers, pigment ink can be successfully used on just about anything you can feed through the printer including canvas, fine art papers, vinyl, and poster board.
Once setup, the Canon iPF5000 is best left on at all times. Turning it on goes through a lengthy nozzle check and head cleaning – both time and ink consuming, while leaving the printer on lets it do a periodic self check. The printer does go into a sleep mode to reduce power consumption. Altogether, there are four paper paths available – cassette, roll, tray, and manual front feed. The cassette can be left in place at all times, making it easy to switch between paper types for special jobs.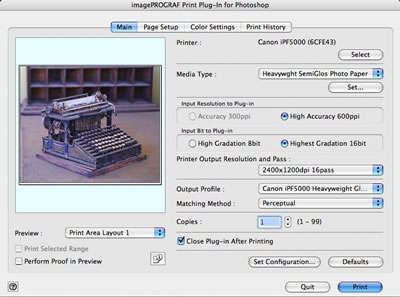 I was pleasantly surprised at the speed of the iPF5000. Canon has done some amazing work here with their L-COA print controller. Combined with the dual print heads which print at up to 2400x1200, printing is extremely fast once your document is spooled. On average, I found the iPF5000 to be about 35% faster than a Epson 4800 with the same file. A big advantage over the Epson printers is the ability to replace print heads if they do go bad. The printer will automatically map out any defective nozzles during it's routine checking, and once a threshold has been reached it will inform you that a head needs to be replaced.
Not all is perfect though. One of the biggest issues with the Canon iPF5000 is the amount of attention and interaction needed in use. Printing from the tray (Canon's term for single sheet feed), you'll need to verify the page size and paper type with every print. And, we're not talking about the print driver here. You also need to confirm these options at the printer. If you're printing from the cassette or from roll, you won't be as aggravated since this only needs to be set at the printer when the paper type or size changes. The documentation doesn't help much with making the options easier to understand either. Canon could take a lesson from Epson and HP on delivering clear user documentation for their products.
Print Quality
I did the bulk of my printing on Canon Satin and Fine Art papers and in all cases had very good results. On the satin and gloss papers there is some bronzing and metamerism present when printing black and white, but the results are on par with the Epson K3 printers. The only printer that I've seen that exceeds the Canon iPF5000 in quality in this regard is the HP Z3100 with the Gloss Enhancer. On fine art papers this is a non-issue.
Printing with the 16bit plug-in through Photoshop allows you to both improve output and make it easier to set all options. Rather than going through Print with Preview and the printer driver, all options for profiling, rendering intents and paper types are set in one location. Here too are the options to print in high quality with multiple passes and high accuracy. In this mode, I can see an improvement in smooth tonal gradations, such as sky, and when printing in black and white.
Comparing gamut charts for the Canon, Epson K3 printers, and HP Z3100 shows the Canon iPF5000 has a wider gamut in almost all areas than the Epson printers, and exceeds the HP slightly in pure red, green, and blue primaries. In actual printing, I was impressed with the clarity in these primary colors, particularly the blues in sky areas of landscape images. Shadow detail is very good, although not as deep as the HP Z3100 shows. On satin paper, the iPF5000 has a Dmax of 2.10 while the HP Z3100 has a Dmax of 2.34. Photo rag papers show less of a difference, with Canon at 1.46 and HP going to 1.65.
On the black and white side, the Canon iPF5000 performs very well. You have the option of printing in color mode, useful when you want a toned print, or in monochrome which uses the two gray inks plus the appropriate black (matte or photo), depending on the paper type being used. The plug-in can further improve output by allowing you to select toning options directly which can then be fine-tuned with a tone curve.
Conclusion
Ratings (out of 5)

Design

4

Features

4

Ease-of-Use

3

Image Quality

5

Value for Money

4
The Canon iPF5000 is an excellent option for anyone looking for large format printing. The print quality is excellent, and the speed is the best in its class. Although it's not the easiest printer to use, and the documentation leaves much to be desired, once you're familiar with the operation and options, this isn't an issue, especially if you use roll or cassette media. Quality wise, when using the 16bit plug-in, the tonal gradations are the best I've seen in any pigment inkjet printer. If you're considering this printer, the roll feed should be on your list as well. The paper options are greater for roll media, and it's more cost effective to use.
Leave a comment about this Review
Compare Prices
Support PhotographyBLOG: Buy the Canon iPF5000 from one of our affiliate retailers: