HP Photosmart 8750
Review Date: April 11th 2005
Ease of Use - Part 4
Printing from a Memory Card
To print a photograph from a memory card, simply insert it into the relevant slot on the front of the printer. I used a variety of card formats without any problems. The HP Photosmart 8750 recognises that you have inserted a card, briefly displays the message "Reading Card", then displays the number of photos that it has found on the card. Unfortunately HP have decided not to use a colour LCD screen on the Photosmart 8750, opting for a monochrome display instead - this is puzzling as the A4 version of this printer, the Photosmart 8450, does have a colour LCD display. If you know what order your photos are in you can select which ones to print by choosing the numbers that correspond to them e.g Photo 1, Photo 5, Photo 22 and so on. If you have a large number of images on the memory card, you will have to print an index sheet of thumbnails first and then select the corresponding numbers on the printer's LCD screen. This system works but it's not the most efficient way of selecting photos and certainly not as effective as seeing and selecting them on a colour LCD screen. It will also waste paper if you keep having to print out index pages for every memory card that you insert.
Otherwise the HP Photosmart 8750 unit has a logical control layout, mainly because there are very few buttons to use. HP's cameras are extremely easy to use and the Photosmart 8750 printer is no different. Selecting which photos to print, choosing options like print quality and date/time stamp, and printing them out using the various external controls is straightforward. Apart from the issue with the LCD screen, the HP Photosmart 8750 is very easy to operate as a stand-alone printer.
Printing Speed
In terms of speed, the HP Photosmart 8750 is not the quickest printer on the block, being similar in speed to the Epson Stylus Photo 2100 / 2200, rather than the much faster Canon printer range. When printing from a computer, to make the biggest A3+ print at the best quality setting of Maximum DPI took a pedestrian 23 minutes and 15 seconds. Even a 13x18cms (5x7 inch) print took 6 mins 15 secs. Interestingly, the print speeds were only slightly slower whan printing directly from a memory card, although unfortunately you can't actually print at the highest quality setting of Maximum DPI unless you are printing from a computer. This is presumably because the printer doesn't have enough built-in memory to support such high resolution printing. The print times were calculated from pressing the print button (either in the printer software or on the printer itself) to the final print arriving in the paper tray.
Printing from a Computer
Paper Size
Quality Setting
Borderless
A3+
Maximum DPI
23 mins 15 secs
A3+
Best
12 mins 50 secs
A3
Maximum DPI
21 mins 10 secs
A3
Best
11 mins 30 secs
A4
Maximum DPI
12 mins 35 secs
A4
Best
6 mins 50 secs
13x18cms
Maximum DPI
6 mins 15 secs
13x18cms
Best
3 mins 30 secs
13x18cms
Normal
2 mins 0 secs
Printing from a Memory Card
Paper Size
Quality Setting*
Borderless
A3+
Best
13 mins 10 secs
A3
Best
11 mins 5 secs
A4
Best
7 mins 0 secs
13x18cms
Best
3 mins 30 secs
13x18cms
Normal
2 mins 30 secs
*The Maximum DPI setting is only available when printing from a computer.
Cartridge and Paper Costs
It is difficult to accurately assess running costs as I only had the HP Photosmart 8750 for 5 days.
In that time I was able to make 5 A3+ prints, 3 A3 prints, 6 A4 prints and 3 13x18cm prints before the HP 102 grey photo print cartridge ran out of ink first.
I then printed 10 A3+ prints, 1 A3 prints, 1 A4 prints and 3 13x18cm prints before the second HP 102 grey photo print cartridge ran out (HP supplied 2 grey cartridges for the review).
Neither the HP 101 blue photo print cartridge or the HP 344 tri-color inkjet print cartridge had ran out of ink at this point, as shown below. Only 5 out of the 32 prints that I made were pure black and white photos.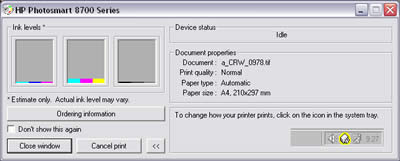 The main factor that counts against the HP Photosmart 8750 are the lack of separate ink cartridges for each colour, as found on the Epson A3 printers. Instead the HP Photosmart 8750 uses a 3 cartridge system with 3 colours in each one. If one colour runs out on the Photosmart 8750, you have to replace the whole cartridge, even if the other 2 colours still have ink left (not that the printer driver software shows this).
Shown below are the UK European and US prices for some of HP's consumables. The HP Photosmart hasn't been released yet, so many prices are currently unavailable (I will update this section as I receive them):
Ink Cartridge Costs - UK
HP 344 tri-color inkjet print cartridge (14 ml) - £23.99
HP 101 blue photo print cartridge (13 ml) - £17.99
HP 102 grey photo print cartridge (13 ml) - £20.99
Ink Cartridge Costs - Europe
HP 344 tri-color inkjet print cartridge (14 ml) - €36.99
HP 101 blue photo print cartridge (13 ml) - N/A
HP 102 grey photo print cartridge (13 ml) - N/A
Ink Cartridge Costs - US
HP 99 Photo Inkjet Print Cartridge - $24.99
HP 100 Gray Photo Inkjet Print Cartridge - $24.99
HP 96 Black Inkjet Print Cartridge - $29.99
HP 97 Tri-color Inkjet Print Cartridge - $34.99
HP 101 Blue Photo Inkjet Print Cartridge - N/A
HP 102 Gray Photo Inkjet Print Cartridge - N/A
Paper Costs - UK
HP Premium Plus Photo Paper, glossy (20 sheets, A3) - £27.99
HP Premium Plus Photo Paper, glossy (50 sheets, A4) - £25.99
HP Photo Paper, matte (50 sheets, A3) - £21.99
HP Premium Plus Photo and Proofing Gloss, high gloss, (25 sheets, A3) - £31.99
Paper Costs - Europe
HP Premium Plus Photo Paper, satin (25 sheets, A3) - €49.99
HP Premium Plus Photo Paper, glossy (50 sheets, A4) - €39.99
HP Photo Paper, matte (50 sheets, A3) - €33.99
HP Premium Plus Photo and Proofing Gloss, high gloss, (25 sheets, A3) - €49.99
Paper Costs - US
HP Premium Plus Photo Paper, satin (25 sheets, 13 X 19") - $53.99
HP Premium Plus Photo Paper, soft or high gloss (50 sheets, 8.5 x 11") - $34.99
HP Photo Paper, matte (50 sheets, 13 x 19") - $35.99
HP Premium Plus Photo and Proofing Gloss, high gloss, (25 sheets, 13 x 19") - $53.99
Compare Prices
Support PhotographyBLOG: Buy the HP Photosmart 8750 from one of our affiliate retailers: