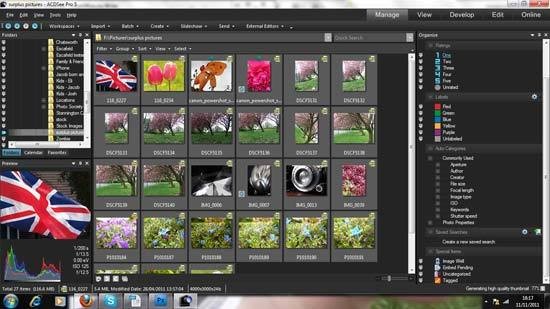 At first ACDSee Pro 5 looks very simplistic and in general terms, if something is hard work, it's more difficult to use. However, the more we go into this program, the more we see that it's extremely comprehensive yet still a dream to use. So let's look at some of the new features.
Well, it turns out that some of the features that we mentioned before are going to get a second mention here because they're new to Pro 5, such as split-toning and dodge & burn. There's also an interesting new sharpen tool. ACDSee call it smarter sharpening and we can see why. You can make a mask of the areas you want to sharpen and take it from there. The lasso tool is very intuitive. Our sample image had areas out of focus and the magic wand tool selected areas within the subject even though it could have bled over.
There are a number of preset digital filters to create special effects in ACDSee Pro 5. It's likely that the lomo filter has been added because of photographers' current obsession with everything retro.  There's also a collage effect which breaks your picture down into a number of separate images as though they've been put together in a collage. The Orton Effect filter has a bright, ethereal effect to the pictures. However, this is easily done in Photoshop.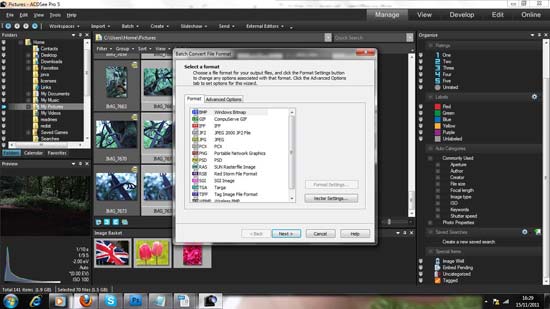 File Conversion
We did have some performance issues with the system taking time to load in some tools such as the new sharpen feature. There was some lag when dragging the preview window around too.
We had Photoshop open at the same in our test so that we could process the screengrabs and having both systems open certainly slowed ACDSee Pro 5. We closed everything down and restarted Pro 5 and this did help to a degree. It's a shame that you can only have one thing running at a time, though. The word "Pro" suggests that it's for professionals and they would have multiple things going on at once. Still, maybe our computer was an issue so we can't really give a definitive opinion on it.
We imported a standard  folder of around 140 pictures which were a mixture of RAW (approx 20Mb) and JPEGs (approx 5Mb) and it only took about three minutes to complete the action. There's also a batch export and batch develop option at the top of the preview window in the Manage section. You have to select the pictures you wish to process first or the lettering won't highlight. A traditional batch export window opens to select your folders etc. The same amount of pictures took around 10 minutes to export.
We also processed the 70 RAW files from the original folder which took around 15 minutes which we don't think is too bad. We love the option of multiple file formats that the files can be transferred to and actually setting up the process is really easy.
Conclusion
While we like the layout of ACDSee Pro 5, it reeks of copy-cat designs. We recognised a few other programs that have a similar approach or layout. But then does it matter? Just because the design is unoriginal doesn't mean it's ineffective. In fact, we think that the way that Pro 5 does things is a bit better than other programs. There's no swanky graphics in the menus. Instead, the simpler graphics will save space and improve processing times which is all good.
We did have some problems, occasionally ACDSee Pro 5 would crash on us and we lost any project we were working on. However, we generally had multiple programs open at the time to write this review and process screengrabs so maybe it's our computer that couldn't cope. Either way, it was annoying - especially after we'd been working on a picture for some time.
Once you've installed ACDSee Pro 5, it will have a tendency to take over the image operations of your computer. If you open a picture, instead of the Windows viewer, ACDSee have muscled in and taken over that. In fact, we found that it started to do that simply by downloading the program. We'd not installed it and it was already taking over. That's not necessarily a bad thing, it's just a little disconcerting to think that the program is invading every part of your workflow.
We're impressed with the features available in ACDSee Pro 5. The editing capabilities are top notch being easy to use and highly precise. Processing times of batch process or RAW conversion is fast and the afore-mentioned familiar reflection of design made it a breeze to use. For the price it's a decent program to add to your toolkit. It's certainly cheaper than the full version of Photoshop and is around the same as Lightroom 3. Be careful when ordering on the site because it automatically adds 40Gb online storage for £15 and download protection for £4.99. It takes the £150 product up to £170 without even asking, so only get it if you think you'll need it.
Ratings (out of 5)
Features
4
Ease-of-use
4
Value for money
4
Your Comments