Canon EOS 70D Review
September 6, 2013
|
Mark Goldstein
|
|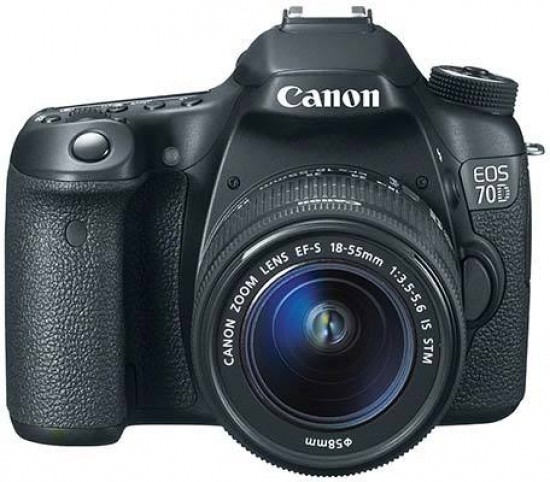 Main Rivals
Listed below are some of the rivals of the Canon EOS 70D.

The Canon EOS 6D is a new full-frame DSLR with a much more affordable price-tag than the 5D Mark III and a few tricks up its sleeve that its bigger brother doesn't offer. At over £1000 / $1000 cheaper than the 5D Mark II, have Canon cut too many corners for the 6D to be a real contender? Read our in-depth Canon EOS 6D review to find out...
The Canon EOS 700D (called the Canon EOS Rebel T5i in North America) is a new DSLR camera that boasts 18 megapixels, full 1080p high-definition videos with continuous auto-focusing, and a touch-screen interface. Other key features of the 700D / T5i include burst shooting at 5fps, a vari-angle 3-inch LCD screen with 1,040k dot resolution, ISO range of 100-25,600, 14-bit image processing and Canon's Digic 5 processor. Is the Canon EOS 700D / T5i the best mid-range digital SLR camera on the market? Read our expert review to find out...

The Canon EOS 7D is a brand new 18 megapixel DSLR camera, complete with 8fps continuous shooting, high-res 3 inch LCD screen, Live View and Full HD movies. The Canon 7D also features a number of significant improvements to its auto-focusing, metering, viewfinder and flash systems, which all add up to make this one of the best-ever specified EOS cameras. Find out if the Canon EOS 7D can also take great pictures by reading the World's first expert review...

The Fujifilm X-Pro1 is a new premium compact system camera. Building on the popularity of the X100, the retro, rangefinder-styled X-Pro1 offers a brand new sensor that's claimed to rival full-frame DSLRs, an improved hybrid viewfinder, and a new X lens mount with three prime lenses available on launch. Read our Fujifilm X-Pro1 review to find out if it can emulate the runaway success of the X100...

The Nikon D600 is a new full-frame DSLR camera. Featuring a 24.3 megapixel full-frame sensor, the small, lightweight D600 also offers 1080p HD video, ISO range of 50-25600, a 39-point AF system, 3.2-inch LCD screen and a viewfinder with 100% coverage. Read our in-depth Nikon D600 review now...

The D7100 is a new prosumer DSLR camera from Nikon, succeeding but not replacing the popular D7000 model. The weather-proof D7100 features a 24 megapixel DX image sensor, 51-point autofocus system, 6fps burst shooting and a high-resolution 3.2 inch LCD screen. Read our detailed Nikon D7100 review to find out if it's the right DSLR camera for you...

Olympus have expanded their Micro Four Thirds family with the launch of the OM-D E-M5. Boasting the World's fastest autofocus system, the E-M5 brings the original design ethos of the 1970's film OM series kicking and screaming into the 21st century. Read our expert Olympus E-M5 review to find out if it's the best compact system camera on the market.

The Panasonic Lumix DMC-GH3 is a new compact system camera that promises to offer both high-quality still images and movies. The exciting GH3 features Full 1080p HD video with bit rates up to 72Mbps, a 16 megapixel sensor, a 3 inch swivelling touchscreen OLED, built-in wi-fi connectivity, a weather-proof body, and an extensive ISO range of 125-25600. Read our Panasonic Lumix DMC-GH3 review to find out if it's the most complete video/stills camera yet...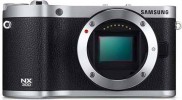 The Samsung NX300 is a new mid-range compact system camera featuring a 20.3 megapixel APS-C sensor, hybrid AF system, 3.3-inch tilting AMOLED touchscreen, 8.6fps continuous shooting, Wi-fi and NFC connectivity, full 1080p video, and an ISO range 100-25,600. Read our in-depth Samsung NX300 review now...

The Sony A77 is the flagship model in the second generation of Sony's SLT camera range. The A77 offers a 24.3 megapixel sensor, 12fps burst shooting, 1080p Full HD movies, high-resolution OLED viewfinder, 3-inch free-angle LCD, 19-point auto-focus with 11 cross-sensors, built-in GPS and an ISO range of 50-16000. Can it really challenge Nikon and Canon in the discerning prosumer market? Read our detailed Sony A77 review to find out...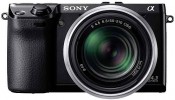 The Sony NEX-7 is a new compact system camera with a long list of photographer-friendly features. Offering a 24.3 megapixel APS-C CMOS sensor, 1080p HD movies, high-res 3 inch tilting screen, 10fps burst shooting, built-in electronic viewfinder and pop-up flash, the NEX-7 seems to be on paper at least a very exciting proposition. Read our full Sony NEX-7 review, complete with sample JPEGs, RAW files, and movies, to find out if this is the ultimate compact system camera...