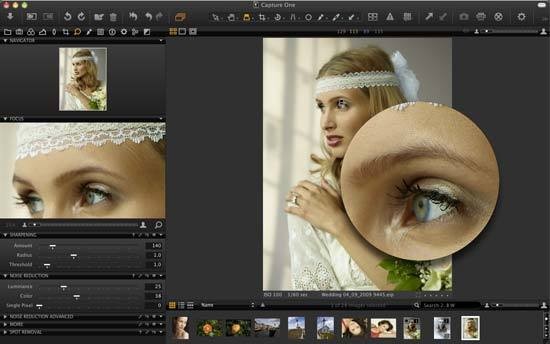 Presentation and Delivery
Presentation of your work is important if you have clients wanting to see it and Phase One have added a couple of new output options for printing and creating a slide show. This is on top of the previous options such as web contact sheet, output images and CMYK support. Printing is a simple affair by pressing the print icon in the top right corner of the main window. Initial standard information will be pre-set according to the printer details you have on your computer. There are lots of ICC profiles available for the colour profiles. Contact sheets can be made using the templates drop down but you have to have selected multiple images before going to the print stage. Importantly, if you're a professional, you can add watermarks to your prints. You can change the opacity, scale and orientation as well as the font type,colour and size. Ideally, I'd like to see an option for importing a custom watermark using a dedicated font and maybe that's something for the future.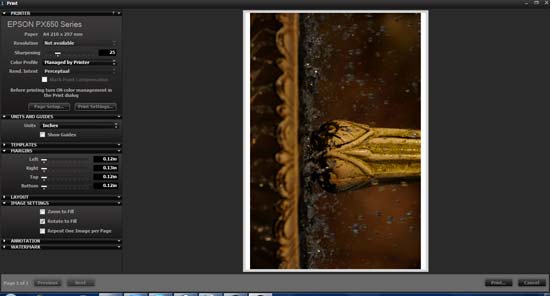 Web Contact Sheet
When you're on the move and you have Capture One Pro 6 on your laptop, you may need to present your pictures in a more interesting way, so you could choose the slide show. Select the images you want to include, go to the view tab and choose start slide show. It would be nice to be able to add some music and maybe on future versions the slide show feature will gain more prominence. At the moment it seems a little like an afterthought because it's so basic. Having a music and transition editor would be much more beneficial and would make the slide show look more attractive.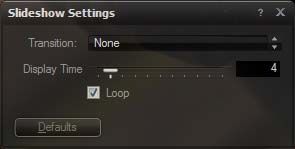 Slideshows
You may find that simply emailing your pictures is the fastest way for your clients to see your commissioned work but sending a bog folder of large files isn't possible by email and would be counter productive anyway. After all, you don't want to give your client all the large files without payment. Go to file, make web contact sheet and a new window will open. Here you can make all the adjustments you need for an attractive contact sheet of thumbnails as well as a link to your website for them to follow. It's fast, slick and very easy to use. I know if I received one of these, I'd much happier than waiting for a printed contact sheet which could take days.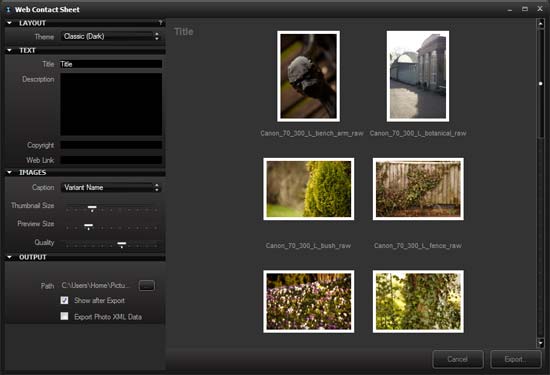 Web Contact Sheet
On the new window, you can add a title, description, copyright details along with the aforementioned website link. This is all displayed on the contact sheet with your copyright name providing the link to the site. Once you're happy click on the export button and a new folder will be created for you to email. The whole folder has to be exported and it has to go to a folder. I couldn't get it to save to the desktop. Make sure all folders are sent but clients can still see the images online by clicking the internet icon that is packed in there.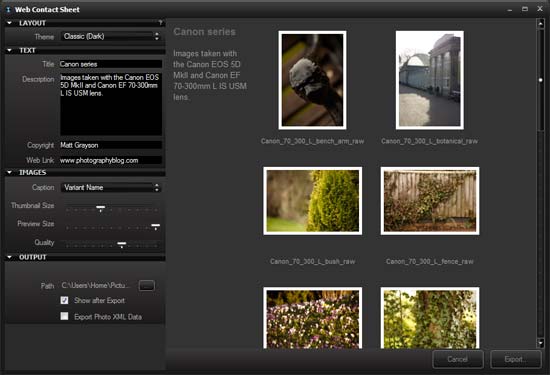 Web Contact Sheet
Work-flow and Performance
The main idea of using these all in one systems is that they improve the overall speed and efficiency with which you can produce your pictures, especially with Capture One Pro 6 because it's aimed at the professional user. There are a number of performance features which will benefit you such as multi-monitor and being able to swap and chop the tools, tabs and workspace. A new feature which uses an open standard is the interactive speed. Using the computer's CPU can slow the program down so using OpenCL (Open Compute Language), Capture One Pro 6 switches some of the processing from the CPU to the graphics card. This is especially important when working with large RAW files or medium format images. The downside is that you need a compatible card to work the system unless you have a Mac. Needless to say, I never got to see it working, but it looks pretty awesome especially as on a 65 megapixel image, editing adjustments can be made and previewed in real time. For Windows based computers, Phase One recommend NVidia 580GTX, Quadro 6000 or the AMD 5870 while for Mac, they recommend the NVidia Quadro 4800 or GeForce GTX 285.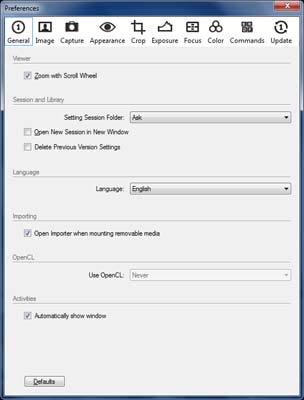 Preferences
Another way to speed up your work flow is to use the multi-monitor system mentioned before, which splits the program over two screens. This allows your clients or studio staff to view the images leaving the work space free to use.


Multi-screen Viewer
You can also customise the work space such as moving the thumbnails (browser) on the right or left, change the tools from the left to the right as well as well as adding or removing tools as you see fit either for a general preference or for each job. Going to Window, workspace, save workspace, you can save any of these arrangements if you do change them job by job.
Conclusion
There's a ridiculous amount of stuff you can do with Capture One Pro 6 and it's all geared up for the professional photographer. However, the system is easy enough that anyone can use it and that's what I like about it. Phase One have managed to get a high powered system in an easy to use design. I love the new features, especially Capture Pilot, the Loupe and the idea behind the interactive speed even if it's still quite exclusive. I think the possible only downside to the program is that despite its obvious ease of use ( I managed to get started without any help from tutorials - just exploring), there are some features and modes which are too well hidden and you need to watch a video or read something which takes up time.
While not having the same editing power as Photoshop, I like the tethered shooting option and I don't need a separate program to import RAW files. Capture One Pro 6 is designed to make your shooting workflow a lot easier and that's exactly what it does. It's also a lot cheaper than Photoshop but I feel the tools are easier to use in a more dedicated image editing suite. You may disagree and it is subjective but saying that, I would still use Capture One Pro 6 over Bridge/Photoshop for the majority of my shoots.
Ratings (out of 5)
Features
5
Ease-of-use
4.5
Value for money
4.5
Your Comments