Cyberlink PhotoDirector Review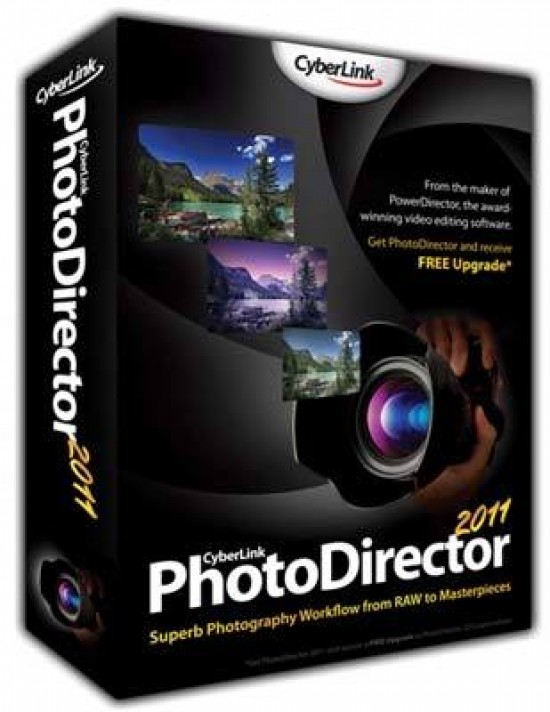 There's no obvious history panel to go back if an error has been made but it's opened up by pressing the icon in the bottom left corner of the preview window next to the pencil. One thing about the history is that it shows all history. Photoshop will lose actions the more adjustments you make but PhotoEditor retains them.
We took our test pictures on a false white balance setting to see how the program coped with changing it and it has to be said that it's done a great job.
If you don't want the hassle of changing all your pictures manually, there's a Presets tab which has 24 preloaded filter effects for your pictures. There's also a direct link at the bottom to download more. Here's the great bit though: A small preview picture at the top will change to show the preset adjustment without having to click any buttons or confirm anything. This means you can get an idea for how the picture will look without having to actually apply it then erase it if it's not right. If this is all you're going to use the program for, there are other programs such as OptikVerve's VirtualPhotographer which is a free plug -in and features very similar filter effects.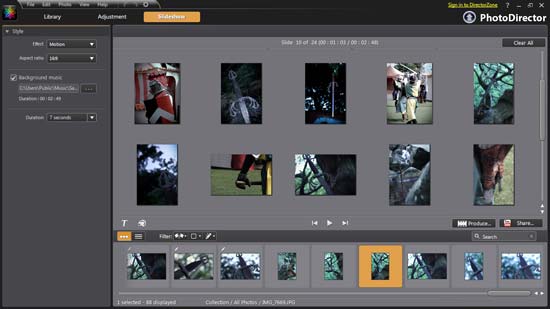 Slideshow
Finally, the Slideshow tab allows you to make a basic slideshow out of the pictures that you've imported and adjusted. The pictures are chosen by either dragging them into the preview screen one at a time or by holding the Control key (PC) down and highlighting all the pictures you want to use.
You can amend the type of wipe used out of a selection of 3. We liked the motion option because it moves along the pictures slightly adding a dynamic slant. Also, we considered the fade to have too sharp a drop off.
You can also choose between 16:9 and 4:3 aspect ratios. If you want to add music, you have to import it from your computer and there's a handy timer telling you how long the song lasts. That way, you can space the slideshow to fit it either by adding/taking pictures or by changing the duration of tiles on the slideshow. A good average is 4-5 seconds but in our example, they're 8 seconds. We would like to see the ability to change the duration on individual tiles for introductions and credits which can be faster. Also, it would be nice to be able to overlap the tiles to create more professional looking text at the start but this isn't a slideshow program and there are more powerful programs available such as Photodex Proshow. We  couldn't convert a video to the default MP4 option, we had to select WMV. The default size provides a very low resolution result so we had to manually change it to a HD 1280x720 version.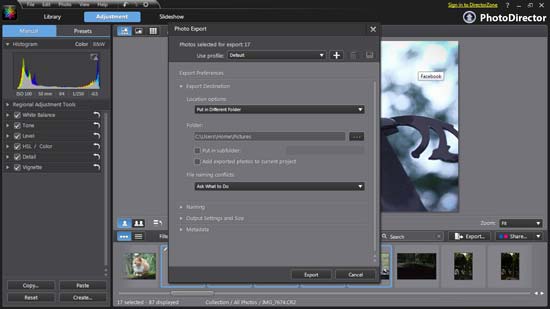 Photo Export
Once you've done editing and creating slideshows, you can export the pictures.  Clicking the export button will move them into a folder on the hard-drive or an external drive depending on what you designate. The program will default a folder but it's easy to change it. You can retain or strip EXIF data if you wish as well as tagging data and copyrights.  We transferred 17 pictures, all except four being RAW files and this took around 5 minute. The system will compress them to JPEG unless they're already JPEG and nothing was changed in PhotoDirector. It's a shame that the program mentions copyright but doesn't allow it to be added. It's not difficult to do anyway, it would just make life a bit easier.
Conclusion
Cyberlink PhotoDirector is a good program to use. The more we used it the more it took on the appearance of Adobe Lightroom. It does a good job of emulating it but don't expect all the features of Lightroom. After a shaky start which looked like our fault having out of date drivers, we flew through the program because everything is easy enough to use. We think that the adjustments area could be a bit more precise though. While we used it, we felt like we were adding effects clumsily. For example, the sharpness doesn't appear to make any changes then it jumps right in there and over sharpens.
However, for basic editing the adjustments area does well enough. Cyberlink PhotoDirector's best side is the Library. It's possible to import, tag and store pictures without too much fuss and the worst part of digital photography is the amount of hours sat behind a computer converting pictures. It's a shame that batch processing isn't available in PhotoDirector because that would be the cherry on the cake. We had around 60 RAW files that all needed the same key words and it would be great to add those words as a batch. Maybe that's something for the future?
The Cyberlink product support team are also very fast. They're based in Europe and deal with the entire continent but we had a response to our problem in 24 hours. If you're on the look out for a key word tagging system that has basic editing and a slideshow option thrown in, then it's worth taking a look at PhotoDirector because at £80 / $100, it's a lot cheaper than Lightroom and most importantly also does a good job.
Ratings (out of 5)
Features
4
Ease-of-use
4
Value for money
4.5
Your Comments