Epson Stylus Photo R2000 Review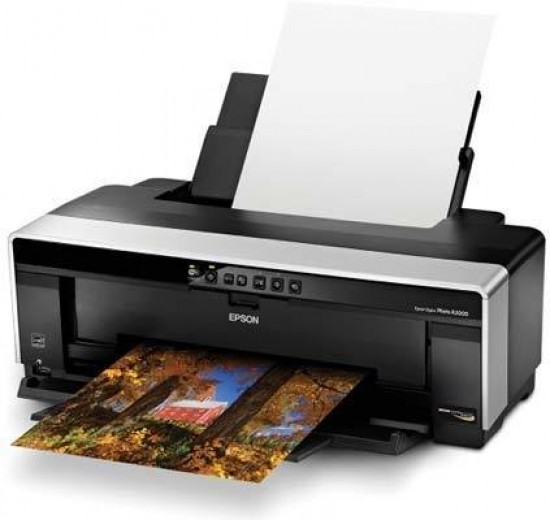 Paper Options
The Epson Stylus Photo R2000 will print on almost any material available. There are three feed paths depending on the weight of your media - the standard feed that will hold multiple sheets, a rear manual feed for heavier media like Epson's Hot Press or Cold Press papers, and a straight path for even heavier media or the CD print tray. Along with this, you also have the roll feed adapter that uses the rear manual feed slot. As with the other printers in this size range, there is no paper cutter, so you'll be trimming your roll media manually.
Print sizes can be as small as 4x6, or borderless to 13x19. Roll media has a maximum size of 13x44. Along with the typical luster and gloss media, the R2000 supports Epson's Signature Worthy fine art papers, canvas, and printable CD/DVD's.
Driver
If you've used an Epson printer in the past, you'll feel right at home. The driver options are essentially the same as previous models. With Printer Color Management enabled, the AccuColor HG option is active, which uses an advanced screening algorithm.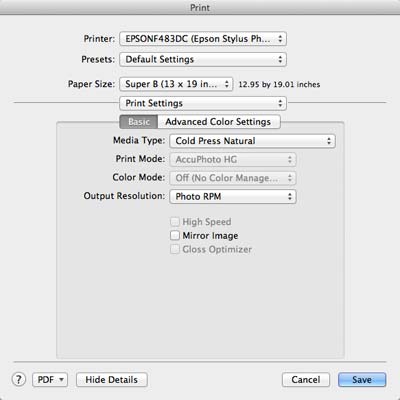 Epson R2000 Print Settings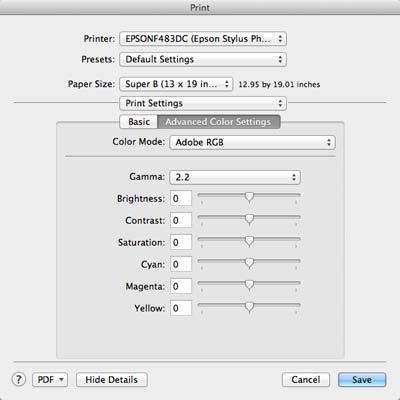 Epson R2000 Driver Controls
Depending on what you're printing, you may find yourself needing to tweak the settings in the driver just a bit. As an example, with my first test prints on Cold Press Natural, I felt the prints were slightly muddy with too much ink being laid on the paper. A quick adjustment in the driver corrected this and gave me a very accurate print.
Print Quality
It seems that every new printer has a wow factor that makes one wonder how they can improve on this. Yet, they manage to do it every time. Granted, the changes are smaller and harder to see with the Epson Stylus Photo R2000, but they are still noticeable. Color prints with the AccuPhoto HG (High Gloss) setting pop off the page with excellent color rendition. This setting is only available when the printer is managing color, so it's only appropriate with Epson media.
Much of this improvement in print quality is due to a new MicroPiezo AMC print head that is similar to the one found in Epson's professional wide format printers. All eight inks are installed, with the printer switching between matte and photo black without the need to replace cartridges.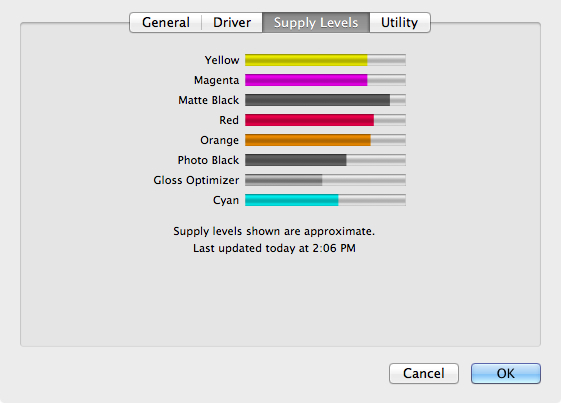 Epson R2000 Ink Levelsf
When printing on gloss or luster media, the Gloss Optimizer is used to virtually eliminates any gloss differential, resulting in prints that look good regardless of the viewing angle.
While color is very good, with the orange and red inks particularly helping when printing skin tones, I was surprised at how well the R2000 did with black and white prints. Given that there are no gray inks, and the driver does not include the Advanced Black & White mode found in the more expensive printers, the R2000 held its own against the R3000, and gave slightly better results than what I could get with the Canon Pixma Pro 9500 II.
Speed is reasonably good. It's not as fast as the R3000, but I don't expect it to be as quick as a printer costing nearly twice as much.
Conclusion
So, who is the target audience for the Epson Stylus Photo R2000? At this price, it's clearly the entry step into the higher quality and larger size market for the serious photographer. At $499, it's a very affordable option for someone looking to get into pigment quality prints, particularly if the bulk of your work is color, and you prefer gloss or luster papers. To be sure, the R2000 does beautiful prints on fine art media as well, but that isn't its strong point.
If you're into black and white printing, the R2880 or R3000 are better options, giving the additional gray inks, as well as the Advanced Black & White modes, with the R3000 being the better choice for higher volume printing thanks to it's larger capacity inks.
For the intended market, the Epson Stylus Photo R2000 is the clear leader in quality and value. This is a printer that will give you years of quality output, even if you do eventually grow into a larger printer.
Ratings (out of 5)
Design
4.5
Features
4.5
Ease-of-use
4.5
Value for money
5
Your Comments