Fujifilm FinePix Z800EXR Review
September 27, 2010
|
Gavin Stoker
|
|
Which Fujifilm X system is right for you? Damien Lovegrove's e-book is here to help. As a Fujifilm UK X-Ambassador, Damien provides an in-depth explanation of the Fujifilm X system – including the technical settings he uses, benefits of individual cameras and lenses, and recommendations of ideal lens sets.
Photography Blog readers can purchase the e-book for 20% off with the special code VIVALTO, valid until Dec 31, 2016.
Image Quality
All of the sample images in this Review were taken using the 12 megapixel Fine JPEG setting, which gives an average image size of around 4.5Mb.
As you'd expect, the performance from the Fujifilm FinePix Z800EXR is much the same as that of the pricier Z800EXR, with the same pixel count from the same sensor. But whereas we were slightly disappointed with the mixed bag of results from what there was a £300+ camera, on a sub-£200 model any inconsistencies are much more forgivable.
So, although here we too get burnt out highlights with a tendency for the camera to overexpose rather than underexpose, purple pixel fringing, soft results and all the rest of it, we're not expecting quality to rival an enthusiast camera. For its price point then the Z800EXR puts on a showing that is certainly good enough. Colours are again natural rather than over the top. Minimal adjustment of brightness and contrast in Photoshop adds a bit more pep, as required.
We'd have preferred a wider angle lens, say 28mm, on the Fujifilm FinePix Z800EXR rather than its 35mm equivalent, which resulted in us having to take steps back from certain subjects to be able to fit them all into frame, and with most compacts now offering a wide lens as standard, perhaps this is something Fujifilm could revisit on the next generation model.
In terms of low light performance, once again here noise/grain starts to show itself in images taken at ISO 800, worsening, but not markedly, at ISO 1600 where detail is softening. At ISO 3200 shots are beginning to take on a more obvious painterly aspect, but even at this top selectable setting results are no worse than those seen at ISO 1600 on lesser compacts.
Noise
There are 8 ISO settings available on the Fujifilm FinePix Z800EXR. Here are some 100% crops which show the noise levels for each ISO setting.
| | |
| --- | --- |
| ISO 100 (100% Crop) | ISO 200 (100% Crop) |
| | |
| | |
| ISO 400 (100% Crop) | ISO 800 (100% Crop) |
| | |
| | |
| ISO 1600 (100% Crop) | ISO 3200 (100% Crop) |
| | |
Sharpening
Here are two 100% crops which have been Saved as Web - Quality 50 in Photoshop. The right-hand image has had some sharpening applied in Photoshop. The out-of-the camera images are a little soft and ideally benefit from some further sharpening in a program like Adobe Photoshop. You can't change the in-camera sharpening level.
| | |
| --- | --- |
| Original (100% Crop) | Sharpened (100% Crop) |
| | |
| | |
| | |
Chromatic Aberrations
The Fujifilm FinePix Z800EXR handled chromatic aberrations well during the review, with some purple fringing present around the edges of objects in high-contrast situations, as shown in the example below.
Example 1 (100% Crop)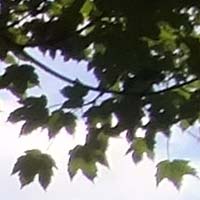 Macro
The Fujifilm FinePix Z800EXR offers a Macro setting that allows you to focus on a subject that is 5cms away from the camera when the lens is set to wide-angle. The first image shows how close you can get to the subject (in this case a compact flash card). The second image is a 100% crop.
| | |
| --- | --- |
| Macro Shot | 100% Crop |
| | |
Flash
The flash settings on the Fujifilm FinePix Z800EXR are Auto, Forced Flash, Suppressed Flash, Slow Synchro, Red-eye Reduction Auto, Red-eye Reduction & Forced Flash and Red-eye Reduction & Slow Synchro. These shots of a white coloured wall were taken at a distance of 1.5m.
| | |
| --- | --- |
| Suppressed Flash - Wide Angle (35mm) | Forced Flash - Wide Angle (35mm) |
| | |
| | |
| Suppressed Flash - Telephoto (175mm) | Forced Flash - Telephoto (175mm) |
| | |
And here are some portrait shots. As you can see, neither the Forced Flash setting or the Red-Eye Correction option caused any red-eye.
| | |
| --- | --- |
| Forced Flash | Forced Flash (100% Crop) |
| | |
| | |
| Red-eye Reduction Auto | Red-eye Reduction Auto (100% Crop) |
| | |
Night Shot
The Fujifilm FinePix Z800EXR's maximum shutter speed is 4 seconds, which is fairly good news if you're seriously interested in night photography. The shot below was taken using a shutter speed of 1/4 second at ISO 800. I've included a 100% crop of the image to show what the quality is like.
| | |
| --- | --- |
| Night Shot | Night Shot (100% Crop) |
| | |
Intelligent Sweep Panorama Mode
The Fujifilm FinePix Z800EXR allows you to take panoramic images very easily, by 'sweeping' with the camera while keeping the shutter release depressed. The camera does all the processing and stitching, with he main catch being that the resulting image is of fairly low resolution.
Entry Tags
hd video, hd, 720p, 12 megapixel, fujifilm, 5x zoom, touch-screen, touchscreen, finepix, 3.5 inch LCD, 5x, z800exr, Fujifilm FinePix Z800EXR, Fujifilm FinePix Z800EXR Review, z800 exr