Introduction
HDR can be a tricky subject to master and even once you've got yourself a decent shot merged, do you go for the creative or more natural look? Nik Software have been developing answers to questions for over ten years and they now believe they have the answer to mastering the high dynamic range image with HDR Efex Pro. It's a high powered program that easily merges your photographs, or even helps with single image HDR photography.

There are some notable features in HDR Efex Pro. U Point technology allows for non-destructive fine point editing of the image without ruining colour, contrast or tonality. There's an automatic ghosting correction which uses four tone mapping algorithms to support all types of HDR as well as allowing accurate previews of the image.

Available as a as a plugin for Photoshop, Aperture or Lightroom, HDR Efex Pro costs $159.95 / 159.95 Euros.
Ease of Use
I downloaded the program from the Nik website which is a straightforward affair and even with a wifi broadband connection no faster than 512mbps, it only took around 5 minutes to download. Unpacking and installation takes a minute and once you've read and agreed to the terms and conditions, a getting started page opens as a new tab online. Here you can read a quick start guide, watch videos, look at FAQs or go to a How To Access HDR Efex Pro option.
Despite being called a pro version, the new UI has been designed for ease of use for anyone, so how does it perform for someone who hasn't read the instructions? It should be easy enough to open and start using straight away.
The program is used through an editing suite and for this review, we used Adobe Photoshop CS4 Extended which you need to support the Smart Object compatibility. A new pane is automatically brought up and just kind of hangs around until you either use it or close it down. If you do this and then need it, once you've opened the image(s) you want to merge, the window can be reopened by going to Filter > Nik Software > HDR.
The small window asks whether you're merging multiple images or using a single image.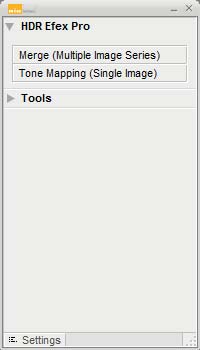 Figure 1
Merging Multiple Images
If you want to merge multiple images, click on the first option and a separate window opens asking which images you'd like to merge.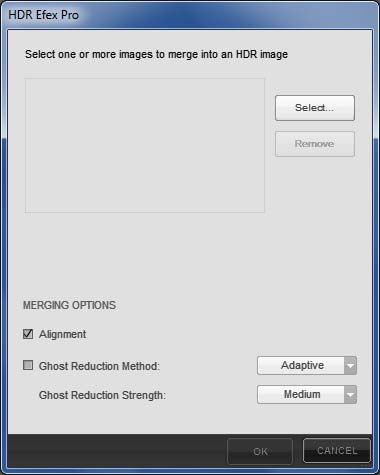 Figure 2
After selecting your images, HDR Efex Pro will start to process them. There's a possibility that the program won't be able to determine exposure compensation used on each image, so it will have to be input manually.
The images will then be aligned and merged. This process takes less than a minute for three DNG files from RAW files taken with an 8 megapixel Canon EOS 350D. If you have a similar set up to my laptop, which is an Intel Pentium (R) 4 dual core CPU T4300 at 2.10 GHz with 2Gb of RAM, the time frame won't be too dissimilar to any other computers.
Once the images have been analysed and merged, the preview window opens, and this is where Nik claims that HDR Efex Pro differs to other HDR programs because it uses four tone mapping algorithms instead of one. Therefore the preview window can offer preset suggestions for all types of HDR preferences.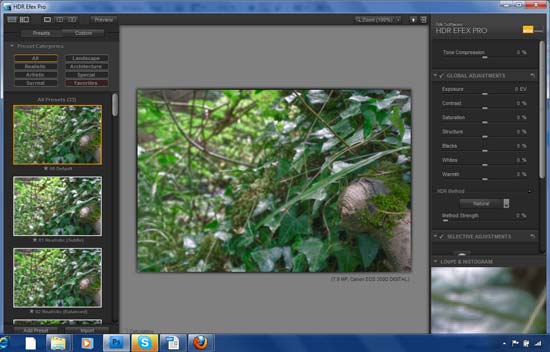 Figure 3