In the preview window, these presets are set out down the left side of the preview window and the six categories of Landscape, Realistic, Architecture, Artistic, Special and Surreal can be individually selected. To the right of the preview window are the manual settings such as tone compression. You can also adjust global features such as exposure, contrast, saturation, structure, blacks, whites and warmth. The tone compression slider will increase or decrease the dynamic range of the image by compressing the tonality of the picture.
There are a few buttons at the top left of the window that have various commands. The picture icon suggests a panoramic mode at first impression, but it actually closes the preset window allowing for a wider preview area. Likewise, at the other side, the icon of an arrow going through a door closes down the manual sliders on the right. It seems unusual to have two completely different icons for the same feature. There's also a preview slider which will bring up a split screen preview and you can even move the split to the left or right of the image to make sure everything looks ok.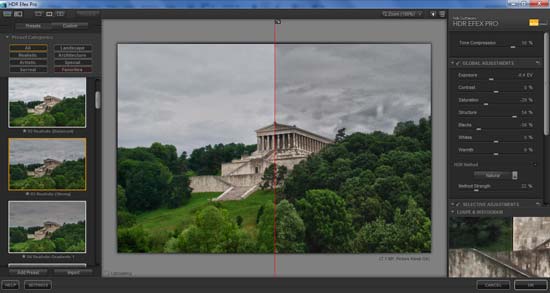 Figure 4
It's a really nice user interface with sliders for adjusting each manual option and a good, albeit slow zoom. I think a sliding zoom or more than the few percentage options would be nice, but it's a new feature and will presumably be tweaked and adjusted in future versions.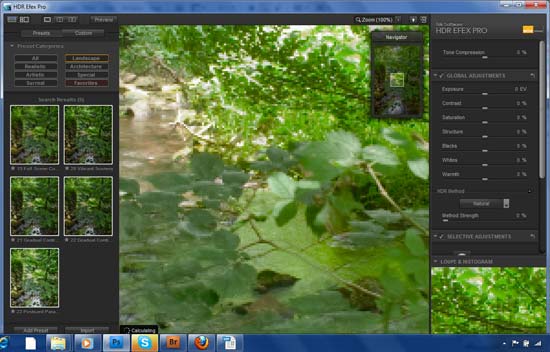 Figure 5
Once the image is processing, you will want to set the colour profile to ensure accurate colours for the image are being seen. To do this, go to the Edit tab and select colour settings from there. The program will select the RGB Working Space as the default colour profile for the rendered image. All you have to do then is select the correct profile and accept. There are alternative ways to do this on Lightroom and Aperture which can be found on the Nik Software website by going to the HDR help section.
Here are some of the many different effects that you can achieve with HDR Efex Pro:
| | |
| --- | --- |
| | |
| Artistic Fine Structures | Landscape Postcard Paradise |
| | |
| | |
| Realistic Strong | Special Verylow Compression |
| | |
| | |
| Surreal Bleach Bypass | Manual |
Tone Mapping Single Images
When tone mapping a single image, you have to have the image you want to adjust already open in the editing suite. The need for selecting the images with a different window is therefore eliminated and the time reduced.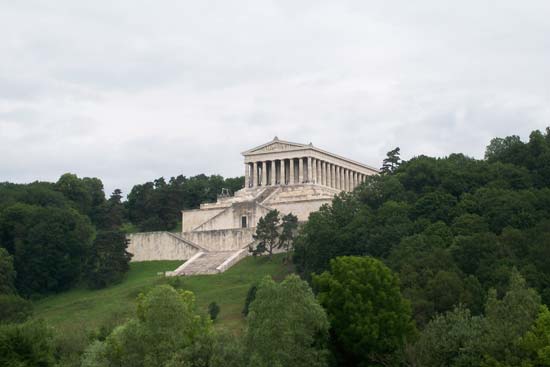 Figure 5
There are still six separate categories for different styles of HDR photography and you can still choose to have them in one collective album or split into their respective factors.