Nikon Coolpix L31 Review
November 5, 2015
|
Matt Grayson
|
|
Main Rivals
Listed below are some of the rivals of the Nikon Coolpix L31.

The Canon IXUS 145 (also known as the PowerShot ELPH 135) is a stylish and affordable point-and-shoot compact camera. Stand-out features include a 16 megapixel sensor, 8x wide-angle zoom lens and a metal body. Read our in-depth Canon IXUS 145 review now...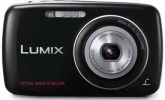 Budget doesn't have to mean cheap and nasty, and that's certainly the case with the stylish yet affordable Panasonic Lumix DMC-S3 camera. A 14 megapixel sensor, 2.7 inch screen, 4x wide-angle zoom lens and even 720p movies can be your for just over £100 / $125. Check out our Panasonic Lumix DMC-S3 Review to find out if this camera is less disposable than its price suggests.