Panasonic Lumix DMC-FZ45 Review
August 25, 2010
|
Mark Goldstein
|
|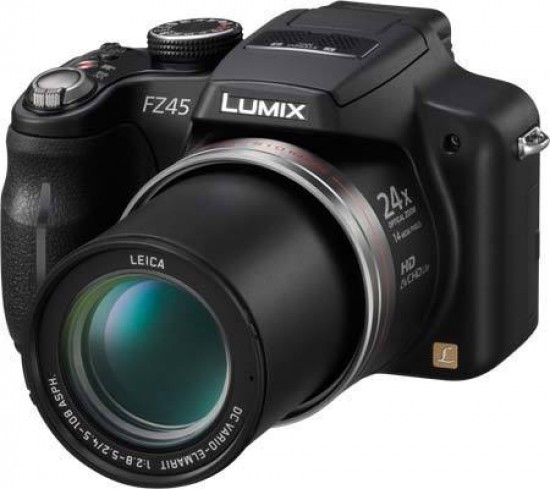 Conclusion
Announced at the same time as the headline-grabbing FZ100 with its 11fps burst mode, free-angle screen and full HD video, the cheaper DMC-FZ45 / FZ40 inevitably suffers by comparison, but is still a worthy contender in the now crowded super-zoom market.

The popular FZ38 camera is a hard act to follow, but the FZ45 raises the bar principally by increasing the megapixel count without any obvious drop in image quality, increasing the zoom range to 24x and and adding a 3 inch LCD screen. Just like the FZ100, though, it still suffers from poor image quality at higher ISO speeds. Noise is apparent at ISO 400 but becomes much more obvious at ISO 800 along with smearing of fine details, with the fastest speed of ISO 1600 being something of a last resort. Although this is a similar performance to the year-old FZ38 and the more expensive FZ100, we'd hoped for some improvements in this area. The merely average quality electronic viewfinder is also disappointingly the same as the one on the FZ38.

And unlike the FZ100, this new model doesn't feature fast continuous shooting, with a pedestrian rate of 1.8fps for JPEGs only coming as a bit of a shock after using the blazingly fast FZ100. We also missed the free-angle LCD screen, which allowed for creative composition, full HD 1080p movie mode recording with external mic socket, and the flash hotshoe of the FZ45's bigger brother. If you can stretch the extra financial distance, then the FZ100 is the one to go for.

Talking of money, the £379.99 / $399.95 launch price of the FZ45 / FZ40 is is a lot to ask though for what is still essentially a fixed lens camera with a comparatively tiny image sensor, especially when more full-featured cameras like the FZ100 and Fujifilm HS10 are available for a little more outlay. If you can't justify the extra expense and you don't need the speed or full HD movies of the FZ100, though, the FZ45 is a very capable all-in-one camera that meets most of the needs of most people.
Ratings (out of 5)
Design
4.5
Features
4
Ease-of-use
4.5
Image quality
4
Value for money
3.5