Pentax K-S2 Review
April 14, 2015
|
Amy Davies
|
|
Introduction
You would probably expect the new Pentax K-S2 to be a straightforward follow on from the K-S1. While it has the same sensor - a 20 million pixel CMOS device with no anti-aliasing filter - a lot of the outward design of the camera has changed it to make it more appealing to enthusiasts. For starters, gone are the gimmicky, flashing lights which adorned the K-S1. It's also got a fully articulating rear LCD screen (a first for Pentax) and is also weather-resistant. Also new is Wi-Fi and NFC communication - again a first for Pentax DSLRs. You can use this with an app for your smartphone or tablet which allows remote control and for you to transfer your images across to your device for easy and quick sharing. A new kit lens is included as part of the package. The 18-50mm f/4-5.6 lens retracts to make the overall system nice and small when you're transporting it. Other specifications include full HD video recording, a top ISO sensitivity of 51200 and a 100% optical pentaprism viewfinder. The Pentax K-S2 retails for £549.99 / $699.95 (body only). A number of kit options are also available, priced from £649.99 / $799.95.
Ease of Use
The Pentax K-S2 is one of the smallest DSLRs on the market, and in fact it's being billed as the smallest weatherproof DSLR you can buy. The new kit lens, being retractable, also makes the overall package very small - you can slip it neatly into a small bag with ease.
One downside of having a retractable lens is that it needs to be extended before you can shoot with it, but of course you can always leave it extended if you're planning to take a few shots in quick succession. There's plenty of K-mount lenses available for the Pentax system, and most of them too are also small, so although this is not a compact system camera, its lenses and overall size is more akin to something like a Panasonic or Olympus, than competing DSLRs from Canon and Nikon.
The Pentax K-S2's grip is not quite as deep as some of the other cameras on the market, but that's not to say that you can't get good purchase on the camera. There's a small recess for your middle finger to sit nicely, while your forefinger rests pretty naturally on the shutter release or the front scrolling dial. Around the back, you'll find a small rest for your thumb, again helping it to sit nicely in your hand.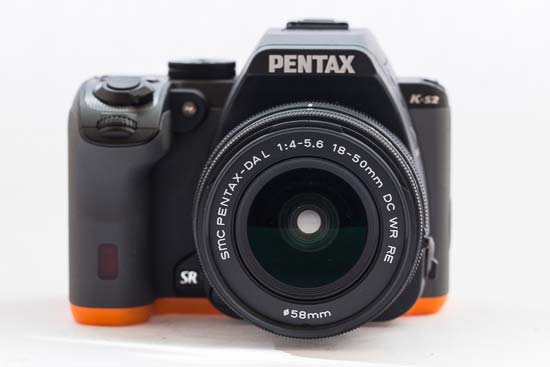 Front of the Pentax K-S2
Most of the Pentax K-S2's buttons can be found on the right-hand side of the camera, making it easy to make changes with just your right hand. There are some notable exceptions though - for instance, the Live View button is found to the left hand side of the viewfinder. On the side of the camera, you'll also find the AF/MF switch, as well as a button which is labelled with RAW/Fx but can be customised to one of six different functions when in shooting mode. By default this button allows you to switch between raw format shooting and JPEG at just the press of the button. You can set it to perform the set action just once, or to keep the selected setting the same. There's also a button for raising the camera's inbuilt flash found on the side of the camera.
On top of the camera is a large mode dial which contains the different exposure modes which you can shoot with. There's all the usual modes you'd expect to find on a DSLR, including Manual, Aperture Priority, Shutter Priority and Program modes, but there's also automatic HDR, scene modes, automatic modes, and space for two different groups of custom settings - which is useful if you often find yourself shooting one particular kind of scene (such as low light). Other interesting modes include TAv (Shutter and Aperture Priority AE), Sv (Sensitivity Priority) and B (Bulb Mode).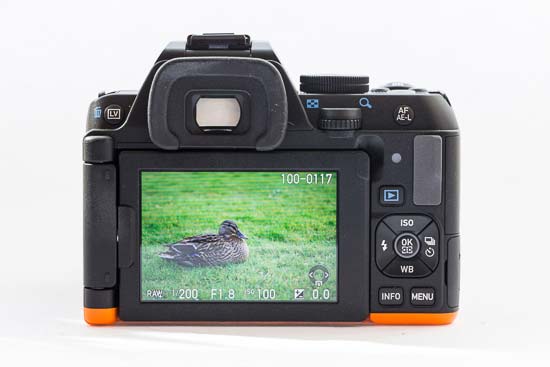 Rear of the Pentax K-S2
Also on top of the Pentax K-S2 you'll find a button for altering exposure compensation - you don't need to hold it down, just press it once and the scrolling dial on the back of the camera can be used to adjust the compensation. Press the button again and the scrolling dial will control whatever is its default function for the mode you're using - so if you're in aperture priority, it will go back to controlling aperture.
A useful button which can be found on top of the camera is a green button, which returns certain settings back to their default position. So, if you have dialled in a few stops of exposure compensation, pressing this green button will quickly take it back to 0EV without having to scroll.
Pentax has got rid of some of the flashing lights it used on the K-S1, but there are still some lights which remain here on the K-S2. For instance, around the shutter release button, a green light will slowly pulse green when the camera is switched to stills shooting but in standby mode, or will stay a constant red if you move the on/off switch position into video recording.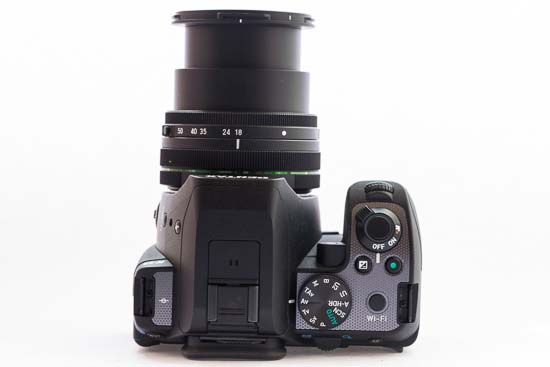 Top of the Pentax K-S2
Finally, the last button on top of the camera is a Wi-Fi button. Hold this down to switch Wi-FI on or off.
There are two scrolling dials on the Pentax K-S2, both controlling a particular function depending on the shooting mode you're in. If you're in manual exposure mode, the front dial will alter shutter speed, while the rear dial will control aperture. In aperture priority mode, only the rear dial will control something, and vice versa for shutter priority mode. If you prefer to work in a different way, you can customise how the scrolling dials work in each mode in the camera's main menu.
On the back of the camera is a four way navigational pad, with each of the directional buttons controlling a certain function. The screen also displays the corresponding function. The down button allows you to control white balance, the left button flash modes, the up button ISO (sensitivity) and the right button drive mode / timer. If you hold down the central OK button, you can use the directional keys to change autofocus point. You must hold down the central OK button again if you want to change any of the previously mentioned settings. Once you get used to this system it becomes quite natural.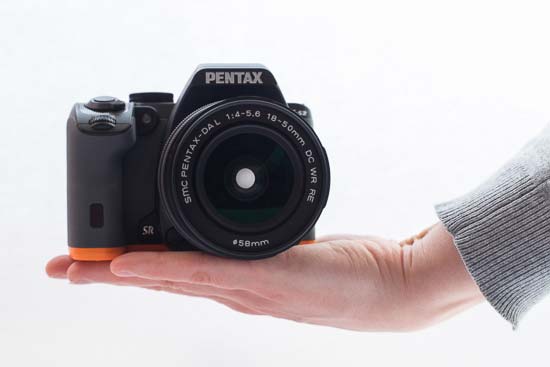 The Pentax K-S2 In-hand
Just underneath the navipad is an info button which accesses a quick menu. Press this and you'll be displayed with a range of settings which you can change by scrolling to the setting you need and either scrolling with a dial to make a quick change, or pressing OK to be taken to a more detailed explanation of each setting. Examples of settings you can find in this menu include File Format, Custom Image Setting and Metering. I'd like to be able to customise this menu to discard less often used settings, but it's still quite a good quick menu to use.
The other two buttons on the back of the Pentax K-S2 are a Playback button and a button for accessing the Main Menu. You may find you don't need to use the Main Menu all that often as there is a quick menu, but it's still arranged pretty sensibly on the most part, being split into well defined sections.
For the first time on a Pentax DSLR, the KS-2's screen is fully articulating. Its hinge feels sturdy and secure, and it's good to be able to fold the screen into the body of the camera to protect it from scratches and scuffs while in your bag. It is of course also very useful when you want to shoot from awkward angles, or shoot group or self-portraits.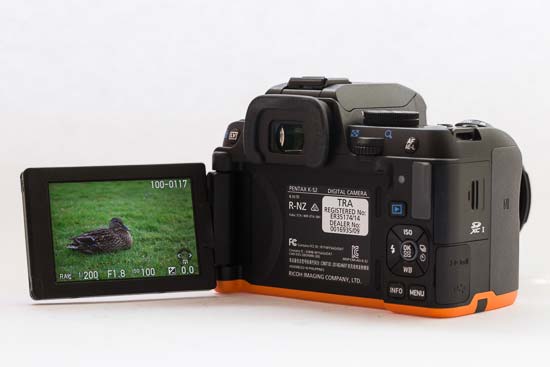 Tilting LCD Screen
Connecting to the Pentax K-S2's Wi-Fi is very easy. If you have an NFC enabled device, it's even quicker - you simply tap the NFC chip in your device to the NFC chip on the side of the K-S2. If it's the first time you've tapped the two together, you'll be prompted to download the Image Sync app, which is free from the Google Play store. If you have a Wi-Fi only device, such as an iPhone, you can connect to the camera's Wi-Fi network by entering the password displayed on the screen. The Image App can also be downloaded manually from the App Store.
Once you have the app and you're connected, you can shoot remotely, and very pleasingly, you have pretty much complete control over the camera's shooting capability. So, you can change aperture, ISO, shutter speed and more - the only thing you won't be able to change is the focal length of the lens, or whether the flash is raised. On the whole it's a great app to use, and other manufacturers could look to this app for inspiration on how to produce a genuinely useful smartphone remote control app. The other option you have is to download images taken on the camera across to your smartphone or tablet for quick sharing to social networks or email.
The Pentax K-S2 is reasonably rare in that its viewfinder offers 100% coverage - something quite unusual for cameras at this level. This means that everything you see in the bright viewfinder will appear in your final image. On the downside, the fact that it is optical means that you won't be able to see any changes you've made to settings until after you've taken the shot.
Entry Tags
review, hd video, hd, samples, 3 inch LCD, 1080p, test, sample images, jpeg, movie, beginner, full hd, raw, DSLR, 20 megapixel, pentax, digital SLR, mov, 6fps, dng, k-S2, kS2, kS2 review, Pentax K-S2 Review, jpg., entry.