Ricoh CX4 Review
September 3, 2010
|
Mark Goldstein
|
|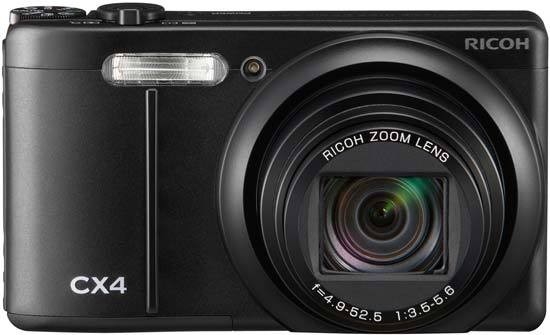 Conclusion
With only a few new features on offer the CX4 offers very little reason to upgrade from the 6-month-old CX3, and the removal of the useful handgrip actually makes it less easy to use than its predecessor. With rival models offering bigger zooms and more manual controls, Ricoh's CX-series is starting to slip behind the pack with this modest update.

The enhanced image stabilizer makes it easier to achieve sharp hand-held photos, as does the innovative Night landscape multi-shot scene mode, while the Subject Tracking AF system works reliably and accurately, if a little too noisily for our liking. The only other new feature, three additional creative filters, are fun to use initially but have little shelf-life. With the smoother, reshaped body being less easy to get a firm hold of, the CX4 offers little new to shout about when compared with its predecessor.

The same 10 megapixel back-illuminated sensor offers noise-free settings of ISO 80-200, usable settings of 400-800, and useful in an emergency ISO 1600, identical to the CX3 but now falling behind the of more recent and comparable cameras which offer better performance at ISO 400 and 800. The improved noise reduction system from the GR Digital III does significantly reduce the noise on its maximum setting, but with the side-effect of smoothing out fine detail - you'll need to decide which is most important to you.

The High definition 720p video mode is again unchanged and again suffers from some problems, most notably the AVI format creating large files sizes, the inability to zoom or focus during recording, and the lack of stereo sound and an HDMI port.

The CX4 is virtually indistinguishable from the older CX3 in terms of its design, image quality and feature set, with just a few new additions that are difficult to get truly excited about, and the retrograde removal of the CX3's handgrip. While the CX4 remains a good point and shoot camera and the price has commendably dropped to £259, it doesn't offer enough to either justify the upgrade from the previous generation or to keep up with its rivals.
Ratings (out of 5)
Design
4
Features
4
Ease-of-use
4
Image quality
4
Value for money
4