Ricoh CX6 Review
January 17, 2012
|
Mark Goldstein
|
|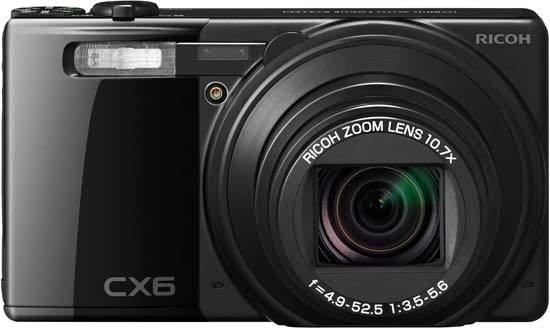 Conclusion
The Ricoh CX6 offers enough new features - autofocus speed of 0.1 second, aperture- and shutter-priority shooting modes, a 3fps burst mode with auto-focus, a higher resolution 3 inch LCD screen, and a separate movie record button - to justify replacing the CX5 model, but overall the CX6 is now looking a little long in the tooth compared to slimmer, smaller and more polished rivals.

The aperture- and shutter-priority shooting modes is undoubtedly the CX6's main new feature, but while you have full control over the latter mode, only being able to select the wide-open or minimum aperture with nothing in-between restricts what you can achieve in the aperture-priority mode. The even faster 0.1 second AF speed and the 3fps burst mode complete with auto-focus makes the CX6 one of the quickest-focusing compacts on the market, so if you're frustrated by missing the moment because your current camera takes too long to focus, then this model is well worth a look.

The CX6's other key improvements are also welcome, with the gorgeous high-resolution screen one of the best on any compact that we've reviewed. We would have liked to have seen Full HD movies in addition to the useful one-touch movie record button, but at least Ricoh have finally added the ability to zoom and focus during recording, as well as stereo sound.

The same 10 megapixel back-illuminated sensor as the CX5 offers noise-free settings of ISO 100-200, usable settings of 400-800, and useful in an emergency ISO 1600, now falling behind more recent and comparable cameras which offer better performance at ISO 400 and 800. The noise reduction system does significantly reduce the noise on its maximum setting, but with the side-effect of smoothing out fine detail - you'll need to decide which is most important to you.

The CX6 is virtually indistinguishable from the slightly older CX5 in terms of its design, image quality and feature set, with only the slightly faster AF system and new aperture- and shutter-priority shooting modes to get truly excited about. The CX6 is a good compact camera and the price has commendably been kept the same as the previous model at £259 / $399, but there are now quite a few other alternatives that are better designed, more highly specified and offer superior image quality.
Ratings (out of 5)
Design
4
Features
4.5
Ease-of-use
4
Image quality
4
Value for money
4