Ricoh GXR P10 Review
June 9, 2010
|
Mark Goldstein
|
|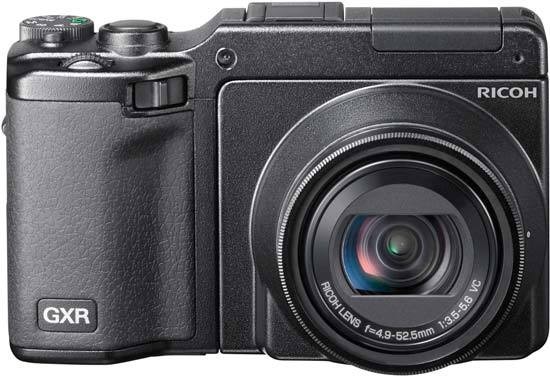 Conclusion
With the same lens and image sensor specifications as the cheaper Ricoh CX3 compact camera, you'd be forgiven for missing the point of the new and more expensive Ricoh GXR and P10 camera unit combination. Thankfully the very welcome addition of RAW shooting, and at a DSLR-beating 5 frames per second in Continuous mode, means that the P10 and the excellent GXR body are still worthy of your attention.

The Ricoh GXR and the P10 camera unit make more sense to us than the S10 and A12 units that initially launched with the body. Despite the smaller back-illuminated sensor that results in still very good but not outstanding image quality, particularly at higher ISOs, the incredibly versatile 10.7x lens is more appealing than the 24-72mm that the S12 offers. Throw in a 1cm macro mode, 720p HD movies, a Vibration Correction function and the effective dynamic range double shot mode, and it's it's clear to us that if you had to choose one GXR module, the P10 would be it.

Also making more sense is the slightly more realistic pricing that Ricoh are selling the P10 for. OK, £499 / $499 is still a lot of money for what is essentially a 10 megapixel compact, however modular it is, but on the other hand we can't think of too many compacts that offer such an intuitive, customisable and photographer-friendly experience as the P10. And it's a lot, lot cheaper than the combined pricing of the A12 and S10 units with the GXR body when they launched last December.

So while the P10 camera unit may not make the Ricoh GXR system appeal to a wider audience, those who have bought into Ricoh's vision will find the combination of a very good 10 megapixel compact sensor, versatile 28-300mm lens, high-res 3 inch screen, HD movies, full manual control customisation, and the icing on the cake, RAW shooting at 5fps, very difficult to ignore.
Ratings (out of 5)
Design
5
Features
4.5
Ease-of-use
4.5
Image quality
4
Value for money
4