Sony NEX-7 Review
January 4, 2012
|
Mark Goldstein
|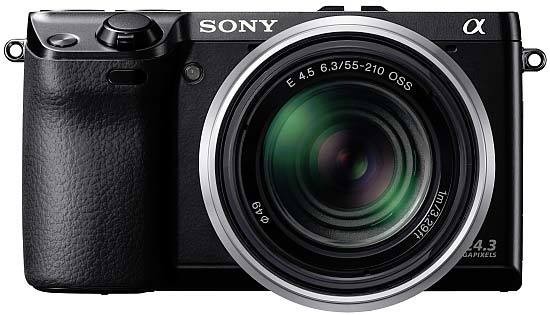 Conclusion
The Sony NEX-7 is a fantastic compact system camera that firmly delivers on its early promise, delivering a remarkably customisable camera that really can be configured to suit many different users. The combination of an excellent built-in viewfinder, handy pop-up flash, tiltable LCD screen and a high-resolution APS-C sensor, all in a light and compact body, simply can't be beaten. It may cost more than the competition, suffer from slow-ish auto-focusing in low-light, have an initially confusing control layout, and perhaps most seriously suffer from a lack of fast E-mount lenses, but its compelling list of features and unique user interface are too good to ignore.

While both other rivals and the cheaper NEX-5N have touch-screen interfaces, we didn't really miss this on the NEX-7, thanks largely to its unique tri-control system and large number of customisable controls. Although there are no custom memory settings, something of an oversight, the ability to change the NEX-7's main buttons and dials is a real boon to your productivity. This means that the initially confusing array of settings can be reconfigured in a multitude of different ways, whilst the camera still provides quick and easy control over the three main exposure settings via the superbly clever dual control dials and rear scroll wheel system. If only all cameras were this configurable.

As it shares the same sensor with the A65 and A77 DSLR cameras, image quality is excellent, with results from the 24.3 APS-C sensor easily rivalling even the DSLR competition, and beating its compact system camera rivals (hence the extra 1/2 star). Noise doesn't rear its ugly head until ISO 3200 for JPEGs and even the faster settings prove eminently usable, although the NEX-7 does apply some pretty aggressive noise reduction to keep the files clean as shown by the much noisier RAW images. The myriad of creative effects such as HDR, Dynamic Range Optimisation, creative styles, picture effects and the innovative sweep panorama mode help to get the most out of the NEX-7.

While we can live with the slightly sluggish auto-focus and are prepared to meet the rather high asking price (after all, you do get a built-in viewfinder and flash), perhaps our biggest criticism of the NEX-7 isn't really about the NEX-7 at all. Although the supplied 18-55mm kit lens is a competent enough performer, there just aren't enough premium lenses in Sony's current E-system line-up to match the sheer performance of the NEX-7 - the Carl Zeiss 24mm f/1.4 and Sony 50mm F/1.8 spring most readily to mind, but the former costs almost as much as the NEX-7 itself. Sony really needs to release some fast, affordable primes to support the launch of what is a stunning camera when judged on its own merits. Which leads us to our first Essential / 5 Star award of 2012.
Ratings (out of 5)
Design
5
Features
5
Ease-of-use
4.5
Image quality
5
Value for money
4.5