Wacom Intuos4 Wireless Review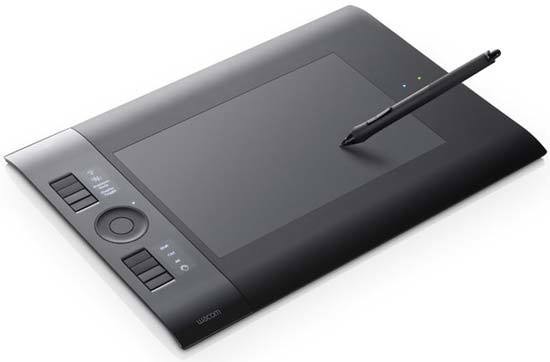 Exclusive to the Wireless Tablet
The Wireless has a contained rechargeable battery that is maintained by plugging into a standard USB connector. When unplugged, you can turn the tablet off by a small switch next to the USB port (out of the way of accidental hits), so you're only draining the battery while the tablet is in use. I used the tablet on a Mac laptop with Bluetooth, and both Windows 7 and Mac Pro systems without Bluetooth. When connected via the USB cable, the Wireless model acts just like a standard Intuos 4 tablet.
Discovery on the Mac was simple - make sure that Discoverable mode is turned on, and toggle the power switch on the tablet. The small button next to the USB port will reset the tablet into discoverable mode for up to three minutes. When connected, you'll see a new device listed as PTK-540WL. From this point, using the Wireless tablet is no different than the USB version.
One of the biggest advantages to a wireless tablet for me are in workshop situations where I have a laptop connected to a projector and I'm sitting away from the computer. With a 33-foot range, I have the freedom to move around the classroom, taking the tablet with me.
Do You Really Need a Tablet?
I get asked this fairly often, and it's a valid question. After all, you've already spent a ton of money on the computer and Photoshop, so is it really necessary to spend a few hundred more on a tablet? If your time is worth anything to you, the answer is an unequivocal yes. If editing your images with the highest degree of control and final quality is desired, once again the answer is yes. Trying to make selections and masking in Photoshop with a mouse isn't impossible but it's nowhere near as accurate as a pen. I would estimate that I spend about half the time making a mask with the tablet as I do with a mouse, and if it's a complex mask or selection, the time savings can be much greater.
Conclusion
The Intous gets better with each version, and the new Intuos 4 is a strong upgrade to the line. The ability to work well for left or right hand users, the OLEDs, Touch Ring, and increased sensitivity have made this new tablet into a must have for the serious artist or photographer working in Photoshop. It's pretty darn useful in other applications with handwriting support, including Mac OS X and Vista too. The price range is $229 to $789. For photography, I find the medium size, with a retail price of $349 to be the perfect compromise between size and usability. The Wireless model is available in the single size only with a retail price of $399.
Ratings (out of 5)
Design
5
Features
5
Ease-of-use
4.5
Value for money
4
Your Comments