HP Announces Officejet 7410 and HP Officejet 7310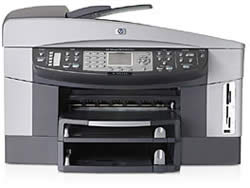 HP UK Press Release 05/10/04
The HP Officejet 7410 and 7310 All-in-Ones offer uncompromising speed, quality and reliability for the home or small office
London, October 5, 2004. HP today announced the latest products in its high speed All-in-One printer, fax, flatbed scanner and copier range, the HP Officejet 7410 and HP Officejet 7310. The HP Officejet 7410 and Officejet 7310 All-in-Ones are complete printing and imaging solutions, ideal for the busy full-time or part time office professional. Both models offer easy-to-use printing, faxing, scanning and copying in one device that increases productivity and readily fits into available office space.
Features available on both products include up to 4800 x 1200 optimised dpi colour when printing from a computer and 1200-input dpi. HP Photoret IV precision technology with 6-ink colour printing and copying is optional, enabling users to produce true-to-life colour photos and documents . Powerful, fast, black and colour faxing is standard on both new models with or without a PC, at 33.6 kbps.
The HP Officejet 7410 and Officejet 7310 All-in-One printer, fax, scanner and copiers provide professional photo quality colour and laser quality black text printing, plus superior faxing, copying and scanning with time saving features. Both models include superior paper handling and direct photo printing features, as well as built in wired or wireless networking for up to five users.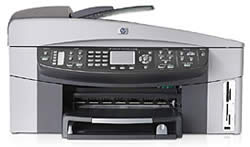 The HP Officejet 7410 and Officejet 7310 feature fast print and copy speeds of up to 30 pages per minute (ppm) in black, 20 ppm in colour and a 50-page Automatic Document Feeder (ADF) with two-sided printing, faxing and scanning functionality. A 250-sheet plain paper tray (400-sheet combined capacity) further enhances speed by enabling users to leave large print, fax, scan and copy jobs to complete unattended. Both models are available with optional small-size paper trays and duplexers.
The HP Officejets 7410 and Officejet 7310 both feature a 6.4 cm colour graphic display that enables users to view and edit pictures without having to switch on their PC. Photo card slots on both models enable printing direct from digital camera memory cards.
By using the optional HP bt300 Bluetooth wireless printer adapter (not included), users can conveniently print colour photos directly from a Bluetooth enabled camera phone, digital camera, PDA or other Bluetooth device.
High performance flatbed scanning is available on both the HP Officejet 7410 and 7310 with 2400 x 4800 dpi optical resolution, up to 19,200 dpi enhanced.
Professional black-and-white photo printing is available with the separate purchase of the HP No. 100 grey photo inkjet print cartridge.
Both these new HP Officejet All-in-One printer, fax, scanner and copiers feature advanced photo technology, including direct camera printing via PictBridge, which enables users to connect their camera directly to the All-in-One and print photos without using a computer.
Users can edit their photos with the HP Image Zone Photo and Imaging Software (included), altering their images - cropping, re-sizing, removing red-eye - and producing the photos they want.
With HP?s unique Photo Proof Sheet, users can choose their perfect shot from thumbnail images, saving time and money. All three models boast full borderless printing including 10 x 15 cm, 10 x 30 cm panorama size, A4 and double A4 (210 x 594 mm) on HP Premium Plus Photo Paper which lets the user print to the paper?s edge. In addition, these new models feature an automatic paper type sensor which adjusts settings to best suit the paper loaded.
For those who want to print images from a video, these new HP All-in-Ones allow video action printing. Any short video clip can be printed in frames and used to create a dynamic storyboard of high quality photo images.
HP?s unique Instant Share technology makes it easy for users to share photos via the web or e-mail without large attachments and without turning on the computer. Friends and family simply choose which photos to download. Remote printing also allows users to print files while on the go and pick the printed documents or photos up at the other end.
Supplies that complete HP?s printing system
HP recommends using only HP inks, inkjet print cartridges and print media, which have been specially formulated to work with these All-in-Ones, to achieve the best possible finish. These HP All-in-Ones are compatible with HP?s next generation of inkjet print cartridges, which offer increased print speed without compromising on the quality or fade resistance of the finished print out. This new range of inkjet print cartridges features new ink formulations and when used in conjunction with HP Premium Plus Photo Paper, allows users to print true borderless photos.
For ultimate creative control customers can also purchase other print cartridges from the range and swap them in so they have the right set of inks available for their print job. Inkjet print cartridges not in use can be stored in a print cartridge protector (supplied) to ensure the inks don?t dry out.
The HP Officejet 7310 All-in-One and the HP Officejet 7410 All-in-One come complete with the HP No. 339 black inkjet print cartridge for laser-quality sharp black text and professional results and the HP No. 344 tri-colour inkjet print cartridge to produce vivid colours for vibrant colour documents, charts and presentations. Both print cartridges come in different sizes for greater choice.
When printing photos on these All-in-Ones, users can combine the HP No. 343 / 344 tri-colour inkjet print cartridge, along with the HP No. 348 photo inkjet print cartridge for true-to-life photos with accurate skin tones and a wide range of colours. To print black and white photos, customers can swap these cartridges for the HP No. 100 grey photo inkjet print cartridge containing light grey, dark grey and photo black inks (available on the HP Officejets 7410 and 7310 only).
HP?s Premium Plus Photo Paper offers outstanding image quality, a professional weight of 280 g/m?, and a choice of high-gloss or satin-matt finish for the look and feel of a traditional photo. When used in combination with HP?s next generation inks, photo prints offer exceptional fade resistance, even surpassing that available with HP?s previous generation of inkjet print cartridges .
Availability and pricing
The HP Officejet 7410 and 7310 will be available at selected retailers from December 2004 with recommended street prices of ?499.99 and ?399.99 respectively.
About HP
HP is a technology solutions provider to consumers, businesses and institutions globally. The company?s offerings span IT infrastructure, personal computing and access devices, global services and imaging and printing. For the four fiscal quarters ended April 30, 2004, HP revenue totaled $76.8 billion. More information about HP is available at http://www.hp.com.
Published: Tuesday, October 05, 2004
Compare Prices
Support PhotographyBLOG: Buy this product from one of our affiliate retailers (US first/red, UK second/blue):
Reader Comments
I bought the 7410 just over two weeks ago. The first week I was in HEAVEN! Glorious pictures would print, ready for framing, directly from my PC to the printer using the 802.11b connectivity.

However, I now can't get any type of connectivity with my printer. All of my PCs that were connecting to the machine two weeks ago are now unable to print. I get the following message: "The print spooler was unable to connect to your printer. This can be caused by your printer being turned off, the cable being unplugged, or being connected to a VPN, which will block your access to your local network. Your document will print when the printer becomes available."

Nothing I do will get the document or picture to print. HP support??? T E R R I B L E! They suggested I reinstall Windows XP Pro on ALL my machines. If that doesn't work, then I should reformat my drives and reinstall Windows. That's not going to happen.

I've owned HP printers for eleven years and have NEVER had problems with them that support couldn't help with. Now, I'm working with an "off-shore" support center that simply reads from a script. They usually DO NOT get the problem right and in the last week, they basically just told me twice to reinstall the OS.

Has anyone else had this problem and, if so, what did you do about it?

Greg Olsen at 01:53am on Saturday, December 11, 2004

I'm having the exact same problem, and have exhausted HP tech support. Have you encountered a solution?

Johnny Larocque at 10:23pm on Wednesday, December 15, 2004

I still don't have a resolution. I've sent an email, through a friend of mine who works at HP Inkjet Division (the ones who developed the 7410), but haven't heard back.

Greg Olsen at 12:00am on Thursday, December 16, 2004

I had the previous generation printer to this and had a similar problem with network conectivity. Ultimately HP sent me brand new drivers, but it took 2 months. I also agree telling you to re install the OS is a farcical copout, especially when you run a small business. Good luck with it.

Peter Hall at 11:44pm on Saturday, December 18, 2004

I am having the exact same problem. Worked great for about 2 weeks...then "no connectivity" message and no was to print. I am not going to reload anything for HP, rather I would return the product and purchase a competitor's model. HP Support basically sucks. I ran into this several times with the last two printers I purchased. Let me know what you find out.

Jim Rileu at 04:29am on Monday, January 17, 2005

You must use a static IP address. HP doesn't support DHCP with this printer.

Dennis Bissonnette at 11:24pm on Tuesday, January 18, 2005

Thanks. Seems this would have been a easy thing to add to the website to eliminate frustration on the part of the clients.

Jim Riley at 11:55pm on Tuesday, January 18, 2005

How do you set a static IP w/ the HP printer? I have the same exact issue. It actually started when the printer and my laptop were assigned the same IP and when I tried to change the printer I would get this error. I am not sure how alter the IP manually.

Matt Labovich at 03:21pm on Thursday, January 27, 2005

I was having the same exact issue as is described here. I finally uninstalled the drivers/software from the server because it was so frustrating. Now I am still getting the same message! Over and over again. As soon as I click ok to the dialogue box it let's all of the print jobs pass through the spooler, but until I manually intervene no one can print on the network. As soon as I get this resolved I am never going to install another all in one on the server again!

Brian Malandrone at 11:27pm on Tuesday, July 05, 2005

I recently purchased a custom-built PC (Athlon 64 FX-55 with 4 GB RAM and dual 250 GB RAID 1 HDs) to support my photography "habit". I reinstalled my HP drivers on the new machine and haven't had any trouble - yet! When I do, I'll get rid of the HP and go with Epson.

I gave up on trying to get the printer to work with my HP laptop (I also gave up on the laptop itself - a zd7000 that just was way too much work to maintain). I've uninstalled the 7410 from two of the four machines to which it was installed (they couldn't print to it anyway) and have become very adept at fixing my printing problem: when I get the error, I first attempt to "Cancel" the print job. If I can't, I do the following:

1. I bring up Control Panel -> Administrative Tools -> Services.

2. I then right click on "Print Spooler" to bring up Properties.

3. From the Properties box, click on "Stop" and then for the "Startup type" select "Disabled".

4. Click Apply and OK.

5. Restart your computer.

6. Check in your Printers and Faxes to see if any printers exist (they should all be gone). At this point, the print spooler is clear of the print job sent to the spooler.

7. Go back to Services -> Print Spooler and right click on it to get to Properties.

8. In Properties -> Startup type, select "Automatic" and in the Service status click on "Start". When the Print Spooler has started again, click on "Apply" and then "OK".

9. You're back in business, at least until you attempt to print something on the 7410.

I hope this will help anyone trying to clear the spooler. It won't help with printing, but it will clear the spooler.

Good luck!

Greg Olsen at 04:25am on Wednesday, July 06, 2005

If none of the above seem to work, I found that one of the printers listed in my printers box (Start - Settings - Printers) actually had a print job sent to one of them that just wasn't printing out. I cancelled the print job and everything was fine afterwards.

Bruce at 03:20pm on Thursday, July 21, 2005

I have had the same problem "unable to connect" on a brand new HP 7410 through a network.
Set up a static IP, and set the host name on the printer.
Go to Printers and Faxes, select your printer and right-click on it to go to properties. Select the 'ports' tab and click on 'configure port'. Make sure that the 'Printer Name or IP Address:' section contains the host name or IP address that you set up on the printer.

PL at 11:55am on Saturday, February 25, 2006

I was disgusted to find that this device suddenly started failing as well. I have 4 pc's, wireless network, linksys 54G router. Sure enough, changing the printer to Static IP and assigning a number that was not used, pinging to make sure, created a new TCP/IP port under printers and reassinging the 7400 to this new IP worked like a charm. As a call center tech for a major law firm I must say I despise overseas help. THis is going to be the demise of the country allowing foreign countries to manage our systems. Or attempting to. Thanks to all of you - Mark

Mark Greiner at 12:26pm on Saturday, March 18, 2006

I purchased the 7310xi and when I print pictures they come out so much lighter than the picture on my computer screen. I am running on a Macintosh computer, I am using HP inks, and HP Advanced Photo Paper, glossy. I've tried different setting but they just don't seem to come out the bright colors that are in the picture.

Any suggestions?

Kim at 06:04am on Sunday, April 02, 2006

Have you calibrated your monitor Kim? You won't be able to accurately see on your monitor what the printed images will look like until you have calibrated it...

Mark Goldstein at 10:05am on Sunday, April 02, 2006

HP really do have a problem with their Jet Admin/Network Printer Installation software that creates the HP Standard TCP/IP port as this is what generates the errors. As soon as you change to a standard TCP/IP port the problem with the error message Print Spooler unable to connect goes away. I would suggest that anybody wanting to set up a HP printer as a networked printer does not use the installation software supplied by HP but just adds a printer using the Add Printer in Control Panel and sets up a new standard TCP/IP port which points to the printers IP address. The IP address must obviously be a static one though.

Carol Matthews at 02:22pm on Tuesday, April 11, 2006

I can't get the scanner function to work on my 7410. Tried to reload software but scanning software doesn't appear. Any suggestions?????

Don Balansky at 10:38pm on Friday, April 14, 2006

I want to buy an hp 7410.
I live in belgium, and have seen a great deal in the uk. Are there regional versions of this product, or would a uk sources machine work in europe where there is a different fax header. Around 5 years ago I bought a uk fax to belgium and it couldn't operate on the Belgian phone network - I guess that the 7410 is capable of working anywhere, but I'd like to check first.
Thanks in advance
Dave

dave kendall at 06:51am on Wednesday, April 19, 2006

Beware! I had two replacements within two weeks - first with a terminal paper jam; second was DOA. The delivery driver said "I carry a lot of these things back and forth!" Since then I've had to raise several cases with the support centre - it's in India or nearby and communication is very difficult - also most of them are reading from scripts and don't really seem to have an appreciation of what they are doing. When in doubt they fall back on "it's a windows problem". My advice - check where the support service is operated from before you buy - for printers, whatever.

David at 04:38pm on Thursday, May 04, 2006

Hey Guys,

I have a 2600n colour laser printer and i was getting the "the print spooler was unable to connect to your printer. This can be caused by......" and by accident i have set the ip config to 100mb full duplex and now it is working with no problems.

Hope this helps some people.

Matt

Matt at 05:32am on Friday, May 05, 2006

Bought printer.

Network printing, encountered print pauses every page at least 3/4 time a page. Few times where the cartridges went back to the resting place.

HP Support via chat, awful

HP Support via phone, better but still no res.

After installing the express option of the sofware, my start button would not work.

After reboot. Start button worked, but I had to enable the quick launch tool bar again.

No idea what I am going to do with this thing. I want to return it, but newegg.com says replacement only.

John at 06:02pm on Friday, May 05, 2006

I've had the same network problem on our HP7410. I assigned a static ip address as suggested in comment 12 above and it worked. The only difference was that I couldn't change the ip address in the printer properties ports tab, it reported an error. So I set the static ip to be the same as in the port dialog and it sprang back to life.

Chris Eccles at 11:06pm on Friday, August 25, 2006

I have spent days and numerous hours with installation of my 7410. Tech support now wants me to wipe out my entire hard drive, have spent over 4 hours at a time with support in India. Scanner will not in anyway accept downloading the software. Everything else works. My computer is an hpzd7000, I had the d135 all in one and it was great until the scanner died. Can anyone help? Thanks!

marianne secontine at 08:07pm on Monday, September 04, 2006

7410 date and clock won't set through the software on my wireless network. HP support had me uninstall and reinstall the software witch I had already done. Tested the scan and it worked fine. (didn't really have to do with my concern.) Printer and pc are communicating but in director I get a message disconnected or no communication. After 2hours with HP support they said I should call linksys to open some ports. Also this is one of the largest software installs for a printer @ about 750mb I have seen. It loads all kinds of things in the msconfig witch slows the start of my pc.

Ron Week at 02:29pm on Monday, September 11, 2006

the HP 7310 mechanically works wonderfully but the printing is light and photos are all appear over exposed and flat. The color is not saturated and is not controlable when printing from Quark or other programs. One can change color values on copies but not when printing from applications.

Am I missing some hidden adjuster -or do I have a lemon?

Al Fabrizio at 12:09am on Wednesday, September 13, 2006

I have had the problem "The print spooler was unable to connect" on my laptop using an HP7410 also. I use a wireless network and XP. I >> DIDN'T << need to change to a static IP. Just go to Start, Settings, Printers and Faxes. Right click on the name you use for your HP7410 and left click on properties. Left click the ports tab. Left click in the box next to your printer name. Then left click on the "configure port" button. Verify the "Printer Name or IP Address:" box contains the host name or IP address that you set up for the printer. Somehow the printer host name changed on my laptop. Now all I need to do is determine how I inadvertently changed it?

Patrick at 10:19am on Friday, October 06, 2006

I had the 'cannot connect' problem and after some trouble shooting called tech support. I had to wait on hold a long time but when someone answered he was extreamly helpful. The problem is with the IP address changing and not being communicated to the computer(s) -especially laptops. After un-installinig and re-installing all the HP software on my machine (the stuff that came with the 7410 printer), everything was fine again. I will attempt to set a static IP to avoid future problems.

John at 11:26pm on Thursday, October 12, 2006

I can't get the scanner function to work on my 7410. Tried to reload software but scanning software doesn't appear. Any suggestions?????
Posted by Don Balansky on Apr 14, 2006 - 10:38 PM


I have the same problem, the installation stops at 96% but printing and faxing work but I can't get the scanner portion to work. I've been on the phone with india for the better part of the day, they say it's my computer, but i've had other printers and an hp printer/scanner working on my computer before.. any suggestions.. Ive tried reinstallations 6 times and once from the HP website.. no luck.. what should I do to remedy this?

F. K- Smith at 03:57am on Friday, October 20, 2006

I have the same scanning problem, 7410 on a network and trying to scan to computers, can't get it to 'see' any of the networked machines! has anyone solved this?

C Nolan at 03:27pm on Thursday, November 23, 2006

I have read all of the previous comments and am so greatful, I found this thread when looking for the best prices to buy a 7410 as my d145 has finaly given up with printer head problems and I decided as I have had HP for the last 10 years or more to buy HP again, now I don't know what to look at with all of the functions of the 7410 and not the problems and especialy offshore support, any ideas!

Howard Easterbrook at 08:12pm on Thursday, November 30, 2006

I also found this thread when looking for the best prices to buy a 7410 and I decided, as I have had HP for the last 12 years or more to buy HP again, now, having read of all the problems, I don't think that the "new" 7410 on eBay will be coming my way. Thanks to everyone for sharing your experiences. Let's hope (unlikely though) that HP read these also!

Stuart at 11:42pm on Thursday, December 28, 2006

Oh dear, I'm with the previous two posters. I've been HP 1175C user for many happy years but it needs replacing. I've spent the day researching an HP replacement (why would I want to change?) and decided 7310 is the one for me. But this page and other reviews have convinced me I'd be a fool to risk it. There are too many people with problems for me to discount them. I too hope that HP will read and do something about the quality. Where to now? Epson? Canon? Lexmark? Sigh!

Andrew at 08:09pm on Saturday, January 06, 2007

I have Internet Explorer 7 on my computer and the HP Director software won't load. I have attemped the install at least 5x. Support is useless-not one of them can agree on what to do. They don't even know that their website states there is a problem with 7410 software w/HP Director and IE 7. One support person said I could download the HP Solution Center software and use it with the printer. Has anyone tried it and does it work with the 7410? I was also told to delete the IE 7 and reinstall IE 6, but it looks like I would lose every update since I installed IE 7. Suggestions to resolve this problem before I return it to the store?

Lynn at 05:48am on Tuesday, January 09, 2007

I also had problems with IE7 (not with HP Director, haven't got that) and subsequently deleted it in favour of IE6. Although a bit of a pain reloading other updates again, at least I don't get the annoying messages and warnings that IE7 produced. MS have got some bottle releasing IE7 with so many known issues. I think I'll wait in future before installing the "latest release". My other systems are still running happily on Windows 3.1 and 98SE (now no longer supported by MS).

Stuart at 01:49pm on Tuesday, January 09, 2007

I had same problem with HP PSC 2500 series, I followed the tips, was able to resolve the issue.

Thanks guys!

Jake

jake at 03:11am on Saturday, January 13, 2007

I have that OfficeJet 7410, and have no problems with printing to it wirelessly (it's not hard wired to anything.)

What annoys me, though, is that in the Linksys host table. it shows up as (null) for a name, even those the host name is set.

Edward England at 05:52am on Monday, January 29, 2007

Further to my last post, I now have 4 "dead" hp7410's in my house, hp kept sending me a new printer every time they could not get one of their so called "technicians" to install on to my new hp computer. They have just agreed to exchange it for a hp 9310. I know this is not wireless but I'm totally miffed off with their inability to get the 7410 working, incidentally I have now been informed they have discontinued the 7410. They should discontinue their off shore so c alled support sercices also IMO.

peter hall at 09:45pm on Monday, January 29, 2007

Wow. So I'm not the only one pounding my head against the attrociously bad HP printer drivers. I made the mistake of installing their drivers for 7310xi and when I immediately started getting svchost.exe crashes I immediately uninstalled their drivers and the NT service crashes went away. I sent them a call stack dump and heard absolutely nothing. My wife uses an Apple Macbook Pro and the HP drivers for that work great - probably built by a different team! So if anyone knows of a new/different way to setup the 7310 printer I'd love to know about it.

Chris at 09:42am on Wednesday, February 14, 2007

I was an old-school user of HPs ironclad laserjet printers of the 90s, if I needed a printer back then or needed to recommend one, it was a no brainer. Now after being a "delta tester" for the 6210 and having a 7410 in my office, it's safe to say I would NEVER buy their All-in-one products again. My issue isn't with the hardware, it's the software and support. Support, both via phone and online chat is a complete joke. The support people are not only clueless, they are absolutely infuriating to work with because they are so inept. The software... WTF, 600 meg downloads for printer drivers? I can't go with the basic driver because it lacks in network functionality, and even then it's still 300+ meg. It takes over an hour to install this crap, then much of the time it doesn't work. On 3 different XP machines at work, the install has failed (and on the one that succeeded, HP Director is missing almost all the icons, just software updates and that stupid Image Gallery crap are shown).

I provided negative feedback to HP during the testing phase of the 62xx and was ignored. I don't know what I was thinking buying the 7410 after that. My mistake but I won't make it again.

robr at 02:03pm on Tuesday, April 03, 2007

My 7410 worked fine with XP, but when I tried to use it with Vista, the Solutions Center (SC) scanning software would not function. I've spent day-after-day over the last six months on the phone with HP tech support doing the same things over and over with no luck. My real frustration comes because their tech support won't even admit there is a problem. I KNOW they know there's a problem because I've read about many users with the same experience. I've asked to be escalated. The TS rep said he would, but no one ever called me. This trying to get help from HP has been going on since April 2007.

Someone at Microsoft helped me with a couple of workarounds using the hpqscnvw.exe file, and of course, I can type the IP address into a Web page and use part of the scanner features. The problem is using the IP address allows me to scan to a .pdf document, but not use the automatic document feeder, and using the hpqscnvw.exe file allows me to use the document feeder, but not scan to a .pdf file.

I spent days on Chats with HP tech support in the spring without any resolution. Finally, I gave up until today, thinking maybe by now HP had fixed the Solutions Center software glitch. Not so, and tech support is still not admitting that there is a problem. I could understand if they would just admit it and tell me when they expected a fix. I would wait and reinstall the software then, but this refusal to admit there's even a problem really has destroyed my respect for HP as a company. I was a real HP user until now, even recommending their products to friends, students, etc. NO MORE!!! I'll not buy HP again, nor will I recommend them.

I'm soooooooooo frustrated. Has anyone here had this problem or found a fix for this yet?

cme2daa at 10:16pm on Wednesday, October 03, 2007

There is no fix other than to toss the printer. HP has moved on and never goes back to update drivers. I had an HP 6515 PDA/phone as well. Similar issues there. They addressed some problems when they released the 6915 but never rolled back any fixes into the 6515 which was basically the same phone with less memory. Needless to say I moved on to HTC. HP gets no more money from me or my company ever. Good job HP, piss off the person that's in charge of all technology buying decisions. I have 8 racks of Dell PowerEdge servers that might have been HP.

robr at 11:26pm on Wednesday, October 03, 2007

People with complaints about the drivers, download the latest version from HP's site, choose the minimal install which doesn't add any of the HP bloatware (select the version with network support if required).

XP has all the functionality you need built in so the extra stuff isn't required.

Dave Jackson at 10:46pm on Monday, October 08, 2007

I've downloaded the update for Vista several times. This is what the HP tech support has me do over and over. It never works. When I download and install, I have to restart the computer; therefore, I have to let the Chat Support go. When I restart, I try starting the Solutions Center, and I receive the same error message. I go back to Chat Support and repeat the same exercise--again and again and again. Each time, I explain what has happened with previous TS. They don't listen--just have me do the same thing again even though I explain I've done it a minimum of 12 times now.

cme2daa at 08:44pm on Sunday, October 21, 2007

I've done that--over and over. That's always what the HP Tech Support people have me do. The Solutions Center still doesn't work with Vista.

cme2daa at 09:05pm on Sunday, October 21, 2007

So i would suggest NEVER to buy from HP not the 7310 or the 7410. I am not a big printer as we have a very small office so when i went to change my cartridge after 1 year and 1 month the spring that holds the cartride broke away from the wall, this punctured the ribbon cable the goes to the reading head... HP cant fix it, Will replace it with a refurbished model for a 280 euro with 3 months warranty. This is a design defect and has exsisted for several generations of printer.

No way to speak to HP about it but i did find this internet site that ever buyer MUST read...

http://www.fixyourownprinter.com/forums/inkjet/50913

Hope this helps, P.S. PLEASE post if you have had similar experiance ..I aint finished fighting for a replacement printer !

Waynef at 08:41pm on Monday, November 26, 2007

I upgraded the firmware on my router and I started getting "The print spooler was unable to connect to your printer......" I entered the static IP and problem resolved. Thx.

Scott at 03:00am on Friday, December 21, 2007

Hi,

Is there a way to turn off the genuine hp cartridge installed messages every time i print a document as it can be rather annoying?

ed rogers at 01:41pm on Friday, January 04, 2008

Hi, When scanning to a pdf the page size is 23 by 38 inches, How do u adjust that?

Ken at 03:20pm on Thursday, March 13, 2008

hi,
I had bad experince and I hate HP service. I have an OfficeJet 7413 printer. It was working good until I restart it. From that time the printer became unable to boot up because of a fail in the printer's software and the service said I have to change the whole motherboard +"they don't order like this things".
So..

My experince at 09:47pm on Saturday, March 22, 2008

I have an HP Offecejet 7410, the bar at the bottom of the loge keeps scrolling and will not do anything. I cannot turn the printer off. What seems to be the problem?

Roger Tan at 09:55pm on Monday, September 29, 2008

I have a 7310xi and a new print cartridge. when attempting to copy I receive a blank page. What to do?????????????

Bill at 06:51pm on Thursday, October 16, 2008

I have a 7410 all in one printer. Recently, I am unable to print color pictures without vertical faded stripes appearing across the entire width of the printed picture.

Anyone have a solution that I can use to correct the problem? Thanks.

Bob

Bob at 01:54am on Wednesday, July 01, 2009

Ed Rogers- did you ever find a solution to the annoying "Genuine HP Cartridge Installed" message? How ridiculously unnecessary is that message!

Sarah at 01:21am on Wednesday, September 30, 2009

Hello Ed and Sarah,
I've had the same problem (among others) with my 7410. I've even done a full uninstall and reinstall of the HP software (which never fully succeeds in installing on my main PC, but sometimes gets far enough installed to at least activate the printer functions) and the same error message came back. Annoying, useless, and just adds to my concerns about the stability of the software.

Daniel Buchalter at 10:28pm on Wednesday, January 13, 2010

I have a 7410 and had major problems with the computer not finding the printer. I have found that the cause are the IP settings that suddenly change. Once I have that fixed, the scanning does not work any more because the HP director that I use for scanning still has the previous IP address. So the thing that helped me is to check on your HP 7410 in the network settings what your IP address is there. Then go back to your computers an change the ports of the 7410 on all the computers to that same IP address. Now it all works again. I have had this problem several times and support gave completely up on me. Got it to work again for a few months. Just happened again. But now that I know how to fix it, it is done within minutes.

Maya at 06:42pm on Thursday, January 21, 2010

Maya - I've had problems with the scanning and loading the software and am hoping that your IP settings suggestion will work for me, but how do you check the network address on the HP? Is it actually on the HP menu screen?

Charlee at 06:30pm on Tuesday, March 02, 2010

Charlee, yes you can check it on the HP menu screen. It is under network settings. You can even print out the network settings. Hope this works for you.

Maya at 06:50pm on Tuesday, March 02, 2010

A fantastic blog with a lot of useful information. I would love to get updates from you. Keep blogging. All the best.

inkjet cartridge review at 07:03am on Tuesday, February 19, 2013
Commenting is not available in this channel entry.