Sony DPP-FP90, Sony DPP-FP70, Sony DPP-FP60 Printers
PMA 2007: Sony introduces three new dye sublimation photo printers. The top-of-the-range Sony DPP-FP90 has an extra-large (3.6-inch) screen with adjustable tilt position, whilst the Sony DPP-FP70 offers a fixed 2.5-inch TFT LCD. Both the FP90 and FP70 are powered by the Sony BIONZ processor, previously used in the Alpha DSLR camera. Face Detection technology automatically detects human faces in a scene, and contrast and colour values are adjusted accordingly. The affordable Sony DPP-FP60 features a 2-inch LCD screen and optional bluetooth kit. The DPP-FP90, DPP-FP70, DPP-FP60 and DPP-FP60BT will be available throughout Europe from May 2007.
Sony Europe Press Release
Feb 27, 2007
* DPP-FP90, DPP-FP70 and DPP-FP60 dye sublimation photo printers
* Extra-large 3.6-inch tilt screen (DPP-FP90 only)
* BIONZ processor for super-fast, high-resolution printing
* Face Detection and one-touch correction of red-eye, backlight/contrast and soft focus
* Sony TruFast technology delivers 4 x 6" print in 45 sec
27th February 2007 - Now it's quicker and easier than ever to produce stunning lab-quality photos at home. That latest line-up of Digital Photo Printers from Sony takes beautiful design, sumptuous print quality and fast, fuss-free operation to the next level.
Three new dye sublimation photo printers match outstanding image quality and super-fast printing with gorgeous, compact looks to suit any home or office.
The line-up is headed by two brand-new models – DPP-FP90 and DPP-FP70 – that harness the power of latest-generation Sony imaging and print technology to deliver superlative results. The range is complemented by the DPP-FP60 that features a 2-inch LCD screen. This affordable photo printer is also available bundled with the DPPA-BT1 Bluetooth adapter (model DPP-FP60BT) that allows quick, easy wireless printing directly from mobile phones, PDAs and other Bluetooth-enabled portable devices. All new printers are compatible with the DPPA-BT1 Bluetooth adapter, which is also available as an optional accessory.
The top-of-the-range DPP-FP90 stands apart from other photo printers thanks to its extra-large (3.6-inch) screen with adjustable tilt position for comfortable viewing at any angle. With a resolution of 230,000 pixels, the super-size screen features Clear Photo LCD technology for incredibly natural-looking, high-contrast images with superb detailing and colour accuracy. The DPP-FP70 offers a 2.5-inch TFT LCD with fixed viewing angle.
Screen size aside, both top-tier printers are packed with high-performance Sony technology to make photo printing at a home a faster, more versatile and creative experience. Inside the DPP-FP90 and DPP-FP70 is the Sony BIONZ processor, previously found only in the groundbreaking ?100 digital SLR camera. This powerful imaging processor can handle high-resolution print files of up to 48 Megapixels with a data throughput much faster than previous processors.

The BIONZ processor intelligently adjusts print parameters for optimum results without sacrificing printing speed. Latest Auto Fine Print 4 technology automatically corrects white balance as well as overall brightness, hue, contrast, gradation and sharpness just before printing for natural-looking textures and colours. For even more accurate, life-like results, both printers can interpret the extended shooting data that's saved with image files shot using Cyber-shot cameras and the ?100 digital SLR.
The BIONZ processor also provides the key to saving more 'spoiled' shots from the waste bin… all without the need for a PC, image editing software or specialist skills. At a touch of the pink Auto Touch-up button, the FP90 and FP70 can automatically detect and correct a range of common problems that affect many every-day images. These include red-eye removal and dynamic range optimisation to compensate for poorly-exposed or problematic backlit shots. Both printers can even correct intelligently for incorrect focus – another major cause of spoiled pictures.
FP90 and FP70 models both include Face Detection technology for natural-looking, perfectly exposed faces. Thanks to the BIONZ processor, human faces in a scene are automatically detected, and contrast and colour values adjusted accordingly.
Great-looking prints are delivered faster, too. The high resolution of latest digital cameras means that picture files are getting larger and printing times getting longer. With the FP90 and FP70, however, Sony TruFast technology slashes delivery time to just 45 seconds for a postcard-sized 4x6" print. (NB: DPP-FP60 63 sec.)

Images can be enlarged, reduced, cropped, shifted and rotated before printing with control over brightness and colouration. A range of special effects includes Black & White and Sepia plus Paint, Fish-Eye, Cross and partial colour filters. For even greater versatility and creative options there's a choice of handy extra print functions – from index, calendar and ID photo prints to a new 'Superimpose' mode for creating original greetings cards and invitations with the addition of your own messages and illustrations.
Both DPP-FP90/70 models are designed for handy portability around the home with a convenient built-in carry handle and the DPP-FP90 and DPP-FP70 are available in black or white colours to suit your taste. For maximum compatibility with today's digital cameras they're also capable of accepting a wide range of popular removable media types including MemoryStick, SD card and Compact Flash.
Both models offer PictBridge™ support for 'PC free' direct printing from any compatible digital camera via a standard USB cable connection. Direct printing is also possible from a USB flash memory device or connected USB hard disk drive.
Supplied Accessories include: Paper tray, AC adaptor, Cleaning cartridge/paper, CD-ROM (Printer driver, Picture Motion Browser)
The DPP-FP90, DPP-FP70, DPP-FP60 and DPP-FP60BT will be available throughout Europe from May 2007.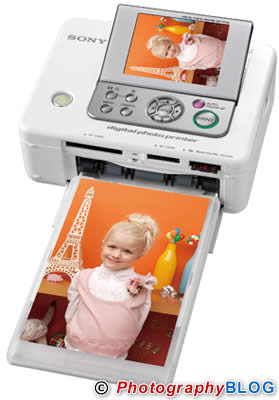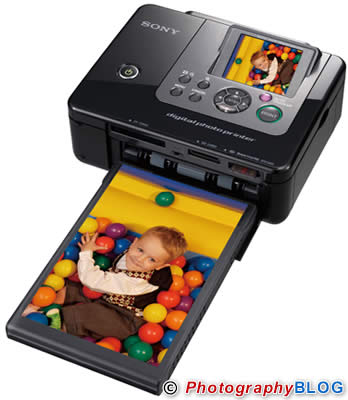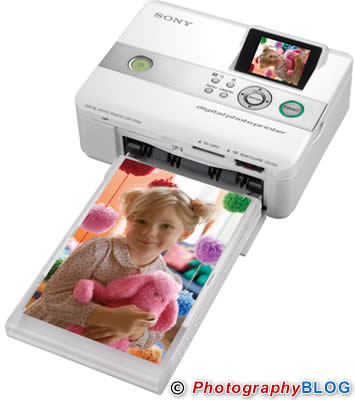 Published: Wednesday, February 28, 2007
Compare Prices
Support PhotographyBLOG: Buy this product from one of our affiliate retailers (US first/red, UK second/blue):
Reader Comments
I am having trouble finding printer paper and cartrige for DPP-FP60BT Sony digital photo printer. could you tell me what stores sell this product.

Shirley Brown at 06:27am on Tuesday, December 08, 2009

I am unable to find any supplies for this printer, as well. What a waste of money this was. I could have put my kid through college... Now I can't afford to, after buying this PoS.

Scott Carswell at 05:28am on Thursday, October 24, 2013
Commenting is not available in this channel entry.