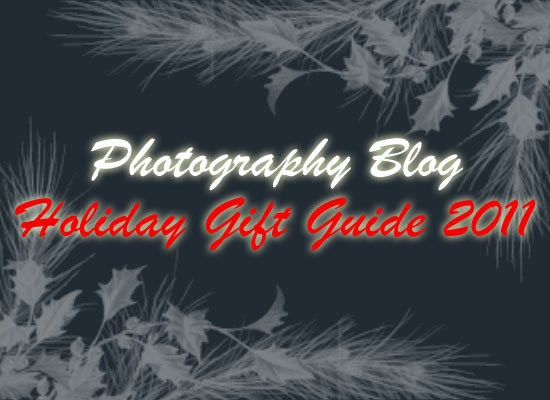 We've selected our top picks for this year's Holiday season, all the way from the cheapest digital compact up to the most expensive DSLR and everything in between. So no matter what your budget, make sure that you consult the Photography Blog Holiday Gift Guide for 2011 before splashing out your hard-earned cash.
Budget Digital Compact Cameras
 

Canon IXUS 230 HS

 
"If you're looking for a budget digital compact camera for either yourself or as a present and you want good quality and good picture performance then you need to take a serious look at the new Canon IXUS 230 HS."
Read Review
You might also like...
 

Fujifilm FinePix Z900EXR

 
 

Nikon Coolpix S8200

 
"It's a shame that there isn't a "Camera that looks like a budget model but performs like a prosumer" award because the Fujifilm Finepix Z900EXR is a strong contender."
Read Review
 
 
"The Nikon Coolpix S8200 is Highly Recommended for point-and-shoot use in good light, which will more than satisfy most of the camera's target audience."
Read Review
Mid-Range Digital Compact Cameras
 

Sony Cyber-shot DSC-HX9V

 
"The Sony CyberShot DSC-HX9V is the best travel-zoom camera that we've reviewed to date, taking on and beating the market-leading Panasonic DMC-TZ20."
Read Review
You might also like...
 

Panasonic Lumix DMC-FZ150

 
 

Canon PowerShot SX230 HS

 
"Having the ability to shoot everything from wide-angle landscapes to close-up action shots and capture some of the best quality video on the market, all from one light and relatively compact device, is a real attraction of this camera..."
Read Review
 
 
"The new Canon PowerShot SX230 HS is a more sensibly priced and better-specced challenger to the market-leading Panasonic TZ-series, going head to head with the TZ20, which it actually betters on paper in quite a few aspects."
Read Review
Premium Digital Compact Cameras
 

Fujifilm FinePix X100

 
"The Fujifilm Finepix X100 is one of the most surprising, appealing and well-realised cameras of recent times, offering a compelling mix of intuitive handling, impeccable image quality, and a truly innovative viewfinder."
Read Review
You might also like...
 

Olympus XZ-1

 
 

Canon Powershot G12

 
"In summary the Olympus XZ-1 is a very attractive and well thought-out - if a bit expensive - digital compact camera that appeals to a wide range of users and presents a real threat to the likes of the Canon Powershot S95, Panasonic Lumix LX5 and Samsung EX1."
Read Review
 
 
"If you want an all-in-one camera that offers a tried and trusted user interface, speedy performance, excellent image quality and a versatile screen, the Canon Powershot G12 is very easy to recommend."
Read Review
Budget Compact System Cameras
 

Sony NEX-5N

 
"...a winning combination of excellent image quality even in low-light, a refined and customisable interface, and fast and responsive operation does make the Sony NEX-5N one of our current favourites."
Read Review
You might also like...
 

Olympus E-PM1

 
 

Samsung NX11

 
"The new Olympus E-PM3 is a great start to a new series of smaller, lighter and sexier PEN cameras, taking the design cues of the E-PL3 further without sacrificing too much in the way of features or ease-of-use."
Read Review
 
 
"Although the Samsung NX11 won't win any awards for originality, it is the best Samsung compact system camera yet and does just enough to remain competitive in an increasingly crowded market."
Read Review
Premium Compact System Cameras
 

Panasonic Lumix DMC-G3

 
"The Lumix DMC-G3 is the most well-rounded Panasonic compact system camera to date, offering a great mix of cutting-edge features, improved image quality, intuitive and customisable handling, and a very competitive price."
Read Review
You might also like...
 

Olympus E-P3

 
 

Panasonic Lumix DMC-GH2

 
"A strong '4.5 out of 5' then and a Photography Blog recommendation for the Olympus E-P3, by some distance the best Pen yet."
Read Review
 
 
"The Panasonic Lumix DMC-GH2 offers a winning combination of high-quality stills and video, proven handling and design, and a more affordable price-tag - it's simply the most complete interchangeable lens camera currently available for people who want to shoot in both formats."
Read Review
Budget DSLR Cameras
 

Nikon D5100

 
"The Nikon D5100 successfully bridges the gap between the beginner-friendly approach of the D3100 and the more complex D7000, with the latter's fantastic 16 megapixel sensor being the icing on the proverbial cake."
Read Review
You might also like...
 

Canon EOS 1100D

 
 

Pentax K-x

 
"The EOS 1100D / T3 is a great entry-level DSLR camera that's well-suited to its beginner target audience. The combination of proven metering, auto-focus and processing systems with a sensible 12 megapixel sensor and simplified control layout is a winning one."
Read Review
 
 
"The new Pentax K-x occupies the sweet spot between the entry-level K-m and prosumer K-7 cameras, combining the ease-of-use of the former with many of the advanced features of the latter. The 4.7 fps continuous shooting speed, speedy and accurate 11-point AF system, HD movies and an extensive ISO range of 100-12800 mean that Pentax should be onto a real winner with the new K-x."
Read Review
Mid-Range DSLR Cameras
 

Sony A65

 
"The Sony A65 represents a significant upgrade for Sony's mid-range DSLRs, offering a feature-set and performance that few other rivals can match. The new 24.3 megapixel sensor offers greatly increased resolution without impacting on low-light performance or operational speed..."
Read Review
You might also like...
 

Nikon D7000

 
 

Canon EOS 600D

 
"The Nikon D7000 is a successful crossbreed of the cheaper D90 and the more expensive D300s, borrowing features from each model and adding enough new highlights to surpass them both in many ways."
Read Review
 
 
"...the Canon EOS 600D / Rebel T3i cleverly occupies a position that's mid-way between the 550D and the 7D without being subjected to a price increase on launch. It's the most capable yet friendly Rebel yet, and easily worthy of our Highly Recommended award."
Read Review
Premium DSLR Cameras
 

Canon EOS 5D Mark II

 
"Whilst not perfect, the Canon EOS 5D Mark II ultimately strikes a great balance between resolution, quality and performance, offering a fantastic all-round package that just deserves our highest Essential rating..."
Read Review
You might also like...
 

Nikon D700

 
 

Canon EOS 7D

 
"...the Nikon D700 looks and handles closer to the D300 than D3, in terms of controls and layouts, whilst of course featuring the D3's full frame capture ability, but in a lighter and smaller design. As such it comes across as a kind of 'greatest hits' of Nikon DSLRs."
Read Review
 
 
"When the Canon EOS 7D was announced at the beginning of September 2009, many people instantly dismissed it because of the lack of a full-frame sensor. On closer inspection, that seems to be their loss, as the 7D is a fantastic APS-C DSLR that only narrowly misses out on our highest 5 Star / Essential award."
Read Review
Just for Fun...
 

Camera Lens Mug

"Looking just like a top quality SLR camera lens, watch your friends face turn to horror as you take off the lens cap and fill it with tea..."
Buy One!
Your Comments