How to Avoid Photographic Clichés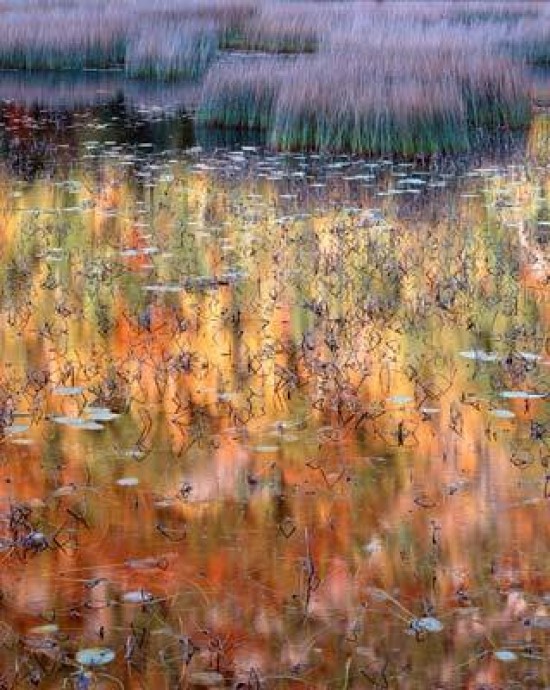 So what steps can we take to try and resist the obvious, to avoid being caught in the "cliché" trap? Here are some tips that I hope will help you to find images that speak with your personal voice.
Locality
One of the key elements in a memorable photograph may well be the quality of light. Special light doesn't occur every day and as such it is more likely that when it does you will be at home rather than in some exotic location. So rather than chase the dream at some far flung place why not make the most of your local area? Here you have the upper hand because you can respond to conditions and already have a working knowledge of likely subjects, places and viewpoints.
Icons
If you do find yourself at an iconic location, one that you have seen amazing images of before, don't be tempted to charge in and repeat what you have seen. Instead, try leaving the camera in the bag, spend some time absorbing your surroundings and wait for something unique that speaks to you.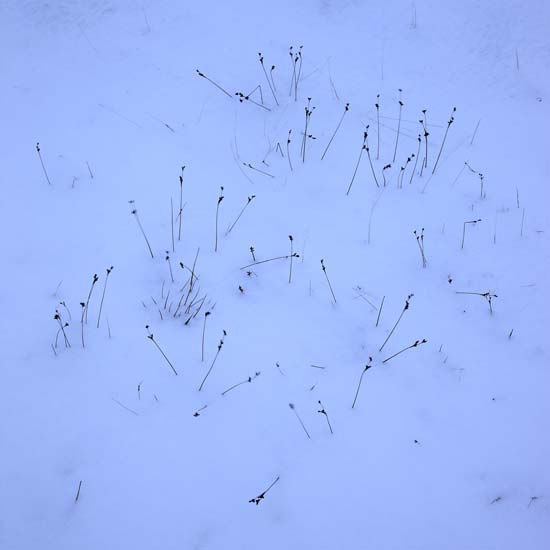 Most photographers who visit Rannoch Moor in Scotland for a winter's dawn rush to grab the "best" spots nearest to a small tree on an island that has become a classic cliché view. My alternative option was to photograph this small detail a few hundred yards away in the car park (it was actually about 5 yards from our van).
Viewpoint
Don't always assume that photographs should be taken from eye level. Investigate all possible viewpoints and be prepared to get up high or down low to make your image. This also applies to perspective. Consider all the focal lengths you possess and the way they might offer a different feel to your image.
Be Open
Just because you haven't seen a great image of a location doesn't mean it isn't there. Learn to look very hard at your subject, become absorbed in it and try and discover something extraordinary for yourself.
In time you will learn to find your own style of image. Who knows, perhaps the next time you venture out with your camera you might introduce us all to a new icon that will suffer the ultimate fate of becoming a cliché of the future.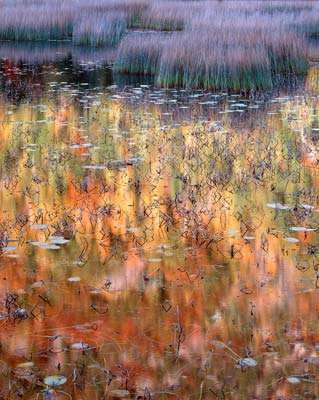 When visiting New England it is obvious that you will want to photograph the fantastic fall colour. But rather than straight shots of the leaves themselves, I tried photographing just their reflections in this small tarn in Acadia National Park.
Biography
Phil Malpas is a freelance photographer and writer based in Swindon, Wiltshire. He was previously a director of Photofolio a commercial gallery in the north of England, and is a regular contributor to a variety of magazines and journals.
Working with both large-format and digital cameras, Phil is a tour leader with Light & Land - which specialises in photographic tours and training both in the UK and all over the world. Phil has lead more than 40 tours to many locations including Cuba, Tuscany, the English Lake District and many locations across the USA. Phil also runs the highly successful "Introduction to Digital Photography" workshops on behalf of Light and Land. For full details visit www.lightandland.co.uk.
In November 2007 Phil's first book, Capturing Colour was published (ISBN 978-2940373062). The book was well received and translated into a number of languages to benefit photography students around the world. In the autumn of 2009 a second commissioned publication entitled Finding the Picture (ISBN 978-1902538587) was co-written with Phil's good friend a co-leader Clive Minnitt. This successful book is the third to be produced in the Light & Land master class series, following Working with Light and Developing Vision & Style. In recent weeks the fourth book in the series was published, "Travel Photography Masterclass" (ISBN 978-1902538594) to which Phil was one of 8 main contributors.
http://www.lightandland.co.uk/tutors/PM
Your Comments