Tom Mackie Re-visits the American West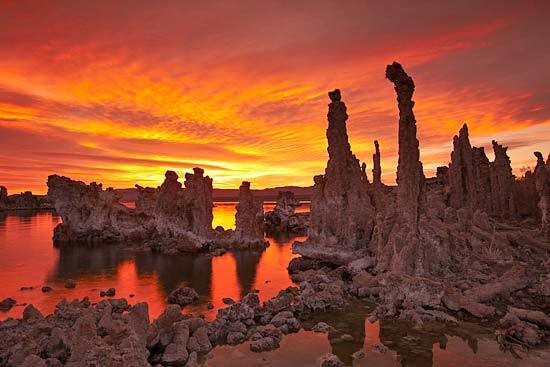 Lone Pine proved to be more welcoming especially for photographers and cinematographers. It is a small town at the base of Mt. Whitney where many westerns starring John Wayne, Steve McQueen, Gary Cooper and many more were filmed. We stayed in the very motel that many of the stars stayed in when filming. Our sunrise shoot at the famous Alabama Hills Arch framing Mt. Whitney went very well, especially as we were in place before all of the other photographers that showed up later. It has become so popular with photographers and with a very small area to obtain the best framing it can get crowded very quickly. It might seem strange to hike into a location in the dark but it pays to be early to get the right position. I also wanted to do a shot painting with light using a small torch to light the subject during a long exposure.
The next morning when I left the motel, the lobby was full of photographers on a workshop. No doubt the arch is where they were heading. But I had other sites in mind. I was working on another article for a magazine where I had to re-create a classic shot that Ansel Adam's did of Mt. Whitney. I found the exact place that he shot it from and in true landscape photographer fashion it was right from the road!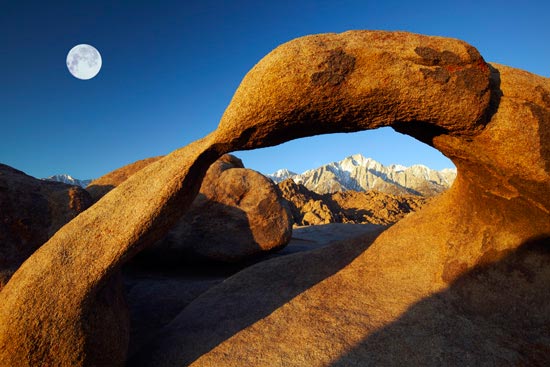 The scene hasn't changed much in 65 years. I wondered if they resisted building a McDonalds on the location to preserve the view. As I watched the first light hit the peaks I imagined what Adams might have been thinking as light and shadow fell into place to capture a unique moment in time. He had much better light than I was given that morning, though I feel I have something worth working on. In reality, great landscape images are seldom created on the first visit. Adams spent 2 weeks going back to this location whereas I was under a tight deadline and had several other locations to put in front of my lens.
One of the things I like about the Owens Valley is the strange little towns that time forgot. One such place is Keeler, a small place full of people trying to escape from society. Someone there has a sarcastic sense of humour when I stumbled across an enclosed area with a surfboard over the gateway welcoming people to Keeler Beach. I quickly mounted the 16-35 MKII Canon lens on the 5D MKII to capture the gateway and cloudscape that mimicked the shape of the surfboard before it drifted out of frame.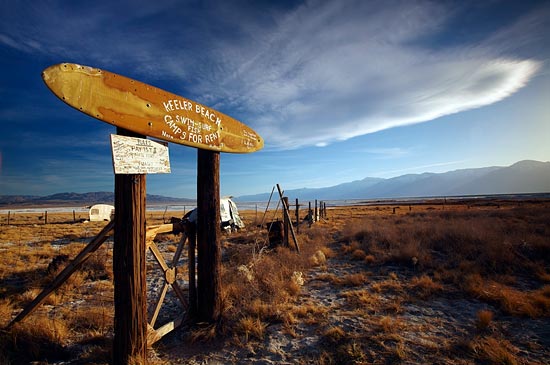 With a few days left, we headed for Joshua Tree National Park. There were a couple of locations that I wanted to get images of at sunrise and sunset. The Jumbo Rocks area is loaded with unusual formations and perfectly rounded boulders positioned in the oddest places. The last time I was here I was slugging around a 4x5 and a Fuji 6x17 panoramic camera. What a joy it was to go for hikes around the rock formations concentrating on images rather than my aching back!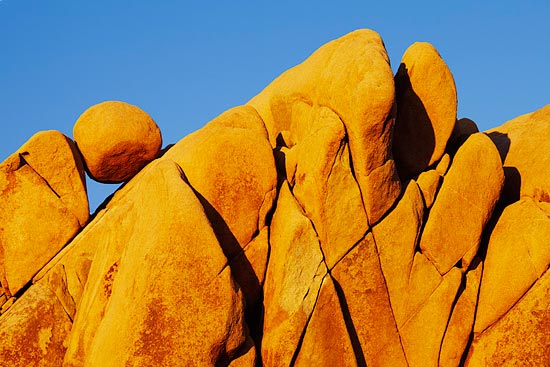 I tried a few pan stitches with the 5D MKII and was very impressed with the results. Initially when I first started doing pan stitches the editing afterwards was a nightmare. So I found that I could create a separate folder in the Canon where I only shot my pan images. My only problem now is remembering to switch back to the other folder when I've finished doing a pan.
I did a pan of the Cholla cactus garden in the lower part of the park. I wanted to show the patterns of the backlit cacti by using the Canon 70-200 f/4 lens to zoom in tight on them. Looking at the images when I got back home, I couldn't distinguish a definite panoramic progression. Good thing having them in a separate folder. I put them through Photomerge in Photoshop CS3 and it made sense of all of the indistinguishable patterns.

All in all, it was a fun trip re-visiting some of my favourite locations using the Canon EOS 5D MKII. It was a different way of working and in many ways lifts the constraints of large format. I still really get a buzz using my 4x5 for it's structured process and approach to photographing landscapes, but this new DSLR opens up many more creative possibilities.
Biography
Tom Mackie has been a photographer all his working life. His degree in commercial photography took him first of all to Los Angeles, where he spent five years as an industrial and architectural photographer. It was during this period that he travelled widely in the Western States, discovering in himself a previously unknown fervour for the beauty of those vast 'cinemascope' panoramas. After that, the confines of a Los Angeles commercial studio were never going to hold him. Tom married his art to this new-found passion and embarked on a 'til death-do-us-part' relationship with landscape photography.
Moving to the UK in 1985, he pursued a full-time career as a landscape photographer. Working with digital, panoramic and large format equipment, Tom's understanding of light and bold use of colour became a hallmark that established his reputation.
"My aim from the first was to develop a clearly defined style of my own: by simplifying images down to their basic elements, I consciously attempt to give my compositions more power."
Calendar, book and magazine work followed from a wide network of clients. Architectural and travel commissions added to his repertoire and his role as one of the country's leading landscape photographers was sealed by his inclusion in 'The World's Top Photographers: Landscape', published by Rotovision.
His talents have also won accolades from The British Institute of Professional Photographers, the Ilford Awards and Business Calendar Awards.
Tom Mackie has had two books published by David & Charles: a best-selling 'Photos With Impact', 'Tom Mackie's Landscape Photography Secrets' and his latest book 'Digital SLR Experts: Landscape' is a collaboration with four other top photographers.
He has written numerous articles for photography magazines and lectures to other professionals on the art of landscape photography. Tom regularly holds photographic workshops in the UK and abroad.
Your Comments