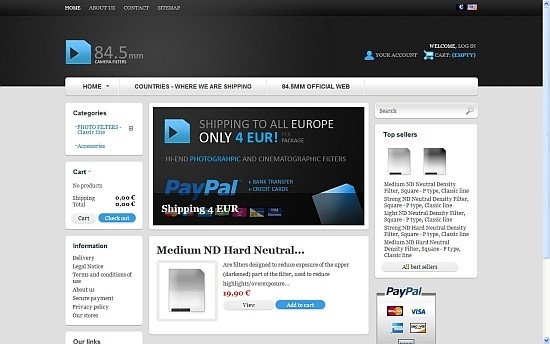 Pöstyén//Pieš?any-based 84.5mm is a start-up specialising in the development and manufacture of hand-made professional photographic and cinematographic filters. "Our filters are made of special organic glass, which is characterized by excellent optical and mechanical features," the company says. "The brand name represents the standard 84.5mm width of our best selling filters, which are of course fully compatible with commercially available conventional [square-type] photographic filter holders." The line-up includes graduated colour and neutral density filters, with a range of stripe filters in the making.  The filters are available priced from €19.90-€24.90 plus shipping through the website below.
Website: 84.5mm Online Shop
84.5mm Camera Filters Company Press Release
84.5mm camera filters company started worldwide sales of their products
New Europe based company 84.5mm camera filters, producer of high quality organic glass camera filters announce start of worldwide sales of their products via own e-shop and selected dealers, and also celebrates 2000th produced filter.
All 84.5mm products, including holders and accessories can be purchased now worldwide direct from e-shop at: http://www.84dot5mm.com/shop or from selected dealers.
Orders are possible from all countries, except countries where company has developed distribution/dealer network. For more info please visit: http://www.84dot5mm.com/shop/cms.php?id_cms=8
Company also celebrates successful start at the market and produced 2000th square filter after startup at May 2012.
Company CEO says "As a new brand of camera filters we are happy for customer's interest in our company and products. Photographic market shows us that there is still need for high quality camera filters for very reasonable price and many photographers including amateurs understand that digital software can't emulate graduated filters in good quality with realistic, natural effect. During relatively short time 2000th filter was produced and more than 3 years of hard work and development of our team was rewarded" 
"Thanks to new production technologies and market position/labor costs we could prepare filters of highest quality for very reasonable price, made from original organic glass CR-39 (patented from U.S.A. instead of using unoriginal, cheap "easy scratch" Chinese equivalent like few other producers) and Class-A optical pigments from United Kingdom, used in ophthalmic market. During development our main aim was produce filter with better scratch resistance, optical quality and neutrality of ND filters on the market for price available for every photographer. These features of our products were appreciated by growing of sales and also by golden medal – tip of ephoto.sk – biggest Slovakian photographic portal in review: http://www.ephoto.sk/fototechnika/recenzie/blesky-a-ine/filtre-845mm-alebo-celkovo-o-zasuvnych-filtroch-v-praxi/  "
Company also announces development of new reversed ND filters, solid ND filters, and new combination series. Professional series with height 150mm will be unveiled until October 2012 for retail price starting at 32 Eur / per pcs.
Your Comments