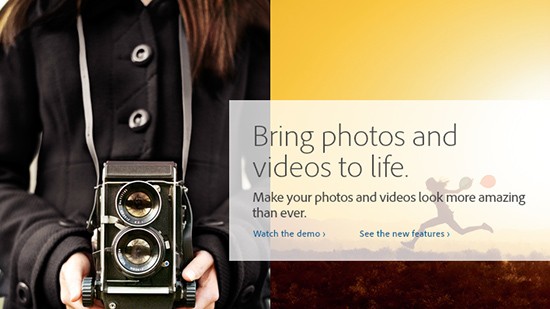 Adobe has released Photoshop Elements 11. The software features a completely refreshed, user-friendly interface, new guided edits, new filters, intelligent object removal and new options to organise your photos. Furthermore, the company has also launched Adobe Premiere Elements 11, which "offers easy creation of engaging home movies with professional flair." Both programs are available now, priced at $99.99 each, or $149.99 for a bundle that includes both.
Adobe Press Release
Adobe Introduces All-New Photoshop Elements 11 and Premiere Elements 11
Revamped User Interfaces and Innovative Features Make Photo and Video Editing, Organizing and Sharing Easier
SAN JOSE, Calif. — Sept. 25, 2012 — Adobe Systems Incorporated (Nasdaq:ADBE) today announced Adobe® Photoshop® Elements 11 and Adobe® Premiere® Elements 11, newly designed versions of its No. 1 selling consumer photo- and video-editing software*. Photoshop Elements 11 offers a complete solution for editing, organizing and sharing photo creations while Premiere Elements 11 offers easy creation of engaging home movies with professional flair. Available as stand-alone products, Photoshop Elements 11 and Premiere Elements 11 can also be purchased together in a low-priced bundle, providing powerful, easy-to-use tools that simplify editing and turn everyday snapshots and videos into sensational photos and home movies, creating memories that can instantly be shared with friends and family. Both solutions are available for Windows® and Mac.
"Photos and videos allow us to capture and share moments in time," said Lea Hickman, vice president products, Creative Consumer Business, Adobe. "Powerful – yet friendly and easy to use – Photoshop Elements 11 and Premiere Elements 11 inspire creativity and help consumers make the most of remembering and sharing these personal memories."
Create Great Photos with Powerful, Intuitive Tools in Photoshop Elements 11
Make photos look their best with editing options that offer virtually everything from quick fixes to a number of creative possibilities:
A completely refreshed, user-friendly interface featuring the same engine as Adobe Photoshop - the industry standard for digital imaging - includes easily-navigated Quick, Guided and Expert editing modes; one-click options; a helpful Action bar; and big, bold icons to help users get the most from their shots
Organize photos based on people, places (via Google maps geo-tagging) or events easily and intuitively
New Guided Edits make pro-level effects like tilt-shift, vignettes and high and low-key easy to create
New filters – Comic, Graphic Novel and Pen & Ink – inspire creativity by turning photos into stunning illustrations
Intelligent Photoshop technology makes it easy to extract objects from different photos
Easily share photos via email, Facebook, YouTube™, Vimeo® and more†
Pro-quality Videos Made Easy with Premiere Elements 11
Create attractive, pro-level videos with automated moviemaking options to take the work out of editing:
An entirely new and improved user interface including many of the same updates found in Photoshop Elements 11
Add polish with a wide range of great-looking effects, transitions, themes, titles, disc menus and professional-level effects and sound
Give videos Hollywood movie styles with FilmLooks; easily apply slow and fast motion effects; dial-in colors with slider controls; effortlessly integrate blends for seamless transitions; and make adjustments with Quick Presets
Show off finished creations with integrated video sharing on Vimeo†
Pricing and Availability
Adobe Photoshop Elements 11 and Adobe Premiere Elements 11 software for Windows and Mac is available now at www.adobe.com, and will soon be available at retail outlets such as Amazon.com, B and H Photo and Video, Best Buy, Costco, New Egg, Office Depot and Staples. The Photoshop Elements 11 & Premiere Elements 11 bundle is available now for a suggested retail price of US$149.99, with upgrade pricing of US$119.99. Adobe Photoshop Elements 11 and Adobe Premiere Elements 11 are available individually for a suggested retail price of US$99.99, with upgrade pricing of US$79.99. (Prices listed are the Adobe direct store prices in the U.S.; reseller prices may vary. Prices do not include tax or shipping and handling.)
Information about other language versions, as well as pricing, upgrade and support policies is available at Adobe.com. For free training videos, visit Adobe TV.
Education pricing for students, faculty and staff in K-12 and higher education is available from Adobe Authorized Education Resellers and the Adobe Education Store. Visit www.adobe.com/aboutadobe/volumelicensing/education for more information about education volume licensing for higher education and K-12 institutions.
About Adobe Systems Incorporated
Adobe is changing the world through digital experiences. For more information, visit www.adobe.com.
Your Comments