Affinity Photo for Windows Now in Free Public Beta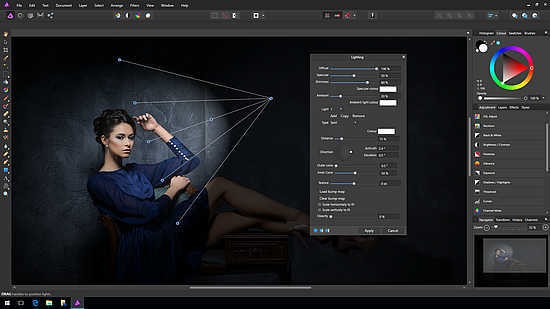 Windows users can now download a free beta version of Serif's professional image editing application, Affinity Photo. The software offers raw image processing, PSD import and export, 16-bit-per-channel editing, colour management,camera lens and exposure corrections, accurate adjustments, live filter layers, high-end controls for channels and masks, advanced layer handling, and built-in frequency separation editing. Other features include andvanced HDR exposure blending, a novel way to edit 360 degree images, tone mapping, batch processing, focus stacking and macros. Interested readers are encouraged to pay a visit to Serif's website to download the free beta version of the program.
Serif Press Release
Affinity Photo for Windows now in free public beta
Windows users can now download the long-awaited Affinity Photo, with the launch of a free public beta.
It's the first opportunity for PC users to experience the speed, power and precision of the award-winning professional image editor.
Chosen as Apple's 'App of the Year' 2015, and 'Best Imaging Software' 2016 by the Technical Image Press Association, Affinity Photo for Mac has received thousands of 5-star reviews from professional photographers, editors, artists and retouchers around the world.
The Windows version matches it feature-for-feature and the public beta offers users the chance to try it free of charge before the full version goes on sale.
·        For more information about Affinity Photo: https://affinity.serif.com/photo
Ashley Hewson, Managing Director of Affinity developer Serif, says: "When we started developing our Affinity apps nearly seven years ago one of the key aims was to be cross-platform, so this is a huge milestone for us. Because we did plan this from the beginning we made nearly all of our back-end code – the core engine of Affinity, if you like – completely operating system independent.
"This not only means that file compatibility between the two platforms is 100% perfect, but all the power, performance, tools and accuracy which have really set us apart on Mac are there for Windows users to enjoy now too."
Affinity Photo's awe-inspiring range of tools work in real time, so there's no waiting to see results. Non-destructive editing, RAW processing and end-to-end colour management are standard, so Affinity Photo has all the accuracy and quality necessary to make beautiful images spring to life.
Participants will be excited to know that the beta version includes a host of powerful new features to be made available in Affinity Photo's next major update, v1.5.
They include:
·        Advanced HDR merge producing full 32-bit linear colour space images
·        Focus stacking to bring depth to multiple combined images
·        Batch processing for smoother, faster workflow
·        An all-new way to edit 360 degree images
The beta period also offers Affinity's developers the chance to perfect the product before its full launch, and users are encouraged to share their feedback.
Naturally, Affinity Photo works perfectly with Serif's stunning graphics editor Affinity Designer, sharing a common file type and shared save history. Affinity Designer for Windows is on the verge of full release.
Windows prices will match Affinity's subscription-free Mac pricing ethos, with a one-off payment of $49.99 / £39.99 / €49.99 covering future updates.
·        For more information about Affinity Photo: https://affinity.serif.com/photo
·        To sign up for the beta: https://affinity.serif.com/photo/windows
Your Comments