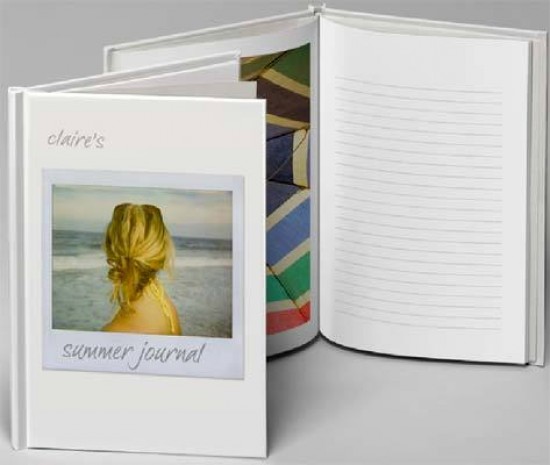 Blurb has announced a new range of personalised notebooks. The high quality, high street look notebook is simple to create, easy to buy,with the delivery taking up to 7 days, it will be on your doorstep in no time. The creation software is free to download and notebooks start from £5.00.
Blurb Press Release
Blurb's Notebooks help you turn your everyday note pad, journal or sketchbook into something beautiful, personal and unique
London, UK - August 10, 2011 - Blurb, the global creative publishing platform today announced the launch of a new book type offering, the Notebook, to help customers easily create one-of-a-kind personalised journals.
People can now create customised notebooks or journals, containing images and text that inspire throughout the day whether they feature photos of family, travels or favourite artwork.  Each customised notebook has all the high quality elements of a Blurb book: durable binding, high quality print and great design.
The Notebook includes a variety of templates including lined, grid and blank pages and uncoated white paper which is excellent for notes and sketches and even resists pen smudges. Every sixth page of the design includes an image container where customers can drag and drop their own photos from Flickr, Picassa, Smugmug, Photobucket or their own computer. The end result is a book that reminds its owner of the things, people or places they love every time it's used.
"Notebooks are where good ideas begin. Your notebook or journal should not only inspire you but also make an impression on others. These little books make perfect gifts and excellent marketing giveaways for businesses and creative professionals." said Eileen Gittins, CEO and Founder of Blurb.
Blurb custom Notebooks are available as part of the latest version of the company's free bookmaking tool, BookSmart and can also be created using Blurb's plug-in for InDesign and the PDF to Book workflow. More information about Blurb Notebooks can be found at: http://www.blurb.com/create/book/notebook
About Blurb®
Blurb® is a creative publishing and marketing platform that unleashes the creative genius inside everyone. Blurb's platform makes it easy to design, publish, market and sell professional-quality books, using the Blurb Bookify™ online bookmaking tool, Blurb's free, award-winning Blurb BookSmart® app or by using Blurb's PDF to Book workflow. Blurb's bookstore and online marketing tools enable customers to market and sell their books, and keep 100% of their profit. Blurb's social and community features allow customers to create and share Blurb books among friends and colleagues with ease.
Blurb was founded by Eileen Gittins in 2005, and includes a team of design, Internet and media veterans who share a passion for helping people bring their stories to life. In 2010, Blurb shipped just under 1.4 million books to more than 70 countries and territories. In 2010, Blurb was ranked the fastest growing media company on the Inc. 500. Blurb is based in San Francisco with offices in London. For more info, visit www.blurb.com.
Your Comments