Burrard-Lucas Wildlife Photography Contest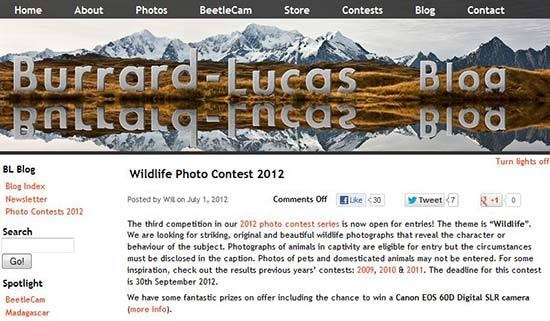 A Canon EOS 60D DSLR is up for grabs in Burrard-Lucas Photography's latest photo competition. The contest theme is Wildlife and the deadline for entries is 30th September 2012.
Burrard-Lucas Photography Press Release
Wildlife Photography Contest
Deadline: 30th September 2012.
Link: http://blog.burrard-lucas.com/2012/07/wildlife-photo-contest-2012/
Burrard-Lucas Photography has launched a new wildlife photo competition. They are looking for striking, original and beautiful wildlife photographs that reveal the character or behaviour of the subject. For some inspiration, checkout the results of last year's Wildlife Photo Contest:
http://blog.burrard-lucas.com/2011/11/wildlife-photo-competition-results/
The deadline is 30th September 2012.
The grand prize is the chance to win the Canon EOS 60D Digital SLR camera. The Canon EOS 60D is designed for photographers who want to take their skills to the next level, offering high performance, a series of creative features, a Vari-angle LCD screen and enhanced ergonomics, this camera empowers photography enthusiasts to capture outstanding stills and Full High Definition (HD) video for unique, creative results. The EOS 60D has an incredible feature set including an 18 MP APS-C CMOS sensor, a Vari-angle 7.7cm 3:2 ratio LCD, Full HD movies, ISO 100-6400 (H:12800), 5.3fps shooting for up to 58 JPEGs, 9-point cross type AF System and more!
There are also the following additional prizes provided by Committed
Photography:
  * Winner: 16×24 framed print of your winning shot (estimated value of $250)
  * Runners up x 2: 16×24 prints unframed (value of $50 each)
Entry is free.
Full Rules:
  * The contest theme is Wildlife. Photographs of animals in captivity are eligible for entry but the circumstances must be disclosed in the caption. Photos of pets and domesticated animals may not be entered.
  * This competition is open to participants worldwide.
  * There is no entry fee.
  * You must be the photographer and owner of the copyright for any image entered.
  * Entrants can submit a maximum of three images to this contest.
  * Please keep digital manipulation such as cloning and compositing to a minimum; your photograph should faithfully represent the scene as you saw it. HDR images and stitched panoramas are allowed.
  * Submitted images should be 1024 pixels along the long edge and less than 800kb in size.
  * Please do not include a border.
  * A subtle watermark may be included but it must not detract from the image.
  * You will retain copyright of your entries at all times and will always be credited alongside your picture.
  * By entering this competition, you grant us a non-exclusive license to display your photograph in connection with this contest.
Photographers will always be credited alongside their image.
  * We may allow other websites to display a selection of the winning/highly commended images in order to publicise the results of this contest. Photographers will always be credited alongside their image.
  * Under no-circumstance will we use submitted images for commercial gain unless it has been agreed on a case by case basis with the photographer.
  * Please note that entries are kept private (i.e. you cannot browse the other submissions).
  * The deadline for entry is 30th September 2012.
  * Winners will be announced by 31st October 2012.
http://blog.burrard-lucas.com/2012/07/wildlife-photo-contest-2012/
Your Comments