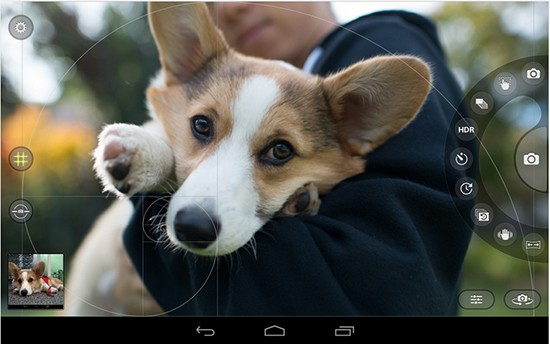 SmugMug has released an Android edition of its Camera Awesome app. The program offers a huge number of creative editing features, including hundreds of special effects, presets, filters and frames. In addition, there are numerous Android-specific features such as high-speed burst, panorama, and HDR photography, video image stabilisation, face recognition, manual ISO adjustment, multiple resolutions and selective editing. You can download the Camera Awesome app from the Google Play Store free of charge.
Smugmug Press Release
SmugMug launches Camera Awesome photo-app for Android users
SmugMug's hugely successful free photo app, Camera Awesome, is now available on Android.
For the first time Android users can capture, 'awesomize' and share photos just as 20 million iOS users already have, but with special Android add-ons.
The app which captures outstanding mobile photos and videos, shooting faster and taking sharper, better-exposed shots, is now available Google Play Store.
The new app offers pro-grade creative editing features, including hundreds of special effects, presets, filters and frames. Users can also share photos straight from the app, sending them straight to social networks or via email and text to family and friends.
Don MacAskill CEO at SmugMug said: "With 20 million+ Camera Awesome users on iOS, we received an overwhelming number of requests for an Android version. We took advantage of Android-specific features -like greater access to camera controls- to help photographers capture great pictures."
Android-Specific Features:
Camera Awesome for Android supports the following new and exclusive features: *
Shooting modes: includes high-speed burst, panorama, and HDR
Anti-shake video mode: video image stabilization
Face recognition and tracking: automatically identifies and tracks multiple faces in the shot to keep subjects in perfect focus
ISO, White Balance, and Exposure: power users can choose among multiple white balance modes, exposure compensation values, and manually select ISO settings from 100 to 1600 to capture the perfect shot
Resolution settings: shoot both photos and video in multiple resolutions
Selective Editing: touch to add or erase which parts of the image have filter applied
Sharing: in addition to sharing on Facebook, Twitter, Sinaweibo, Google+, Instagram, Photobucket, Picasa, Tumblr, YouTube and Flickr, users can now share to any other services via supporting apps installed on device
NVIDIA Tegra 4 Devices Get Special Power
The new app will have additional functionality on supported NVIDIA® Tegra® 4 devices through a new partnership between SmugMug and NVIDIA. Camera Awesome is pre-installed on NVIDIA's Tegra Note, the platform for tablets such as the EVGA Tegra Note 7 and the ADVENT Vega Tegra Note 7.
Special features available on Tegra Note and other supported Tegra devices include:
Always-On HDR (AOHDR): extends dynamic range by instantly capturing and combining high and low exposures – works with still, burst, panorama and HD video, so it can always be left on (Available with OTA update in December 2013.)
Tap-to-track object tracking: select an item in the viewfinder and the camera will track and keep it in focus as shots are composed
Slow-motion video: shoot great slow-motion video at up to 120 frames per second
Pressure-sensitive stylus support: gives pin-point precision in Selective Edit mode (Available with OTA update in December 2013.)
*Note: each feature is dependent on device support; check the SmugMug blog for the current supported devices list.
Camera Awesome is available for Android users (4.1 or newer) in the Google Play store, and for iPhone and iPad users in the App Store. Learn more at http://www.cameraawesome.com
Your Comments