Canon EOS-1D X Availability Announced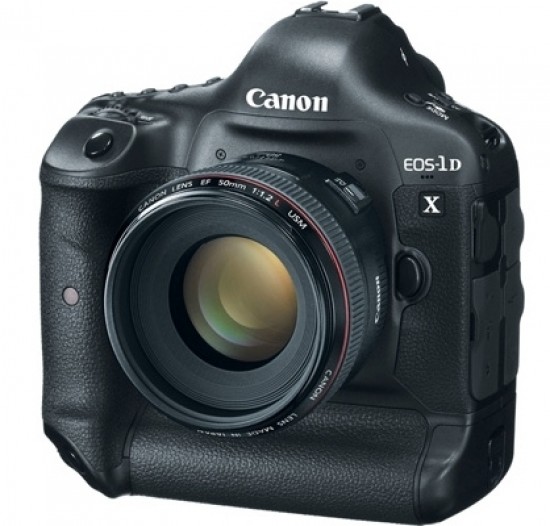 Canon UK has announced the official launch date and recommended retail price of its new flagship full-frame digital SLR camera, the 18-megapixel Canon EOS 1D X. Featuring a newly designed 100,000-pixel RGB metering sensor, redesigned 61-point wide-area AF system, dual DIGIC 5+ processors and Full HD video recording with manual exposure and adjustable audio levels; the Canon EOS-1D X will be available from the end of April 2012, priced at £5,299/€6,299 including VAT.
Canon EOS-1D X Hands-On Photos
Canon EOS-1D X Sample Images
Canon Press Release
The ground-breaking Canon EOS-1D X available to purchase from the end of April 2012
United Kingdom, Republic of Ireland, 27th February 2012 – Canon today announces that its next-generation, flagship professional Digital SLR, the EOS-1D X, will be available to buy from the end of April 2012. The culmination of 40 years' experience in developing professional cameras, the EOS-1D X is Canon's most advanced EOS model ever produced, offering photographers an unparalleled combination of speed, resolution and image quality to capture stunning stills and Full HD movies.
Providing class-leading versatility, the EOS-1D X is the ultimate camera for professional photographers shooting anywhere from the studio to the sports field, and is able to meet any creative challenge. The model blends a suite of first-class technologies that make it easier to capture images in outstanding quality, including a new 18.1MP full-frame CMOS sensor with an incredible 100-51200 ISO range (expandable to 204800) for shooting in extreme low-light conditions. A redesigned 61-point wide-area autofocus system offers advanced sensitivity and accuracy across the frame, while a newly-designed 100,000 pixel RGB metering sensor detects faces and colour to ensure correct exposure levels.
EOS-1D X is the first-ever camera to feature dual "DIGIC 5+" processors, which are designed to handle huge levels of image data while simultaneously reducing image noise. Combined with the sensor's 16-channel read-out, the processors enable full-resolution continuous shooting up to 12fps while a super high-speed mode extends the shooting speed to 14fps (JPEG format only).
The film-maker's DSLR
In addition to stills, the EOS-1D X is capable of recording Full HD (1920x1080p) movies with the full-frame sensor. An extensive range of manual settings lets users control exposure, focus and frame rate (1920 x 1080: 30 (29.97), 25, 24(23.976) frames per second, 1280 x 720: 60 (59.94), 50 fps, 640 x 480: 30 (29.97), 25 fps), while sound levels can also be displayed and adjusted on the Clear View II 8.11cm (3.2") LCD screen, ensuring complete control over every aspect of a shoot.
Canon EOS-1DX – key features
  * 18.1 MP full frame CMOS sensor
  * Up to 12fps and 14fps shooting
  * 100-51200 ISO, up to H:204800
  * 61 point AF system
  * 100,000 pixel RGB AE metering with DIGIC 4
  * Full HD 1080p EOS movie
  * Dual "DIGIC 5+" processors
  * Clear View II 8.11cm (3.2") 1,040k LCD
  * Ethernet port
For more information on the EOS-1D X, please visit: http://www.canon.co.uk/For_Home/Product_Finder/Cameras/Digital_SLR/EOS_1Dx/
Pricing and Availability
The EOS-1D X is available from end of April 2012, priced at £5,299.00/€6,299.00 RRP incl. VAT.
Your Comments