Canon Legria HF R38 / HF R36 / HF R306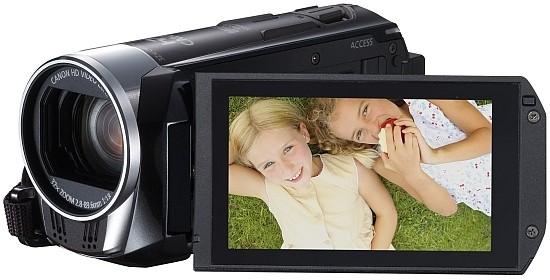 Canon today unveiled its updated entry-level range of Full HD Legria camcorders with the launch of the new Legria HF R38, Legria HF R36 and Legria HF R306. The Canon Legria HF R38 is a Wi-Fi enabled model with MP4 support, 51x "advanced" zoom, a 3" touch-sensitive screen and 32 gigabytes of internal memory in addition to an SDXC memory card slot. The Canon Legria HF R36 is a very similar camcorder except for the size of its built-in memory (8GB). Both models offer intelligent optical image stabilisation, a Smart Auto mode that can recognise up to 38 different scenes and shooting situations, Face Detection, Touch Decoration, and Cinema-look filters. The least expensive model in the line-up, the Canon Legria HF R306, lacks the Wi-Fi connectivity and on-board memory of its higher priced siblings but offers and otherwise identical feature set.
Canon Press Release
Share your creativity with ease – Canon launches LEGRIA HF R-series with Wi-Fi and Cinema-style features
United Kingdom, Republic of Ireland, 9th January 2012 – Canon today unveils its updated entry-level range of LEGRIA camcorders with the launch of the new LEGRIA HF R38, LEGRIA HF R36 and LEGRIA HF R306. Offering Full HD recording in a compact and lightweight body, these new models are packed with advanced features including integrated Wi-Fi, 51x advanced zoom and an optical Image Stabilizer, making it easy for everyone to record great quality footage and share it with friends and family.
The LEGRIA HF R-series is designed to give you more freedom to capture movies in beautiful, crisp detail thanks to a number of innovative features shared across the range. A genuine Canon HD video lens with a powerful 51x advanced zoom makes sure you're always close to the action, new Intelligent IS ensures all footage is smooth and shake-free, while Story Creator guides you through every step of creating an exciting and fast-paced home movie.
For easy sharing with friends and family, the LEGRIA HF R38 and LEGRIA HF R36 also feature Wi-Fi connectivity with MP4 support, providing the ability to seamlessly transfer, view and store footage to Apple's portable devices and upload to YouTube and Facebook without first transferring the clips to a PC. 
Share, view and store with ease
With built-in Wi-Fi functionality, the new LEGRIA HF R38 and LEGRIA HF R36 allow you to connect directly to wireless home networks and upload movies to YouTube or share them on other social networks at the touch of a button.
The free to download 'Movie Uploader' iOS application and MP4 recording support ensures video clips can be shared quickly, anytime, anywhere. By wirelessly connecting directly to an iOS device such as an iPad or iPhone, users can view or store their movies on their portable devices when on the go, with the option to upload directly to Facebook and YouTube via the application. Users can also seamlessly stream movies straight from the camcorder to any DLNA certified HDTV or laptop, sharing your creations instantly on the big screen.
Canon signature quality and ease of use
Canon's advanced Image Stabilizer (IS) technology has been further enhanced by the introduction of Intelligent IS, which automatically adapts the optical IS settings based on the scene being filmed. This means users do not need to manually sift through settings, making it even quicker and easier to capture fantastic, shake-free footage in a range of conditions.
At the heart of the new LEGRIA HF R-series is Canon's HD Camera System; featuring a 3.2MP Full HD CMOS sensor for enhanced performance in low light, a genuine Canon
HD Video Lens and high-performance DIGIC DV III processor, the system ensures that videos are captured in exceptional quality every time. A large, 7.5cm (3.0")
touch-screen with intuitive user interface also ensures that you can access a range of controls with ease.
For more secure back-up of precious home movies and freeing up internal memory, the LEGRIA HF R38 and LEGRIA HF R36 also allow the fast transfer of files directly to an external hard-disk drive, eliminating the need to first transfer files to a PC.
Creative control like never before
New to the LEGRIA HF R-series, Story Creator acts as a personal movie director, providing users with onscreen guidance to help them capture scenes and tell their story in style – whether it's a family party or a wedding. Story Creator is a fun, innovative way to shoot and share footage, and is handled completely in-camera – allowing users to create their movie as they go.
Filtering through to the LEGRIA HF R-series from higher end models, Cinema-Look Filters now make it easy to transform everyday scenes instantly by altering the look and feel of footage. With seven filters pre-loaded, users can give a scene a completely different atmosphere, for example 'Vivid' effect adds colour and vibrancy to footage, while the 'Cool' effect gives scenes a feel similar to that of a sci-fi movie. All filters are applied in-camera, giving users another way to creatively enhance their footage without the need for a PC or additional software.
LEGRIA HF R38 features:
Wi-Fi with MP4 support
51x Advanced zoom; Full HD CMOS
Optical Intelligent IS
Story Creator
Cinema-look filters; Touch Decoration
Store direct to external HDD
7.5cm touch screen
Smart Auto (38 Scenes), Face Detection
HD-SD conversion
32GB memory, SDXC card slot
LEGRIA HF R36 features:
Wi-Fi with MP4 support
51x Advanced zoom; Full HD CMOS
Optical Intelligent IS
Story Creator
Cinema-look filters; Touch Decoration
Store direct to external HDD
7.5cm touch screen
Smart Auto (38 Scenes), Face Detection
HD-SD conversion
8GB memory, SDXC card slot
LEGRIA HF R306 features:
51x Advanced zoom; Full HD CMOS
Optical Intelligent IS
Story Creator
Cinema-look filters; Touch Decoration
7.5cm touch screen
Smart Auto (38 Scenes), Face Detection
Video Snapshot
SDXC card slot
Your Comments