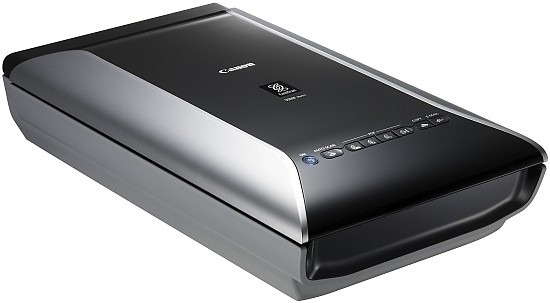 Canon UK has announced the upcoming release of the CanoScan 9000F Mark II scanner. Capable of scanning reflective originals as well as up to twelve 35mm film strips, 4 mounted slides or 120 format up to 6x22cm, the CanoScan 9000F Mark II is a flatbed scanner with a white LED light and a built-in transparency adapter. Maximum hardware resolution is specified at 9600x9600dpi for film, and 4800x4800dpi for prints. New to the CanoScan 9000F Mark II is the included My Image Garden software, which provides effortless navigation between scanning functions, and features a number of photo organising capabilities including face recognition. Canon's Scan to Cloud feature allows users to scan to Evernote or Dropbox cloud services with a touch of a button, while Stitch Assist enables large A3 documents and photos to be scanned in two parts and stitched seamlessly together. The CanoScan 9000F Mark II is available in the UK and Ireland from April 2013 with an RRPof £219/€240. (Canon U.S:A. announced this scanner in December 2012, with an MSRP of $199.99.)
Canon Press Release
Canon launches top-of-the-range photo scanner with advanced software
United Kingdom, Republic of Ireland, 5th March 2013 – Canon today announces the launch of a new top-of-the-range 9600 dpi CCD scanner, the CanoScan 9000F Mark II, complete with advanced software, for exceptional quality, high-speed photo, document and film scanning.
New, Advanced Software
Replacing the CanoScan 9000F, the CanoScan 9000F Mark II features new My Image Garden software, which provides effortless navigation between scanning functions and features superb photo organising capabilities, including face recognition. For easy document handling, My Image Garden features text recognition (OCR) and PDF file creation, with the ability to add password security to confidential documents. Canon's helpful Scan to Cloud feature allows users to scan to Evernote or Dropbox cloud services with a touch of a button, while Stitch Assist enables large A3 documents and photos to be scanned in two parts and stitched seamlessly together.
Enhanced Power Efficiency
The new CanoScan 9000F Mark II includes a range of helpful power-saving features.
Auto Power Off automatically turns the scanner off after a select amount of time, allowing users to save energy when the device is not in use. In addition, the 9000F Mark II uses white LED light that requires zero warm-up time for reflective and film scanning, resulting in reduced power consumption compared to traditional fluorescent lamps.
Superior Scan Quality
Featuring a CCD sensor and maximum optical scanning resolution of 9600 x 9600 dpi for film, and 4800 x 4800 dpi for flatbed scanning, the 9000F Mark II offers impressive scan quality and captures exceptional detail from photos and film. The Auto Document Fix feature helps to ensure that text characters are sharp and clear while pictures maintain colour, tone and contrast.
Versatile Film Handling
The CanoScan 9000F Mark II is capable of scanning up to twelve 35mm film strips or 4 mounted slides in a single operation (either positive or negative). It also supports the 120 film format (max. 6x22cm). With Film Automatic Retouching Enhancement (FARE) Level 3 users can produce quality scans, even from originals suffering from dust, scratches, fading or requiring backlight correction.
Quick and Easy to Use
The new CanoScan 9000F Mark II comes with a range of features that improve ease of use. The seven EZ buttons located on the front of the scanner offer one touch scanning and can be configured to individual user requirements. In addition, Auto Scan Mode automatically recognises the type of document that is being scanned and saves the scan as a photo or document using the optimum settings, with just a single click.
For enhanced productivity, the CanoScan 9000F Mark II boasts a fast scanning speed of approx.7 seconds for A4 colour documents at 300dpi.
CanoScan 9000F Mark II – key features:
·      Professional film, photo, slide and document scanner
·      High quality scanning
·      Fast photo and document scanning: approx. 7 sec for an A4 colour at 300 dpi
·      High speed film scanning: approx. 18 sec for 35mm negative at 1200 dpi
·      Versatile handling: 12x35mm film strip, 4x35mm mounted slides and 120 format film maximum 6x22cm (filmstrip only)
·      Auto Image Correction: Integrated FARE Level 3 removes dust, scratches and corrects fading
·      Simple one-touch operation via seven EZ buttons
·      Zero warm-up time and lower power consumption with white LED
·      Scan to Evernote or Dropbox
·      Create secure multi-page PDFs for easy filing

Pricing and availability:
The CanoScan 9000F Mark II is available in the UK and Ireland from April 2013 with an RRP price of £219/€240.
Your Comments