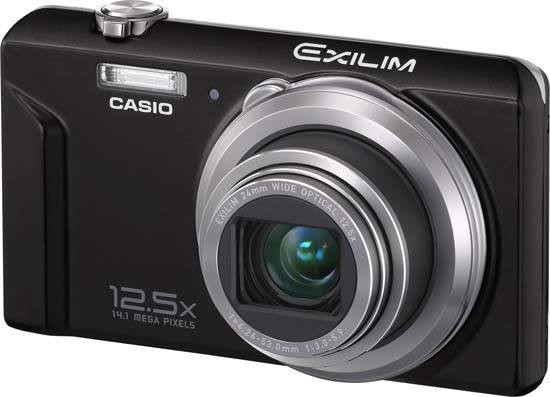 The Casio EX-ZS100 is a new 14 megapixel camera with a special silent mode. Billed as the "first silent camera", the ZS100 Silent Mode automatically configures the camera settings to avoid disturbing others around you. Also sporting a 12.5x optical zoom lens, the Casio ZS100 will be available from 18th August 2011, priced at £149.99.
Casio UK Press Event
Casio releases first silent camera
Casio launches new 12.5X Zoom Exilim EX-ZS100 camera
In the latest offering in its Exilim portfolio, Casio has announced the launch of the new EX-ZS100 camera.
The Compact Hi-zoom model boasts 14 mega pixels and will be available from 18th August 2011, priced £149.99 and comes complete with a new silent mode feature. Silent Mode automatically configures the camera settings to avoid disturbing others around you – particularly handy when shooting in a museum, aquarium, restaurant and other areas where flash photograph is prohibited.
Available in black, and sporting a 12.5X optical zoom lens, the EX-ZS100's Hi-zoom model equipped lens allows users to shoot wide angle :24mm - telephoto :300mm range as well as being able to shoot up close and personal – up to 1cm away from the object using its macro focus function.
Intent on making high quality photography even more accessible than before, Casio's new EX-ZS100 has an 'Advanced Easy Mode'. This mode means that whereas with other, harder to use cameras, the user would have to half press the shutter button to focus the image and then take the shot slowing the overall process down. With the EX-ZS100, when the camera is pointing at the object, it focuses automatically so all the photographer has to do is press the shutter button fully and not waste time focusing and shooting in a separate action.
The camera's direct 'On' button and USB charging also makes the overall operation of the camera even easier than before.
The EX-ZS100 will feature in the new Argos catalogue due out on 22nd July 2011.Other recommended retailers include: Argos, Dixons Tax Free, Photo specialists, Amazon.
Casio EX-ZS100 Product Specifications:
• File Format: Still images: JPEG (Exif Ver. 2.3), DCF2.0, DPOF
• Movies: Motion JPEG, AVI format, IMA-ADPCM (monaural)
• Audio (Voice Recording): WAV format (monaural)"
• Recording Media: 13.6MB* built-in flash memory, SD Memory Card, SDHC Memory Card, SDXC Memory Card compatible (*Built-in memory capacity after formatting)
• Number of Recorded Pixels:
o Still images: 14M(4320x3240)/3:2(4320x2880)/16:9(4320x2432)/10M(3648x2736)/6M(2816x2112)/3M(2048x1536)/VGA(640x480)"
o Movies: HD(1280 X 720) / STD(640X480)
    *Movie recording time is limited at 29 minutes. (@DI/EU/UK/CA)
• Number of Effective Pixels: Approx. 14.1 megapixels (/million)
• Image Sensor:  1/2.3-inch square pixel CCD
• Total Pixels: 14.48 megapixels (/million)"
Lenz / Focal Length: F3.0(W) - F5.9(T) / f=4.24 - 53.0mm (Approx. 24 - 300mm equivalent to 35mm film) 9 lenses in 8 groups, including aspherical lens."
• Zoom Ratio: 12.5 x optical zoom, 4x digital zoom (50 times both with optical and digital zoom) 159.5x maximum digital zoom (in combination with HD Zoom, VGA size)"
• Focus Type: Contrast Detection Auto Focus
• Focus Mode: Auto Focus, Macro, Super Macro, Infinity mode, Manual focus
• AF Area: Spot, Multi, Tracking
• Focus Range:
o Auto focus: Approx. 5cm - Infinity (W)
o (Still Images) Macro: Approx. 1cm - 50cm (Fifth step from Widest Setting)
• Super Macro: Approx. 1cm - 50cm
• Infinity mode: Infinity
• Manual focus: Approx. 5cm - Infinity (W)
          * Using optical zoom causes the aperture to change.
• Exposure Metering: Multi pattern, (centre weighted for some BS scenes) by CCD
• Exposure Control: Program AE
• Exposure Compensation: -2EV to +2EV (in 1/3EV steps)
• Shutter Type: CCD electronic shutter and mechanical shutter
• Shutter Speed:
o Auto : 1/2 - 1/2000 second
o Night Scene : 4 - 1/2000 second
(Depending on user's setting of Camera)
• Aperture: F3.0(W) - F7.9(W) (ND filter is being used) (Using optical zoom causes the aperture to change.)
• White Balance: Auto WB, Daylight, Overcast, Shade, Day white Fluorescent, Daylight Fluorescent, Tungsten, manual WB"
• Sensitivity: Still images: Auto/ ISO64/ ISO100/ ISO200/ ISO400/ ISO800/ ISO1600 (SOS)*
• Movies: Auto: * SOS: Standard Output Sensitivity.
• Self-Timer: 10 seconds, 2 seconds, Triple Self-timer
• Flash Mode: Auto, Flash off, Flash on, Red eye reduction
• Flash Range: Normal:
o Approx. 0.4 - 2.67 m (W)
o Approx. 0.9 - 1.36 m (T)
* Range is affected by optical zoom.
• Flash Charge Time: Approximately 5 seconds
• Recording Functions: Snapshot , BEST SHOT, easy Mode, Silent, Marco, Self-timer, Continuous shooting(Normal Speed CS),  Face Detection, Anti Shake, Lighting, Movie(Normal Movie, For YouTube), Voice Recording
o Audio recording is monaural"
• Playback Functions: Playback Zoom(8X), 25-image Screen, BGM Slideshow, Start-up Images, Rotate, Re-size, Trimming, Copy
• Other Functions: Eye-Fi Wireless Card compatible, Video Output(NTSC/PAL), PictBridge, Focus Frame Customization, Key Customization, USB charging
• Image Deletion: "One image / Selected images / All images with memory protect function"
• Approximate Maximum Audio: After Recording: 30 seconds per image
• Recording Times: Voice Recording: 39 minutes 51 seconds (when using built-in memory)
• Monitor: 2.7-inch TFT colour LCD 230,400 dots (960 x 240)"
• Viewfinder: LCD monitor
• Timekeeping Function: Date and Time: Recorded with image data with time stamp function
• Auto Calendar: To 2049
• World Time: 162 cities in 32 time zones, city name, date, time, summer time
• External connection terminal: USB port (Hi-Speed USB compatible, USB charging) / AV output terminal (NTSC/PAL)
• Microphone: Monaural
• Speaker: Monaural
• Power Source: Rechargeable lithium ion battery (NP-80) x1
• Power Consumption: 3.7V DC, Approximately 2.8W
• Dimensions(Tentativeness): 102(W) x 58.9(H) x 28.7(D) mm (excluding projections; 21.1mm)"
• Weight:
o Approximately 185g (Including Battery and Memory Card*)
o Approximately 164g (Excluding Battery and Memory Card)
* 1GB :  When using Panasonic Pro High Speed 1GB SD Memory Card.
About CASIO Computer Co., Ltd.
CASIO Computer Co., Ltd. is one of the world's leading manufacturers of consumer electronics products and business equipment solutions. Since its establishment in 1957, CASIO has strived to realise its corporate creed of "creativity and contribution" through the introduction of innovative and imaginative products. Today, CASIO's offerings include timepieces, digital cameras, mobile phones, electronic dictionaries, calculators, musical instruments, system equipment, and electronic components such as LCDs. The CASIO Group employs more than 12,000 people worldwide, shipping over 100 million products per year, with net sales of 518 billion yen (approx. US $ 5.4 billion) in the fiscal year ended March 2009. News and product information from CASIO are available at http://world.casio.com
Image Gallery
Click on a thumbnail to see the full version.
Your Comments