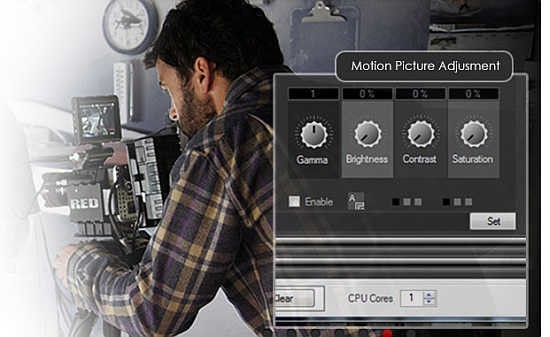 Cinemartin has released version 3.X of its Cinec video converter / encoder for Windows. Adding support for Cineform, Sony XAVC, XAVC-S and RED files (.r3d) as well as 4K Ultra HD videos created with Snapdragon 800 powered mobile devices; Cinec 3.X comes with a number of new features such sd Motion Picture Adjustments, Dual Preview Monitor and the ability to create transparent videos with the new Quicktime Animation preset. The software is available in Standard, Pro and Gold versions, priced at €99, €199 and €799 respectively.
Cinemartin Press Release
CINEMARTIN CINEC 3.X
TWICE THE POWER, ALMOST ANY VIDEO INPUT AND H.265V2
GOPRO, CINEFORM, XAVC, XAVC-S, RED R3D, SNAPDRAGON 4K AND MORE

FEBRUARY-MARCH, 2014

Cinemartin announces the release of Cinec 3.X, the acclaimed Windows video converter & encoder software tool that allows to convert videos to state of the art quality codec formats, popular by including Prores, H.264 and HEVC H.265 among others, has released a major version named 3.X, now supporting videos recorded from GOPRO cameras, Cineform files and SI Cineform ((Silicon Image Cineform camera format)), Sony's XAVC, XAVC-S and RED .r3d files from One, Scarlet,and Dragon up to 6K. This major release also includes support for 4K videos recorded with Snapdragon 800 series devices including the Galaxy Note 3 and the upcoming Samsung Galaxy S5.
CINEC 3.X ALMOST ANY VIDEO INPUT
● Uncompressed 8, 10, 12, & 16 bits
● Cineform (Silicon Image, GOPRO)
● Sony XAVC (Sony PMWF5,
F55)
● Sony XAVCS
(Sony FDRAX100)
● R3D (RED one, RED Scarlet & RED Epic)
● AVC Intra (Panasonic Broadcast)
● AVCHD Pro (Sony FS100, FS700, Pana. 3/4)
● AVCHD Consumers (Handycams from Sony,
Panasonic, JVC)
● H.264 MOV (Canon EOS series)
● H.264 MP4 (GOPRO cameras)
● MPEG2
Long GOP MXF (Canon C100, C300, C500)
● MPEG4
AVC MP4 Snapdragon 800 & 805 (Samsung Galaxy 4K, S5, upc. Xperia, ..)
● And more

Cinec reach the pole as the encoder with more supported video input formats of this times. This must have encoder - converter tool, Cinec, whose last customers includes Panasonic Corporation, being the first to deliver h.265 encoding on windows for consumers and pros, the one that was build the 3.0 release in colaboration with Convergent Design for its Odissey recorder users, and the one that was developed to accept ingest from Blackmagic cameras, sony FS series and F5 - F55, Panasonic, Canon, JVC and more, now supporting up to 6K and now with the 3.X version, supporting several new devices, cameras and codecs, and including several new features for video processing.

MPA : MOTION PICTURE ADJUSTMENTS
Cinec 3.X includes a feature called MPA which will allow you to adjust the Brightness, Contrast, Saturation and Gamma levels of videos.

DUAL PREVIEW MONITOR
Switch on/off this dual preview monitor to show the original video on left and MPA adjusted on right. You can preview motion picture levels before conversions in almost real-time. MPA Knobs feature LEDs to assist the changes. Monitors have different configurations to fit, stretch or zoom the pictures.

TRANSPARENCY TRANSPARENT VIDEOS
Cinec can create movies from single pictures. 3.X allows to create videos from alpha images, so now is possible to create transparent videos with the new Quicktime Animation preset.
Ready to put on Adobe Premiere
Timeline, Avid, Vegas, etc.

H.265 V2, AT 0.5% THE SIZE OF ORIGINAL
2ND UPGRADE TO H265 CONVERTER : WIDER, FASTER & WITH INCREDIBLE RATIOS OF 0.5%
Convert videos to H.265 now its more easy than ever and more efficiency. Cinec 3.X include the 2nd release of the popular HEVC encoder, now with several advantages over previous versions (up to v.3.0), including wider support, a little more fast processing and with up to a 40-50% of disk space savings.
Cinec has reached twice the goal of previous versions by getting ratios of 0.5% of the original size with unnoticeable differences.

Cinec 3.0 converted a video from prores 4:4:4 of 500MB to a 5MB one.
Cinec 3.X goes beyond, an original 290 MB video from the new Sony PXW-Z100 XAVC camcorder has been converted to a mere 1.5 MB in H.265 using Cinemartin Cinec 3.X
See yourself http://www.youtube.com/watch?v=T2QnX0CrlqU
Download materials http://www.cinemartin.com/cinec/hevc-h265/

*To be able to play the HEVC videos on PC you need last build of free VLC player (2.2) or download compatible free player from Cinec H.265 Converter website (at bottom of web)
*To be able to play the HEVC videos on Android or or Iphone you need to download the free HEV player. Available for Android here: http://cinemartin.com/downloads/android_hevc_h265_player/ Iphone player is currently on development.

OTHER FEATURES
Other features are listed on: http://www.cinemartin.com/cinec/more-features/

NEW WEBSITE The portal website of Cinemartin Cinec has totally been redesigned, now includes video samples ready for download (including the above h265 original sources and HEVC H.265 outputs), video tutorials, hows-to, a demo and more. ..
Price remains the same for Standard and Pro variants, with 99€ and 199€ respectively. Gold version is 799€.

Cinemartin users include REDucation (RED cameras subsidiary), Swiss Canal 9 TV, and Panasonic Corporation.

Check out the website. Your next gen video converter http://www.cinemartin.com/cinec
Your Comments