COOPH Heatable Photo Vest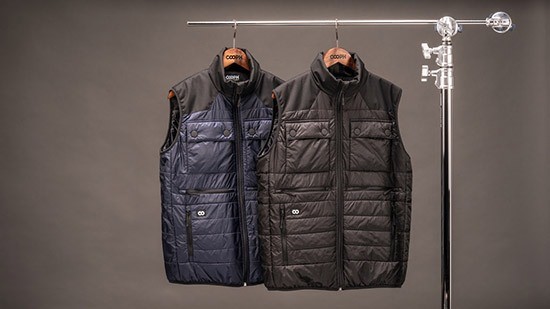 The COOPH Heatable Photo Vest is a complete reinvention of the classic photo vest, featuring an internal heating system!
COOPH Press Release
WORLD PREMIER: COOPH's Heatable Photo Vest
Lightweight, heatable, smart: The complete reinvention of the classic photo vest.
If you're a photographer, you're probably familiar with long waits to get the perfect shot. It may be part of the job, but it's far from fun when you've got to layer up and fight the cold. Problems like these are the inspiration for COOPH's innovative apparel, which is designed to support passionate photographers around the world. For those who go beyond to pursue the extraordinary, COOPH is excited to announce our latest creation; 'The fully reinvented, heatable COOPH Photo Vest'.
For decades, photo vests have been an essential piece in the photographer's wardrobe. However, what they offered in functionality, they often lacked in style and aesthetics. Our team of designers went back to the drawing board to a create a simple, more stylish garment with features for a modern content creator. Big deep pockets provide convenient storage, while the two-way, reversible design means you can switch up your style from day to day. Best of all, we've added an internal heating system that was developed in collaboration with THERM-IC; the global leader in heated garment systems for over 20 years.
The vest itself is made in Poland and has a light-weight construction, making it easy to fold and carry. It comes with sheep wool insulation for those colder days and is available in two different colorways; black/anthracite and navy/anthracite. You can wear it on top of a t-shirt, shirt or hoodie, or under your jacket; the choice is yours! Featuring two buttoned flap-pockets and two zipper pockets, the handy compartments are ideal for securely storing your essentials; all the way from lenses and light meters to wallets, sunglasses and passports.
The heating system warms the hand pockets and covers the kidney, back and stomach areas. It works with any rechargeable 5V battery with USB port and can run for up to approximately five hours with our THERM-IC 5200 mAh battery. By adding the THERM-IC Bluetooth dongle, you can use your smartphone to control the temperature as you wish. It can even sense physical activity and automatically adjust to your personal needs. It heats more when you're static and less when you're on the move, making those photo shoots a whole lot more comfortable. Clever, right?
Above all, it's a beautiful looking garment that you can depend on when the weather is hard to judge. It's great for photography and ideal for travel - from the remotest adventures to a day in the city. Want one to call your own? Head over now to store.cooph.com and get them while they're hot!
About COOPH
COOPH is a photography apparel and accessories creator and community-focused online mag that recognizes and supports people passionate about photography. It is the very first brand to produce stylish and functional clothing specifically designed with photographers in mind. From our specialized apparel & accessories to our popular online magazine and videos – everything we do works towards recognizing and supporting the people behind the lens.
Your Comments